Scottish electropop band Chvrches learns how to navigate the big time
Due in New York for two big concerts, Chvrches singer Lauren Mayberry talks about success, surprises and Solange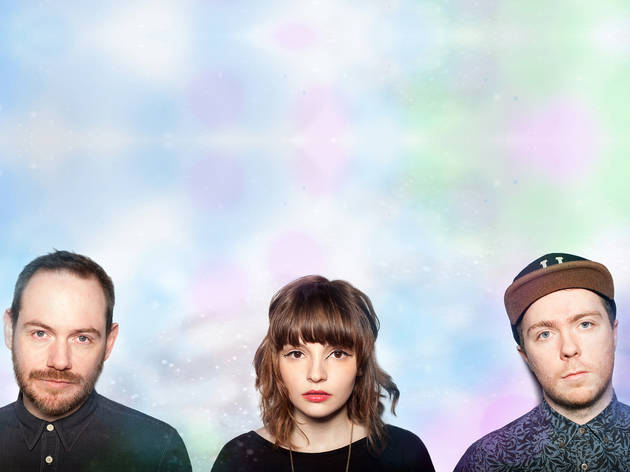 Chvrches' ascent has been rapid. Though the Scottish band—composed of Lauren Mayberry, Iain Cook and Martin Doherty—has yet to release a full-length (one is due later this year), it's earned a pretty serious fan base thanks to SXSW and Recover, a keyboard-happy electropop EP that lovers of Purity Ring and the Knife should listen to, immediately. We chatted with vocalist Mayberry about synths versus drums, scalpers and selfies with Solange.

It seems like none of your musical backgrounds, which are more rock- and guitar-driven, predicted the electropop sound of Chvrches. Plus, you were a drummer before this. How have you handled these changes?
I think it's the stuff we've learned from being in those kinds of bands that's been applied to this kind of music, and hopefully that's what makes it a little more unusual. Especially in terms of the live show, I would never really want to be in a band where you just go up and push play on a laptop and karaoke about for an hour.… Especially when you pay for a ticket to go see a live band, I think it's important that there is actually a live band. We don't want to dupe people, that's not very nice!

Many drummers don't get a lot of attention in a band, and now you're the vocalist—the frontperson, in a sense.
It's always been important to us to present this as a band; I never want us to be interpreted as a singer with two producer guys. That's kind of offensive to me, because I'm like, hey, I actually do do stuff! It's different from having been at the back of the band—but even then, if you're the only girl playing drums in a band full of guys, people always talk about that in reviews.… I've never really been allowed to exist incognito. Music journalists seem amazed; they're like, "Oh my God, she manages to have a vagina and hold an instrument." It's like rocket science.

The last time you played in New York, you did two sold-out shows after SXSW. How did those go?
Yeah, we did two gigs at the Mercury Lounge in one day. Then the night afterwards, we played in this place called 285 Kent. It was supposed to be just a DJ set, but in the end we did a full band gig, just 'cause a lot of the tickets had been bought off by scalpers, and that filled us with sadness and minor guilt. So we figured if we gave the notice as late as possible, then actual kids who wanted to come to the shows could hopefully get tickets.
You're relatively new to touring.
Yeah. We shared the stage with Kendrick Lamar and Solange at SXSW. I was like, "There's some kind of mistake—we shouldn't be here!" We were trying to not bother poor Solange, and still take selfies with her at a distance so she looked like she was standing next to us, but she wasn't. We're just taking it step by step and trying not to get swept away by all the shiny stuff, and also not pester Solange. She's so nice—she needs her own space!
Chvrches plays Webster Hall Mon 17 and Music Hall of Williamsburg Tue 18.
Follow Marley Lynch on Twitter: @marleyasinbob