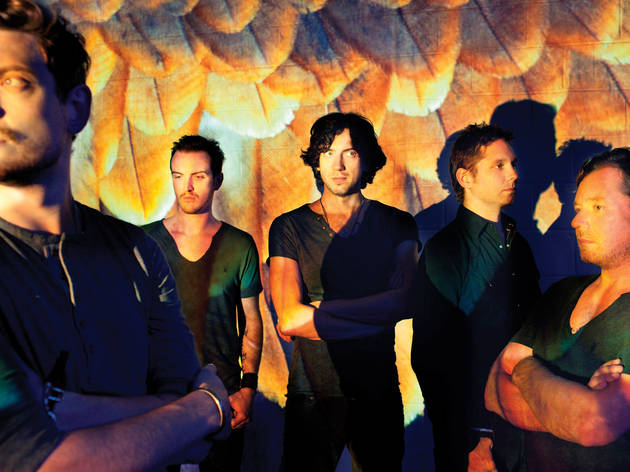 Snow Patrol Q&A
On the eve of their two-night stint at Terminal Five, Snow Patrol's Gary Lightbody and Nathan Connolly talk with Marcus Webb about strip joints, career progression and becoming a sexier band.
You've been away for three years, why so long?
Gary Lightbody: I had writer's block. No matter what I tried, nothing was coming. I was worried that the game was up.
Nathan Connolly: It was a tough time. There were false starts, abandoned sessions, delays, lots of frustration.

So what changed?
Lightbody: I stopped obsessing about my love life and started to write about other things—my upbringing, my family, friends and the world at large. Obviously love, or the absence of love, is the most potent inspiration of any art, and it's hard to recalibrate your brain to write about something else. I didn't really have any choice, I haven't been in a relationship for quite a few years and I fear I might have overanalyzed that one. I've looked at that relationship in every possible way, so it's time to move to other parts of my life.

Musically things have moved on too.
Lightbody: A lot of people have called this an electro record, but we've always had some electro squelchiness in the back of our songs—we just pushed it to the forefront. With this record, we've taken the best of what we can do, and I think we've made the record we've been trying to make for the last decade. I believe in this record more than anything I've ever done in my life and couldn't be more proud of it. It goes into little alleyways we've never really been down before. You could call it a little bit slinky, a little bit sexy—and, my God, Snow Patrol have never been accused of being sexy before.
Connolly: I think we've had touches of sexy in the past. There's a touch of groove to this band, but Fallen Empires certainly has songs you can move to. There's swing and a lot more soul involved. So yeah, it's fair to say we're becoming a sexier band…musically at least.

What are your plans while in New York?
Lightbody: We have a small stake in a bar here called Houndstooth that we go to quite a lot and always get into a bit of a mess. I've worked in bars for years and I'm one of those boring guys that gets behind the pumps and starts trying to teach people how to pour a pint of Guinness properly. I'm pretty sure that any profits we've ever made out of that place, we pumped back in on various nights. Reinvesting they call it.

You're playing arenas on the current tour. Gary, as a man who confesses to being a bit shy, how do you cope with being in front of so many people every night?
Lightbody: I find the banter a bit more difficult in arenas. I love a good chat with the audience, but when it's a big arena, it's harder to speak to them in a conversational way—it's more like you're screaming at them, and screaming doesn't really make for a good story. Otherwise lots of children would have had very scary bedtimes.

Things weren't always going so well. Before the release of Final Straw, you were dropped from your label and playing to tiny audiences. What are your memories of that time?
Connolly: I remember playing to about 14 people in a really bad strip club in England. They had to dismantle the poles so we could set up the equipment.
Lightbody: It was ten years of tears. It was never a case of giving up, but it was tough. Nobody wanted to touch us. I guess it's the cosmetic thing of signing a band that's seen to have "failed."

Does it seem like a different life now that you're bona fide rock stars?
Lightbody: Everything's on a bigger scale. We have to think about things differently; you have to think about the big-production show. You have to think about lights and visuals and staging, and all these things that never really came up when we were playing a strip joint. You have a lot of meetings. Which never happened before.

Sounds depressing like a real job; don't ruin the dream for the rest of us.…
Lightbody: Sometimes it feels like a job, but most days, it feels like a bunch of friends, brothers, running around together acting silly and making each other laugh. Not that you'd know it from the photos. Every shoot we do—including the one we just did for you—we laugh all the way through, but they never get used—just the ones of us looking serious. And our serious faces generally look dour—like we want to kill somebody. To set the record straight, we don't want to kill anyone—we're just not used to looking serious.

And what if it all ended tomorrow?
Lightbody: I'm going for your job. All I ever wanted to really do was write about music—that's why I got an English degree—but I accidentally joined a band, and it all went horribly right from there.