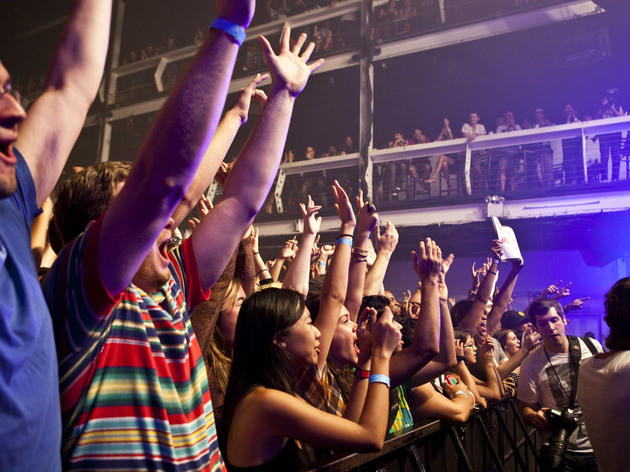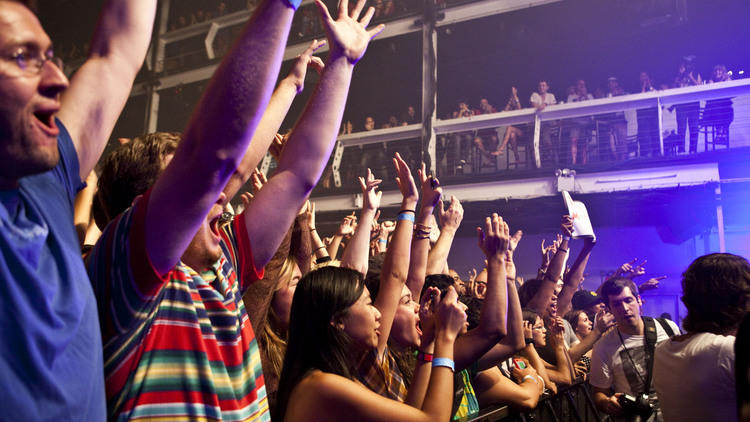 Opened by Bowery Presents at the end of 2007, this three-floor, 3,000-capacity space is the largest midtown venue to set up shop in more than a decade. Its bookings include bands that not long ago were playing smaller Bowery confines (Wolf Parade, Hot Chip) plus bigger stars (M.I.A.) and scruffy veterans with loyal fan bases (Ween, Brian Jonestown Massacre).
Venue name:
Terminal 5
Contact:
Address:
610 W 56th St
New York
10019

Cross street:
between Eleventh and Twelfth Aves
Transport:
Subway: A, C, B, D, 1 to 59th St–Columbus Circle
Do you own this business?
Portugal. The Man

This band's grandiose rock—the most important thing ever to emerge from Wasilla, AK, and don't let anyone tell you otherwise—fuses soulful vintage psych-pop with hectic modern production. With its upcoming album, Woodstock—its third since inking to Atlantic...

Rock and indie

Tuesday June 6 2017

Ride

Between 1988 and 1996, seminal shoegaze outfit Ride released four albums, all now classics of the genre, and then broke up during Britpop's ascendency (which the band foreshadowed with a pop sensibility many of its peers lacked). The band reunited for...

Rock and indie

Thursday July 20 2017
Average User Rating
2.3 / 5
Rating Breakdown
5 star:

0

4 star:

1

3 star:

1

2 star:

5

1 star:

1
Yeahhhhh there's a reason why terminal 5 is so poorly located. First of all, it's SOOOOOO far on the west side, like on 11th avenue or something. That is a long trek to a train. Yeesh. Secondly, the times that I've been there, there doesnt seem to be any control or organization from the staff. I remember going to a show that I had VIP tickets too. I got there early to save a spot and couldn't get an answer as to where to go for VIP and ended up in the back of line which was super annoying since I waited for several hours to AVOID that. Security doesnt really care, and it usually gets SUPER crowded. I dont know, the times I've been there have not been great. You would think with so many levels, that people would be able to spread out more but with a sold out show you are packed in there like sardines. Sardines! Not a venue I like to go to, but if someone I really like is playing, then I'll make the trek.
For some reason, Terminal 5 continues to be a destination for good bands, so I usually find myself there once a year because I've decided the show is too good to pass up regardless of the venue. But wayyyy more often than that the following scenario occurs: some friend says "You want to go to X show?" and I say "Yea I like that band, sounds good, what's the venue?" "Terminal 5" "Nope, I'm out" For reasons why, read everyone else's reviews below...
Terminal 5 gets a bad rap—not all the sightlines are great, the acoustics could be better—but I actually quite like going to shows here. It's not a small space, but something about it feels intimate. It's a little far-flung (pretty far west on 56th), but I never have trouble catching a cab home. (If you want to take the subway, that's another story.) It certainly doesn't have the charm of Bowery Ballroom or Irving Plaza, but Terminal 5 is definitely not the worst place in the city to see a show.
I've gone to a bunch of shows here over the years and it is one of my least favorite venues. It's far away (on 11th Ave by a bunch of car dealerships) and not really by any public transport. An extra bummer if you live in Brooklyn like me. It also used to be a nightclub so the acoustics blow (it's a concrete building.) Unfortunately tonssssss of bands play here now because the venue can hold so many people but isn't an arena. The layout inside can also be sort of labyrinth-y and weird. Every time I go here I have to ask for help finding a bathroom because they're not clearly marked. If a band you love is coming to town another time or playing somewhere else, definitely try to do that and skip Terminal 5.

When I hear the words "Terminal 5", I usually take a deep breath and reconsider if I really want to see this show. Located far west on 56th Street, it can be a chilly walk to the venue during the colder months. Once inside, make sure that you are tall If not, get there really early and cling to the 2nd or 3rd floor railings and never go to the bathroom. If the show is sold out, again, try to be tall. The pros of the venue is that it does attract a good array of artists like MOE or Opeth, but it is a battle to see. Bathrooms are unisex, I think, um, I hope.
It's really unfortunate this venue is one of the main places acts go before they work their way up to MSG, because it's not a fun place to be. I have fought my way through many a Terminal 5 show, seeing all kinds of bands, but after my last show, Jamie xx, I had finally had enough. No longer will I sit through teens grinding on top of me, beer being poured directly on my head every five minutes, bros yelling at each other over space and practically no sightline no matter where you stand, upstairs or down. I'm only 27, but I'm too old for this shit. Try to see your favorite band anywhere but here.
Terminal 5 is the worst space to see great music. Sightlines are awful, entrance chaotic, and for whatever reasons, the crowds are the rudest in the city. Stay away for your own safety.