The 20 best Thanksgiving songs
Nothing says muchas gracias like a song. For Turkey Day, we count down the 20 best Thanksgiving songs.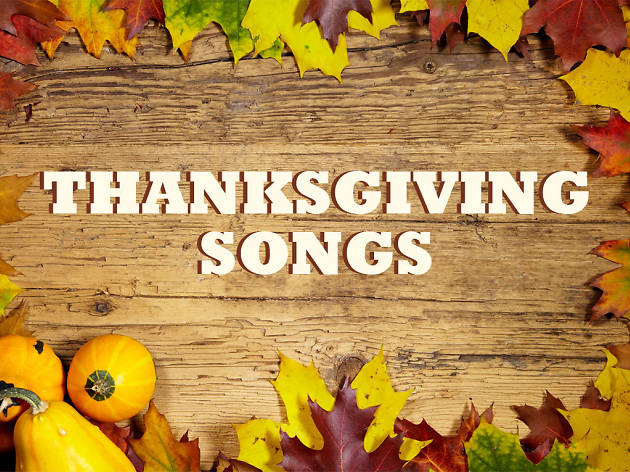 We all know that Thanksgiving tends to be more like an eating contest than anything else. Between stuffing your face with the best pies, turkey, gravy and pumpkin-spice everything and slyly trying to unbutton your pants under the dining-room table, giving thanks for your loved ones somehow seems to be the last thing on people's minds. But we have a solution! A lovingly selected playlist that will make you feel, well, thankful during this year's food-stuffathon. The Thanksgiving songs below give thanks to the artists' friends, lovers, fans and, in the case of David Byrne, even to themselves. Whatever the case may be, our mission is to bring back the true spirit of Thanksgiving and maybe even shake off those nine million calories you just consumed in the process.
RECOMMENDED: Full guide to Thanksgiving in NYC
Best Thanksgiving songs
1
Big Star, "Thank You Friends"
With Big Star having suffered the enormous loss of enigmatic frontman Alex Chilton only two years ago, an expression of friendly support for the songsmith's family, friends, bandmates and fans still feels essential. In remembrance, we present you with the Memphis rocker's 1978 track "Thank You Friends," a gospel-infused tune that speaks of the gratitude Chilton felt for his own near-and-dears. "I said, 'Thank you again.' I wanna thank you again. Never too late to start," Chilton sings as the tune inevitably draws to a close, his quiet brilliance wafting over anyone who's willing to listen. Right back at you, Alex!—Rachel Sonis
2
Sly and the Family Stone, "Thank You (Falettinme Be Mice Elf Agin)"
Some have pegged "Thank You (Falettinme Be Mice Elf Agin)," which landed the cozy No. 1 spot on the soul singles charts for a whopping five weeks, as a portrait of the transition from the '60s to the '70s. Others argue that the track is, simply put, a Walt Whitman–style celebration of the self. Whatever the case may be, the song's instantaneously recognizable slap-bass riff and playful mondegreen of a title help make it one of the most legendary funk tunes of all time. Get down with that wishbone, y'all.—Rachel Sonis
3
2Pac, "Dear Mama"
While the majority of rappers these days spit bars exclusively about codeine and strippers, the late 2Pac always kept it real. "Dear Mama" addresses the hip-hop artist's rough upcoming, throughout which his mother was largely absent due to a drug addiction—yet he acknowledges his mother's love and greatness despite the fact ("And even as a crack fiend, mama / You always was a black queen, mama"). Like much of 'Pac's music, the song is written like a lyrical poem, plucking the emotional strings of even the toughest rappers in the game. Eminem has long voiced his support of the track since its release in 1994, while Kendrick Lamar recently cited "Dear Mama" as one of the tracks that inspired him the most as an artist.—Vivienne van Vliet
4
Alicia Myers, "I Want to Thank You"
What's so convincing about the thanks Alicia Myers bestows in her disco-infused 1981 R&B single? There's certainly something in her voice: audible relief, you could say. And the lyrics: "You sent me someone who really loves me / And not just my body," she sings, hinting at that darker period right out of frame.—Andrew Frisicano
5
Vince Guaraldi Trio, "A Charlie Brown Thanksgiving"
"A Charlie Brown Thanksgiving" was a shoo-in here, both for the kids' enjoyment and for your own sappy nostalgia, too. Originally penned for the 1973 Peanuts special of the same name, this cheery instrumental by jazz musician Vince Guaraldi hits just the right penultimate note on our Thanksgiving extravaganza.—Rachel Sonis
6
Descendents, "Thank You"
These California pop-punk champs have written a ton of great love songs, but few hit us as hard as this one. The subject isn't a girl, as in so many other Descendents tunes, but a band: "Thank you for playing the way you play," sings frontman Milo Aukerman, expressing a sentiment penned by bassist Karl Alvarez. In a stroke of modest genius, Alvarez never reveals the identity of his musical crush, instead letting the listener fill in the blank.—Hank Shteamer
7
Jay Z, "Roc Boys (And the Winner Is)"
With the opening line "First of all I wanna thank my connect," Jay Z launches into an award acceptance speech for an accolade of his own creation, shouting out to anyone who's helped him as a hustler, drug dealer and MC. As usual, he's talking about rapping and drug dealing all at once, with another layer added by the fact that the track comes from his concept album American Gangster. Whether you want to find yourself on his list of crooked cops, drug mules and rival gangsters with bad aim is another matter.—Andrew Frisicano
8
Sam & Dave, "I Thank You"
R&B outfit Sam and Dave brings soul-clap goodness to its 1968 classic "I Thank You," later memorably covered by ZZ Top. Although the track chronicles a lover's smothering affection—which many of us might feel fenced in by—Sam and Dave don't seem to mind one bit. Rather, they just show a great deal of appreciation right back. After all, what kind of love is greater than one that gives, as Sam and Dave put it, "kisses so good that I have to holler for help"? We rest our case.—Rachel Sonis
9
Otis Redding, "I Want to Thank You"
Soul legend Otis Redding made his permanent mark on the music world by frenetically shouting "Try a little tenderneness!" in 1966. On this follow-up, a melancholy farewell to a girl that our narrator has to leave, Redding proves that he practices what he preaches. Coupled with Otis's soulful swagger, the delicate lyrics become all the more poignant as the song goes along, reaffirming Shakespeare's notion that parting is truly such sweet sorrow.—Rachel Sonis
10
Bob Marley, "Give Thanks and Praises"
In 1977, Bob Marley coined the phrase "Give thanks and praise to the Lord, and I will feel alright" with his smash hit "One Love/People Get Ready," only to release "Give Thanks and Praises" just six years later. Marley's smooth voice and the track's unbelievably mellow beat create a relaxed and even slightly euphoric vibe, which might make your obligatory post-turkey coma a bit more pleasant.—Rachel Sonis
11
Earth, Wind & Fire, "Gratitude"
This track by the soul supergroup is all about free love and flower power. (It was 1975, after all, so who could blame 'em?) Funky and uplifting, "Gratitude" could set anyone's feet tapping and hips swaying, surely making Thanksgiving less of a lethargic food binge than an upbeat dance celebration. And for that, EW&F, we are eternally grateful.—Rachel Sonis
12
Boyz II Men, "Thank You"
While it's likely aimed at a friend or love, this upbeat number is just vague enough that it doubles as a fan-appreciation anthem. Sit back, and let everyone's favorite '90s-era Philly R&B quartet doo-wop, beatbox, scat and harmonize their way into your heart. Consider us charmed, good sirs.—Rachel Sonis
13
Talking Heads, "Thank You for Sending Me an Angel"
It's no secret that Talking Heads frontman David Byrne is one of pop's most lovable eccentrics. On the off chance that you need a reminder, the NYC new-wave group's 1978 track "Thank You for Sending Me an Angel" ought to do the trick. It turns out that it's Byrne's ode to none other than…himself. A hyper march rhythm and Byrne's shrill yelps contribute to the track's jovially narcissistic bent. But hey, we all need some self-lovin' sometimes, and Thanksgiving just might be the perfect occasion.—Rachel Sonis
14
Dido, "Thank You"
English songstress Dido allegedly wrote the 2000 hit single "Thank You" as a tribute to her then-beau, entertainment lawyer Bob Page. Although the couple split a little while later, it's doubtful that the song did them in. Dido's languid voice and potent lyrics create a substantial, fully realized pop track, and let's be honest: That's something we should all be thankful for.—Rachel Sonis
15
The Radio Dept, "A Token of Gratitude"
Lo-fi Swedes the Radio Dept only drop an album about every four years, so for every release, we give endless thanks. On 2010's indie album-of-the-year, Clinging to a Scheme, it offers up appreciation to a lover ("Please accept this as a token of my sincere gratitude") in a characteristically quiet demeanor: whispered vocals over ping-pong sample percussion, muffled guitar lines and feathery synths. Right on, Radio Dept; sometimes the best thanks are the little gestures.—Rohan Samarth
16
Ty Segall, "Thank God for Sinners"
Which sinners do we have to thank for inspiring the psych stylings of contemporary garage rock king Ty Segall? He gives us some pointers with two dedications in the liner notes to his 2012 album, Twins: Neil Young and San Francisco. Sounds about right. So keep those names in mind while celebrating sin with this fuzzed out, sun-drenched tune this Thanksgiving, and don't worry—you have another month to get off the naughty list anyway.—Rohan Samarth
17
Alanis Morissette, "Thank U"
Upon her return from a six-week "goddess trip" to India with her mother and friends in 1996, Canadian pop-rocker Alanis Morissette wrote this Grammy-nominated single. A reflection of the gratitude she felt during her journey, the track conveys dreaminess and extreme vulnerability; the blend of thoughtful chord progressions and Morissette's grungy, emotive voice makes for a synth-laden treat.—Rachel Sonis
18
The Pastels, "Thank You for Being You"
Ready-made for a teen-melodrama soundtrack, this 1993 hit by Glasgow new-wave rockers the Pastels is a love poem for the modern age. The timid guitar strumming and frontman Stephen McRobbie's soothing mewl result in a dreamy anthem for an adolescent love affair: "It may be wintertime, but baby, it's super fine / Baby, you know you are getting close to my heart," sings McRobbie. Listen closely, and you can hear a thousand girls swooning.—Rachel Sonis
19
Nujabes, "Thank You (feat Apani B)"
A hip-hop mainstay in his home city of Tokyo during his time, producer Nujabes garnered a Western cult following in the aughts after American fans caught wind of his impeccably smooth, jazz-infused beats-smithery on the Samurai Champloo soundtrack. Queens MC Apani B takes this moment on his excellent second record, Modal Soul, to throw the fans some affection—"I thank you all for showing love to me"—a groovy motivator to launch someone into the "saying grace" spirit.—Rohan Samarth
20
Andrew Gold, "Thank You for Being a Friend"
If you were around in the late '80s and early '90s, Miami's quirkiest broads, the Golden Girls, were no doubt a fixture on your TV screen. The celebrated sitcom's theme song—Andrew Gold's "Thank You for Being a Friend," as sung by Cynthia Fee—is just as memorable as Blanche, Rose, Dorothy and Sophia are. Whether the song inspires you to love your friends that much more or merely makes you want to embark on a Golden Girls marathon, it's bound to get stuck in your head. Fortunately, no one ever seems to mind.—Rachel Sonis