Q&A: Andreas Scholl embraces 19th-century romance at Lincoln Center
The stellar countertenor sounds off about Romantic fare and married bliss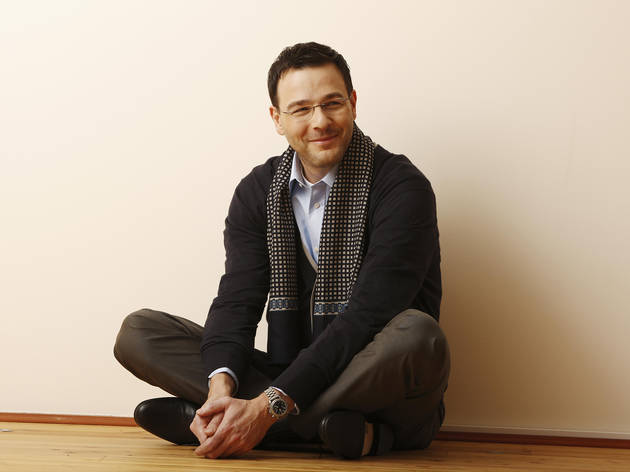 After more than two decades of wowing the classical crowd, countertenor Andreas Scholl isn't ready to slow down. This week, the prolific recording artist, celebrated concert singer and opera star comes to Alice Tully Hall with his wife, pianist Tamar Halperin, to debut selections from their new album of German lieder, Wanderer, during a unique Lincoln Center Great Performers concert. Speaking with TONY by phone from his home in Basel, Switzerland, Scholl shared some of the secrets of Romantic interpretation and conjugal collaboration.

Many countertenors are reluctant to leave the early-music realm. What inspired you to tackle traditional German lieder by Schubert, Brahms and Mozart?
After singing professionally for more than 20 years, I've done all the core Renaissance and Baroque repertoire that is traditionally sung by countertenors. And every so often I think, What else will be interesting? It's not that I'm bored with early-music repertoire, but once in a while it's good to challenge the old ideas and find something new. The idea was to try to find my voice in this new repertoire, to see whether I can apply my philosophy about singing and the musical knowledge I've gained to this repertoire.… I think I did that, and it's a very rewarding thing.
You've said before that a simple and pure approach lends itself well to these Romantic-era German lieder. How did you come to this conclusion?
The philosophy in early music is prima le parole, where the priority lies first with the words. I think it's the same with this repertoire: It's poetry that's accompanied by music, so, as my singing teacher says, if you can recite this Goethe poem to an audience like in a play, basically just apply the rules of the spoken word to singing and that will be enough. I think a misconception of many singers is that interpretation is something you have to invent, but I believe that it's an extraction of what the composer wanted to express with the piece. I first think, What was Schubert's idea with this song? Then I start from the beginning and ask myself, Who am I when I sing this? When I perform "Death and the Maiden," can I play both characters? Then I find the vocal tools to express my ideas about the songs.

What is the significance of the Purcell and Dowland pieces on the program?
The Dowland songs would usually be done with a lute, and the Purcell with a harpsichord. But I believe it's perfectly possible to play these songs with a piano, which we will be doing for the first time on this concert. For my wife, it's a wonderful opportunity to try to bring colors to the lute songs or to Purcell's harpsichord, which is an instrument that does not have any dynamics. With piano, you can add dynamics and color and use the pedal to keep sustained notes longer—that brings the songs into the 21st century, and it's an approach that I believe is as valid.

You've been collaborating with your wife, Tamar Halperin, since long before you were married. What's it like now that you've tied the knot?
It's a very special thing. We have a wonderful recording studio just across the courtyard here: our laboratory or atelier, one could say. My wife will call me over and say, "Let's do a few Dowland songs," or "Are you in the mood to do some Brahms?" The fun part is that we don't have to make appointments for rehearsal times, but just decide spontaneously when to work. As a wedding gift, we got the complete box set of The Sopranos, so we watch one or two episodes every night and sometimes afterwards we just go to the studio and sing some Schubert.
Andreas Scholl performs at Alice Tully Hall (at Lincoln Center) Sat 8.
Follow Sarah Hucal on Twitter: @SarahHucal