American standard
By Dan Avery Wed Nov 21 2007
When I read my colleague Ashlea Halpern's post on Asia's 21st-century toilet technology, I was amused. Amused—and then heartbroken.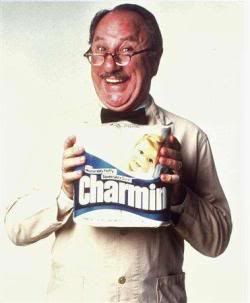 I was okay when she sidestepped the Larry Craig jokes. No comments about America being "No. 2"? Fine. But to not mention the untimely passing of Mr. Whipple, who admonished generations of toilet-tissue shoppers not to "squeeze the Charmin," was unforgiveable. It leaves a skid mark on her character that won't easily come out. Taipei may have johns so clean you can eat off them, but where are their lovable spokescurmudgeons, I ask you? Where?!?
Those of you who are as distraught as I can take solace in a touching obituary that ran in Canada's The Toque:
Whipple, who plied his trade year after year in the aisles of American supermarkets watching for squeeze-happy housewives, was absolutely wiped by the end of his career. Near the end, his friends and family said that he looked "flushed" and "drained" at the same time.
Rumors that Charmin will honor the passing of its beloved icon by leaving the doors to its Times Square Porta Pottis half open have not been confirmed, but a 21-flush salute is expected.