Contemporary Art 101
By Emily Weiner Fri Feb 2 2007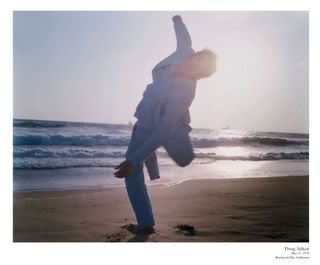 Many New Yorkers, culturally inquisitive as they may be, refrain from going to gallery openings because they feel too out of the art loop to maintain the kind of chitchat required at such events. If you're one of these New Yorkers, I'd recommend heading down to Deitch Projects this Saturday night for the kickoff of Jason Schmidt's exhibition "Artists." Not only will you see how easy it can be to insert yourself into the thick of the art scene (Deitch holds the record for hosting the most gallery-opening mob scenes this century, so it's safe to say you'll be rubbing elbows with all the "cool kids" whether you like it or not), but you'll be able to brush up on your contemporary art history, too.
For the past six years, Schmidt has been hot on the heels of today's leading artists, catching up with them in their studios, in galleries, at the beach and on the street. Deitch Projects reveals the fruits of Schmidt's exhaustive travels: a collection of 131 candid portraits of international art stars like Marina Abramovic, Doug Aitken, Ada Ruilova, Dan Colen and Brad Kahlhamer.
For a more thorough art-history lesson on Saturday, consider taking an afternoon trip uptown. The blue-chip gallery Knoedler & Company is celebrating its 160th anniversary with an exhibition of prints by photojournalist Dan Budnik, who, like Schmidt, gained access to many of the most brilliant artists of his day. Scanning Budnik's idiosyncratic shots of artists like Roy Lichtenstein, Mark Rothko, Jasper Johns and Robert Rauschenberg, you'll get a feel for the NYC art world in the '50s and '60s—before plunging headfirst into the art nexus of 2007.