Cutest cat in NYC named. Winner indifferent.
By Dustin Goot Thu Oct 25 2007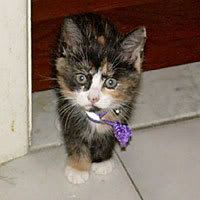 Look at the positioning on the feet. Maggie Gyllenhaal could take some pointers.
I'll be the first to admit I'm not a cat person—if I wanted temperamental companions apt to ignore me, I would go drinking with my coworkers, who at least have the advantage of wit and complex thought. Fortunately, I was not judging our Cutest Cat in NYC contest. You kitty-lovers were.
As it turns out, you've chosen Izzy here as the lucky feline. I will hand it to her that the purple ribbon is a winning touch, and she's standing with her toes outward and slightly separated the way they say women should pose on the red carpet. Perhaps that's what put her over the top. About all I think when I see this picture is that she'd probably scratch my eyes out if we met.
Still, a hearty congratulations to Izzy and her owner. The last pet contest to be decided is cute New York dogs. Cast your votes now!