E3 day 1, continued: casual relationships
By Evan Narcisse Mon Jul 16 2007
Electronic Arts
The press briefing for the world's largest video game publisher was an odd beast. Rather than assault us with the full might of their many offerings, EA chose a few specific games . If I could suss out any theme from this year's E3, it would be that the proliferation of pick-up-and-play titles signals underscored a commitment to getting people other than hardcore gamers to turn on video-game consoles. Among EA's titles designed to do just that were rhythm/karaoke game Boogie, school sports title EA Playground, virtual quiz show Smarty Pants and Blocks, one of the games being produced in conjunction with Steven Spielberg. Blocks looks deceptively simple. Different types of cubes do different things and one level shown tasked played to collapse an entire structure by manipulating only one block.
Alain Tascan, head of the company's Montreal studio did a very funny demo of Boogie, which included a spirited version of "Don't Cha" by the Pussycat Dolls.
Shortly after, Alex Rigopoulos, head honcho at Harmonix (the studio responsible for originating for the Guitar Hero concept) came on stage) to talk about Rock Band. This upcoming game offers four players the chance to man microphone, drum, guitar and bass controllers to recreate classic rock songs. Rigopoulos revealed that Rock Band would feature weekly song downloads, welcome news for anyone who's blown through the available songs on a Guitar Hero game in a month. Full albums will also be available, said Rigopoulos, and The Who's classic Who's Next will the first one fans can download. Steven Van Zandt, who was there as part of the Rock Band advisory board, enthused about the game (well, about as much as a guy who played Silvio can emote, anyway.)
Later that day, I went to EA's exhibition space and warmed up my vocal cords by belting out the Gap Band's party-starter "Brick House" before moving on to Rock Band.
As I wailed my way through David Bowie's "Suffragette City, " I was really struck by how the game requires players to perform as a unit to succeed. Either we all make it or none of us do!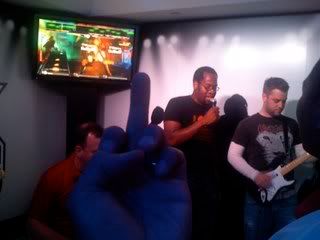 EA's upcoming Simpsons game looks to be the best one ever, which won't be that hard considering some of the stinkers that have borne the name of Homer's family. Bart, Lisa, Marge and Homer all become hip to tha fact that they're living in a video game and all sorts of metatextual wackiness ensues. The game looks stunningly fluid, with animation that fooled me into thinking that I was watching an episode of the show a few times. All the while, it pokes fun at video game clichs in true Simpson fashion, like the sequence that has Marge using her mob control powers to rile up citizens to protest the release of Grand Theft Scratchy.
Skate, an upcoming title looking to dethrone the Tony Hawk franchise from its half-pipe perch, had controls that felt amazingly naturalistic, like you're really controlling the character's body.
EA later held a party based around their Sims 2 Castaway game, with a special guest who had some hard decisions to make.