Fahion Week: DKNY
By Rachel LeWinter Mon Sep 8 2008

A block away from Bryant Park Sunday morning, you could hear PETA chanting, "DKNY, how many animals have to die?" As I got closer, I saw the mob of antifur protesters, some dressed in furry rabbit costumes covered in fake blood. I guess that's why security to get into the show was so tight. Every single ticket had to be scanned by this doohickey I'd never seen before, which just slowed down the already snail-like pace of checking everyone in.
Things started to look up when I entered the tent to see a personalized bottle of Domaine Chandon sparkling wine sitting on every seat that read, "Happy Birthday DKNY." Yes, DKNY was born and raised in this great city, and this was Donna Karan's celebration. And by the throngs of photogs clamoring over each other by the front row, it was obvious some of her celeb friends came to join the party. Winona Ryder, whom I almost didn't recognize because she was so stick thin (and out of place), Christina Ricci (is she promoting something?) and newly buxom-beauty Nicole Richie were front and center.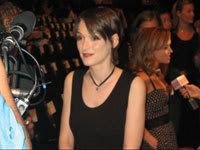 The lights dimmed and a huge projector lit the back of the runway, flashing images of New York City, giving the illusion that the models were actually strutting down the street. The clothes were what you would expect from DKNY—wearable and marketable: basic black classics with shots of neon colors, nylon parkas, jersey dresses and trench coats. The show ended with Karan walking on stage, followed by a gaggle of kids and all the models singing a rendition of "Happy Birthday."
Full Fashion Week coverage: timeoutnewyork.com/fashionweek