Fashion Week: The goodest goodie bag awards
By Suzanne Russo Mon Sep 15 2008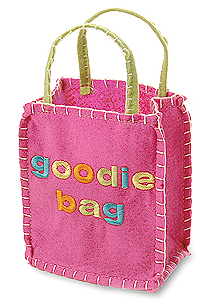 No, technically goodest isn't a word, but you get the idea: It's time to take inventory of the free swag that piled up on desks last week. Amid the eye creams and lipglosses and breath mints were some standouts worth noting, so without further ado…
Most appropriate for my grandma: Ports 1961 gave out a knitting bag with funny-topped knitting needles, a ball of yarn and knitting instructions. Are we supposed to create our own replicas of what came down the runway?
Most appropriate for Nicolette Sheridan: Tony Cohen's bag included everything a desperate hussy needs: sweet-smelling soaps, a romantic candle, shave gel, a coupon for a free facial, a spray-tan gift card and a Botox gift certificate. Now we too can tear families apart with a single pout of our bee-stung lips!
Most likely to instigate a hair-pulling fight: Not only is Vincent Longo's lipgloss in Mission Control, compliments of Douglas Hannant, a great color, but it also smells like butterscotch. No wonder The Vulture wanted so many.

Most likely to make our pee neon: Verrier's "Strength Style for Life" bag contained vitamins, calcium chews, gum and Splenda. We're pretty sure that if you ingest all of these things together you will become radioactive.
Most likely to find its way under our pillows: We thought the condoms in Yigal Azrouël's bag were slightly odd, but then we opened the New York Couture bag. The leopard-print number contained the customary lipgloss, a great T-shirt and a gift card for the fantastic Bar & Lounge Deck, and then there was something that looked like it might be a tube of lipstick. But wait: It had a remote control attached and bore the Babeland logo. We're speechless—and slightly aroused.