Moscot's on the Hudson
By Dan Avery Fri Nov 23 2007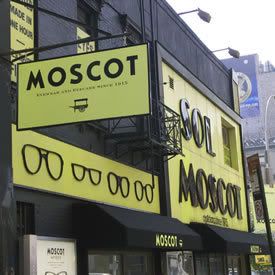 Most museums are closed for the Thanksgiving holiday, but if you simply must check out a cultural institution today, may we humbly suggest the Moscot Museum?
Hyman Moscot started selling his stylish eyewear from a pushcart on the Lower East Side in 1895. The family has had a brick-and-mortar shop in the area since 1915—first on Rivington and then at their current location (118 Orchard St at Delancey St). In recent years, E-Vill hipsters and celebs like Johnny Depp and Denzel Washington have been sporting Moscot's retro specs.
Now, fourth-generation owners Kenny and Harvey Moscot have converted the store's ground floor into a temporary museum, opening today and running through December 31. Vintage photos from the LES's more rough-and-tumble days will be on display, as well as family snapshots and unique eyewear from the past eight decades.
We're actually in the market for some new glasses (an embarrassing incident at the Cock on Veterans Day weekend resulted in a nasty scratch on our Prada tortoiseshells), so we might just see you there. The shop's old Buñuelesque signage is reason alone to take a gander.