Project Runway's farewell NY tour: Episode 7
By Rachel LeWinter Thu Aug 28 2008
With each passing episode, we're getting more and more upset that this is the last season in New York. Even when the city isn't directly part of a challenge, it still plays an integral role in influencing the show. At the beginning of this episode, the suspense builds as the designers anxiously make their way to a midtown rooftop to find out the next challenge. What could it be? Designing for a famous superstar for a fabulous party, some guess. But alas, this particular location was chosen out of logistics. Where else can you park five Saturn hybrids in the city?
The task at hand is to create an outfit from Saturn car parts. Tim emphasizes the importance of being innovative with this assignment, and the contestants are off, ransacking the cars and ravenously pulling apart anything that can be assembled into an outfit. Leanne's winning look (left) earned major praise for its inventive silhouette and original use of materials (who knew a fringed seatbelt could be so chic?)–plus, it was impeccably made and polished to perfection.
Beat up outside the car garage: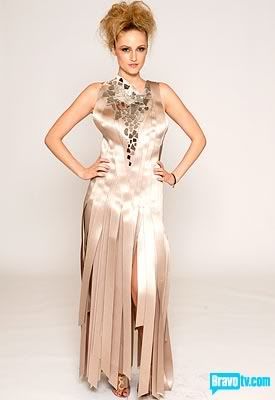 Did someone keep an eye on Suede during this challenge? We think he might have slipped out to Modell's Sporting Goods store and picked up a cheerleader's pom-pom to make his cheesy sparkly skirt (left). You can't even look directly at the thing without squinting. We were really disappointed with Blayne's unflattering seatbelt dress (right)–it had potential, but was poorly executed. We think he must have had a view of the Westside Highway Car Wash up on the roof and couldn't get that image out of his head. Either that, or the seven years of bad luck (he broke the car's side mirrors to make the embellished neckline) started immediately. "I'm never a car-wash skirt or dress fan," Michael Kors says, shaking his head. But Heidi's more concerned about the "seven years of no sex" he just risked.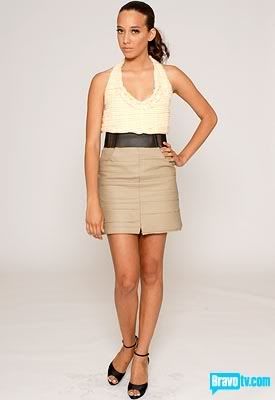 The freshmen at FIT could make something better than Keith's poorly constructed mess–in their sleep (left). But our mama told us if we didn't have anything nice to say, don't say anything at all, so we'll leave it at that.
Cruising into the winners circle: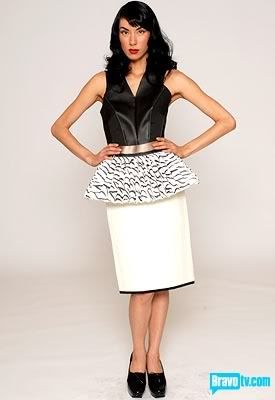 Kenley's feminine frock (above) definitely won points for being innovative (not a seatbelt in sight!) when she used air filters to create a pleated skirt, then gave it a finishing touch with a drawn-on zebra print. It's what someone might wear in the NYC ballet–if the show went grunge–punk rock (which we would totally go to see).