Rock of ages
By Drew Toal Tue Sep 4 2007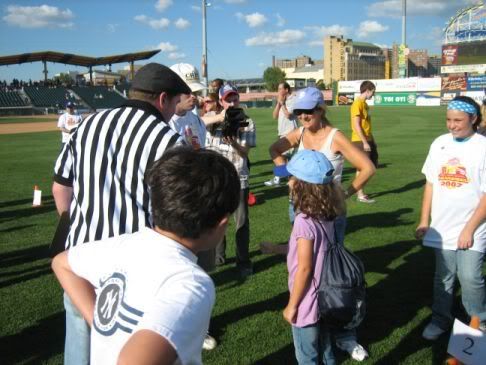 "You're going down, bitch."
I was just saying to someone a few weeks ago that there aren't enough opportunities for a competitive guy like me to beat the tar out of little kids at stuff. I'd love to join a Little League team, hit bombs out to dead center and watch the demoralized opposing pitcher (preferably a ten-year-old girl) break down and cry. My opportunity for ruining young lives finally arrived, this past Labor Day weekend, at the inaugural rock-paper-scissors tournament at KeySpan Park.
Recently, I learned learned how to shoot properly. Trained by Bryan "The Saint" Bennett, I sure felt good about my chances for RPS glory. The preliminary rounds took place out in right field, where the competitors were separated into four different brackets. Long story short, I dismantled my first few opponents with extreme dispatch. Their throws were largely predictable, and I wasn't tested until the final first round match. There, a young girl took the first set, but later wilted before my superior training.
I was in! Out of 64 original entrants, I was one of the final four. They took us down to the first-base dugout area and told us that the finals would take place between innings. When my turn came, we ambled out to the left-field warning track. They introduced us to the crowd and showed our exchanges on the big screen. I was not a fan favorite; most people in attendance didn't appreciate my Phillies shirt, nor my shiteating joie de vivre. The hotly contested semifinal match came down to the last throw. My opponent Mary threw scissors, which surely cut the hell out of my paper. I had forgotten one of the Saint's cardinal rules: Women often throw scissors.
Not a bad showing, though. Maybe I'll even travel to Canada for the RPS World Championships.