Top tattoo parlors
By Eva Medoff Mon May 9 2011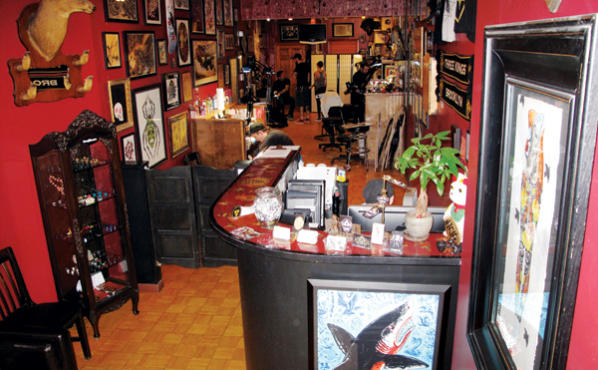 Three Kings Tattoo
With the NYC Tattoo Convention starting Friday 13, we rounded up the best places to get inked.
Three Kings Tattoo
Williamsburg and Greenpoint have become hotbeds of high-end tattoo studios, and chief among them is this three-year-old shop, owned by artists Matty No Times, Alex McWatt and Myles Karr (the three kings of its name). You'll find no high-and-mighty rock & roll airs here, however: Crimson walls lined with paintings and book cases make the joint feel more like your neighbor's living room. The 12 artists on staff produce varied designs, ranging from Tim Burton--esque portraits to classic roses and skulls. Starting at $60 a pop, the tats are a deal for the quality of the work (some of the artists have a three-month-long waiting list). 572 Manhattan Ave between Driggs and Nassau Aves, Greenpoint, Brooklyn (718-349-7755, threekingstattoo.com). Daily noon--8pm.

Whatever Tattoo
Like the name implies, anything goes at this joint on the St. Marks strip. Those looking for a deal will find superior quality compared with other pick-a-design-off-the-wall parlors. As it's a street shop, walk-ins are the norm, and the staff of five artists means you won't have to wait long. While the $60 minimum might not make Whatever the cheapest parlor on the block, it's a steal compared with other high-end joints in the city. Plus, the 2am closing time on the weekend means your late-night whims can be easily realized—for better or worse. 17 St. Marks Pl between 3rd and 4th Sts (212-777-2430). Mon--Thu, Sun noon--11pm; Fri, Sat noon--2am.

Saved Tattoo
Celebs like Courtney Love, Marc Jacobs and the late Heath Ledger have flocked to tattoo artist Scott Campbell, one half of the duo that owns this seven-year-old Williamsburg shop (the other half is artist Chris O'Donnell, an 18-year veteran of the trade). Between them and the handful of artists in residence, customers can choose from Japanese style (O'Donnell), new Americana (Seth Wood), tribal-inspired ink (Thomas Hooper) and more, with pieces starting at $100. While the price tag might be hefty, the spalike environment (exposed wood beams, Japanese screens) will make the cost a distant memory once the needle starts buzzing. 426 Union Ave at Devoe St, Williamsburg, Brooklyn (718-486-0850, savedtattoo.com). Daily noon--8pm.

Beaver Tattoo
Once you find out that this Queens shop is an all-girl tattoo parlor, the name should click. Cheeky titles aside, this tiny, checker-floored store is all business. The six women artists excel at black-and-gray realism and quirky tats, including a rendition of the Brooklyn Bridge and kitschy designs like a cassette tape and a dress form. Of course, gentlemen are also welcome—the skill of the work will convince any antiquated nonbelievers that ladies can work a needle. On top of the bitchin' tats, the $40 starting price should seal the deal. 94--02 Jamaica Ave at 94th St, entrance on 94th St, Woodhaven, Queens (718-441-1328, beavertattoo.com). Mon--Thu 1--9pm; Fri, Sat 1--11pm; Sun 2--6pm.

New York Adorned
This 15-year-old institution has earned a reputation as a destination for serious tattoo aficionados. The eight artists present a smorgasbord of styles, including black-and-gray, portraits, Americana and traditional Japanese tebori (a hand-poked method), the latter courtesy of resident artist Shinji Horizakura (all pieces start at $100). Currently taking up space in its retail sister store, Love Adorned (269 Elizabeth St between E Houston and Prince Sts; 212-431-5683, loveadorned.com; Mon--Thu 1--8pm; Fri, Sat 1--9pm), as the flagship undergoes renovation, the shop is expected to move into its improved digs near the end of May. 47 Second Ave between 2nd and 3rd Sts (212-437-0007, nyadorned.com). Mon--Thu, Sun 1--9pm; Fri, Sat 1--10pm.