We were there: MakerBot Studio
By Matthew Love Thu Jun 30 2011
Last week, I visited the MakerBot Studio on Dean Street; this week, I am a three-dimensional, open-source and—here's the clincher—printable object.
The world of MakerBot is pretty mind-blowing. Essentially, how it works: Anyone can scan an object with a laser, input this information into a computer, store the shape onto a flash drive and insert the drive to the nearest Thing-o-Matic—that is, a printer that prints in plastic and in three dimensions—and watch the object be re-created in ABS (the same stuff that Legos are made from).
As the guys keep telling me, I could print shower curtain rings or solid, working gears or anything else I can get to sit still for a few seconds. Hey, I know something that can stay in one place for at least ten seconds!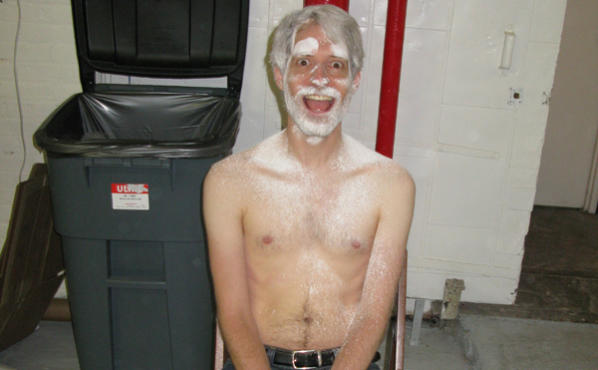 In addition to its mind-blowing quality, here's where the world of MakerBot gets very, very goofy. Becoming a design object that anyone with a few thousand bucks for a 3-D printer and a spool of plastic tubing can use and abuse means one might become the head on an octopus or a Pez dispenser or any other useful plastic object (wink, wink ladies).
Needless to say, when my pal Keith Ozar of MakerBot invited me to become a part of the Thingiverse, I jumped at the chance. I went to the workshop and immediately got topless (as is my wont in visiting friends' offices). I was dusted with cornstarch to make my hair and eyebrows show up during the laser scan.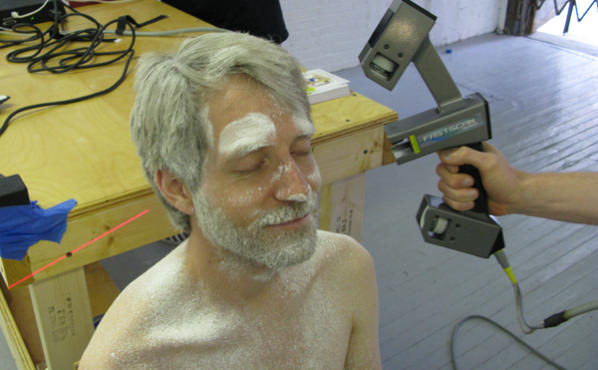 I was scanned by artist-in-residence Jonathan Monaghan, and appeared onscreen after some giggling and a couple of attempts to get it right. So now I exist as a 3-D thing anyone can make; my only plea: Make me from biodegradable plastic tubing so my likeness doesn't remain on the earth after its dead and scorched!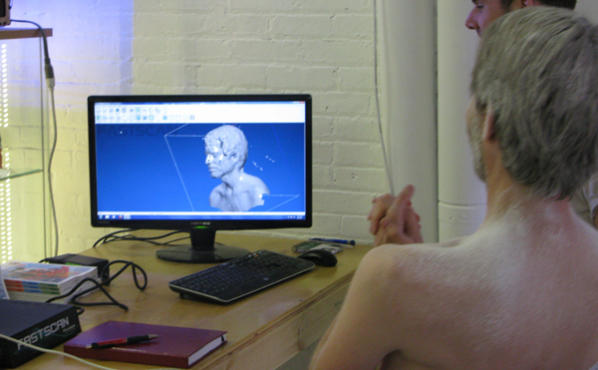 If you're curious, come to the MakerBot workshop tonight at 314 Dean Street between Third and Fourth Avenues in Boerum Hill, Brooklyn (Subway: B, Q, 2, 3, 4, 5 to Atlantic Ave; D, M, N, R to Pacific St); they're having a party from 7 to 10pm, at which you can examine their Thing-o-Matics and see all the New York notables they've made into objects. Techie comic Reggie Watts was coming in a few hours after my session. And it happened to Stephen Colbert a few weeks ago; here's how it went down for him: