"Yes, of course they're serious."
By Drew Toal Wed Apr 25 2007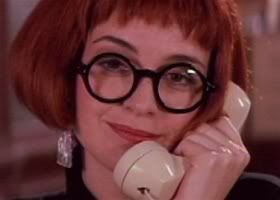 I don't give a damn what you think. I'm Annie Potts.
In the hierarchy of national holidays, there is some debate in regard to their relative importance. Some citizens are partial to Thanksgiving. Others may prefer Independence Day—a time when we god-fearing Americans threw off the oppressive yoke of Clare Lambe's articulately belligerent British forebears. Personally, I think those holidays are for squares.
I'm a Columbus Day man myself. That crazy conquistador could do no wrong in my book, and every year I celebrate by dressing up in full medieval Spanish regalia. That is, I was a Columbus Day man, until I learned of my new favorite day. Today. National Administrative Professionals Day.
That's right, coworkers. On this day my merest whim is law. No more Drew to kick around. Maybe I'll just not answer phones or sort your mail. Eh? In fact, I demand tribute. When I arrive at the office, after the sun passes its zenith and I awake from my alcohol-induced slumber (not necessarily in that order), I expect to see lavish gifts of food, treasure and servants.
Let the festivities begin.