The best brunch in NYC to try right now
Consult our comprehensive guide to the best brunch in NYC and enjoy a perfect late breakfast this weekend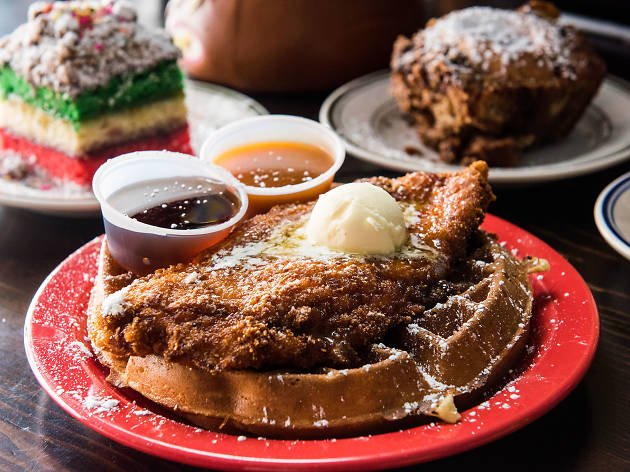 Brunch may be a New York institution, but too often the best brunch in NYC gets messed up by long lines, watered-down mimosas and substandard eggs. Ugh. But don't despair, dear bruncher: With our brunch guide, you can discover under-the-radar and overlooked joints by browsing the full list of spots for the best brunch. NYC also has plenty of options to narrow it down by borough (looking for the best bagels in your neighborhood?). Plus, whether you're looking for top-notch mimosas, Bloody Marys or some of the most unique cocktails in NYC, we have your day-drinking bases covered with our list of boozy and bottomless brunch spots. In short: Read on, and own brunch.
RECOMMENDED: Full guide to the best restaurants in NYC
Sponsored listing
Restaurants, Contemporary Asian
On an unassuming side street in the Fulton Mall district of Downtown Brooklyn, the traditional street food of Shanghai comes alive at Yaso Tangbao. The venerable Chef Zongxing Tu—former executive chef of Joe's Shanghai—serves as the 'yaso' (uncle) to three twenty-something partners from Nanxiang, who sought to bring the chef's famous xiao laong bao steamed soup dumplings to an area poised for rapid growth. It's a clear fit, as the casual, counter-order eatery is ideal for the constant stream of workers from the nearby municipal buildings to grab a filling, low-cost lunch. But the word is out among locals, as well; all of the restaurants' seven long, wooden communal-seating tables were occupied at 7 p.m. on a recent Sunday evening. Chef Zongxing is sort of a big deal among fans of Chinese dumplings, so be sure to start your meal with the blue crab and pork soup dumplings ($6.95), which shimmy on the special spoon provided for their enjoyment. Gently bite off the orange-hued tip, and a fresh burst of briny Maryland blue crab broth rushes onto your palette. Sip it up to get to the ground pork filling. A few seats down, a little blonde girl cries out as some of her succulent broth escapes; she desperately lifts the bamboo steamer over her spoon in an attempt to catch it. Don't skip the pan fried pork baos ($5.65), tangerine-sized rolls of soft white dough with a juicy pork filling in a tiny reservoir of broth, topped with black sesame seeds and a pleasant sheen of grease. Anothe
Venue says WIN A TRIP TO SHANGHAI! Share a photo of your meal, tag #ny2sh #yasotangbao and follow @yasotangbao for the chance to win a 5-day adventure!