The best Whole30 dishes at NYC restaurants
We asked experts to weigh in on the best Whole30 dishes at NYC restaurants, so you don't have to be stuck eating at home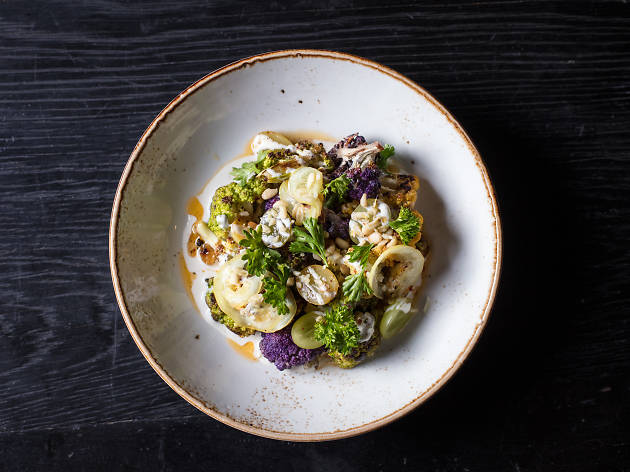 You've hit the groove of your New Year's resolution and you want to keep it going, or a you're planning an epic beach trip in a couple of weeks, or you just want to try this whole "healthy" thing, but you're not ready to go vegan. Whatever it is, we know you've been dabbling in Whole30. For just one month, the program requires you to cut out unprocessed foods (buh-bye sugar, bread, dairy, alcohol—and more) to boost energy and re-boot your system. But don't fret! It doesn't have to mean the end of dining out. We've asked members of the official Whole30 team not only to tell us some of their favorite Whole30-approved dishes in NYC restaurants, but also to certify ones that looked delicious to us as well. Happy dieting.
RECOMMENDED: Full guide to the best dishes in NYC
Whole30 dishes in NYC restaurants
Chef Nick Testa cooks modern comfort food at this Astoria restaurant. And if you're serious about the program, you've picked the right place. Testa is passionate about the diet as he completed it last summer and says that he feels so much more energetic.
What to order: Roasted half chicken, marinated with preserved lemon, thyme, rosemary, garlic and sumac, and served with sweet potato wedges and a watercress-pomegranate salad
Read more
Greek-American chef Michael Psilakis made his name repping his Hellenic roots, diving into the country's coastal fare at his uptown joints, Kefi and Fish Tag. So it's no wonder the TV toque headed to Little Greece for this modern Mediterranean tavern.
What to order: Whole lavraki fish with extra virgin olive oil, lemon and sea salt
Book now
Read more
This café and catering company in East Harlem serves healthy comfort food classics and freshly baked desserts.
What to order: Seared salmon salad with roasted vegetables and cherry tomatoes in a shallot balsamic vinaigrette
Book now
Read more
This refined Clinton Hill spot uses a no-waste approach for its seasonal small plates by implementing whole-animal butchery, in-house fermentation and bread and pastries.
What to order: Winter vegetable pot au feu with turnips, sunchokes, Yukon gold potatoes, onions and a large royal trumpet mushroom
Book now
Read more
While with the booming BLT empire, Laurent Tourondel island-hopped between steak concepts, raw bars and haute-burger joints. But with L'Amico, his Italian-inflected American restaurant in the right wing of the Eventi Hotel lobby, the French-born chef taps into one of the most democratic yet dissentious of eats: pizza.
What to order: Wood oven-roasted chicken with charred broccoli rabe and preserved lemon
Book now
Read more
What Chernow did for ground-beef spheres at the Meatball Shop, he aims to replicate with Seamore's, a white-washed, pastel-trimmed Nolita remake of old Montauk fish shacks, spotlighting underutilized species (monkfish, tilefish) from east-end outfits Dock to Dish and Sea to Table. That's a well and noble cause— if you could actually decipher what catch you're eating.
What to order: Avocado toast on top of a slice of sweet potato with pickled onions and everything bagel seasoning
Read more
The all-day brasserie near Union Square uses the park's frequent market to stock its seasonal menu from from Chef Ron Rosselli (Locanda Verde).
What to order: Roasted cauliflower with pine-nut tahini, garlic-chili oil and grapes
Read more
This industrial-style New American bar and restaurant serves comfort food and a whole roster of cocktails.
What to order: Zucchini noodles sauced with pistachio pesto and tossed with roasted kale, wild mushrooms and charred cherry tomatoes. Just make sure to ask the server to hold the sprinkle of Asiago.
Book now
Read more
The East Village needed a Hearth—an upscale yet relaxed place that wasn't just another surprisingly good ethnic hole-in-the-wall. Skirting the small-plate trend, the hearty fare is big, rich and flavorful. There is a small hearth in the restaurant, but the real warmth comes from the staff, which takes pains in helping you pick the right dish, and is equally interested in finding out afterward what you thought of it.
What to order: Whole spatchcock chicken with rapini, Calabrian chili and lemon
Book now
Read more
Show more
Sponsored listing
Via Quadronno 73rd Street
Located just off Central Park at Madison Ave and 73rd Street, Via Quadronno has a menu extensive enough to interest both tourists and locals. In the morning, you might pop by for one of the adorably decorated lattes ($5) and a chocolate croissant ($4). Around midday, the wide variety of paninis—ham, brie, fontina and pate ($13) and prosciutto, shrimp, mozzarella and pink sauce ($13.50) are just two of the options—or a fresh caprese salad ($18.50) might tempt you. For dinner, there's everything from filet mignon carpaccio ($25) to spaghetti carbonara ($25.50) to veal medallions in white wine sauce ($38.50) to choose from. No matter the meal, you might want to save some room for the tiramisu ($10.50) or a few macarons ($2.50 each)—you know, just in case.
Venue says: "You may have seen us on Martha Stewart TV and Gossip Girl! Famous for our Milan-style cappuccinos and Paninis, celebrities love them too."