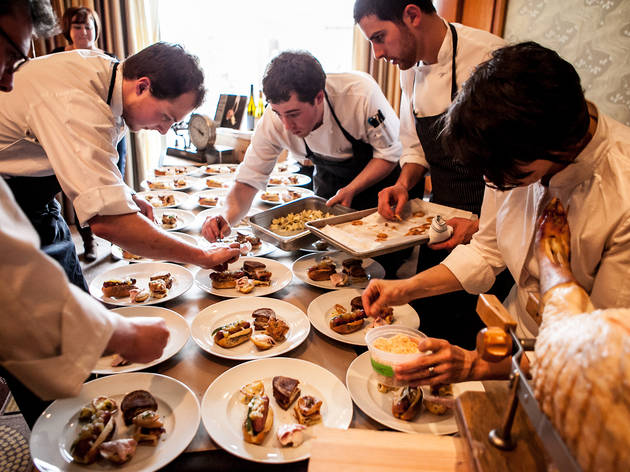 1/5
Photograph: Galdones Photography
Cochon 555
2/5
Photograph: Galdones Photography
Cochon 555
3/5
Photograph: Galdones Photography
Cochon 555
4/5
Photograph: Galdones Photography
Cochon 555
5/5
Photograph: Galdones Photography
Cochon 555
The 14-city porcine fest, promoting sustainable farming of heritage-breed pigs, returns to New York with live butchering demonstrations, meaty tastings and a friendly chef cook-off. Toques will go head to head for the prestigious title of "Prince or Princess of Porc," chosen by a panel of judges. Throughout the evening, taste your way through 1,500 pounds of pork, plus boutique wines, craft cocktails and artisanal beer.
Rating Breakdown
5 star:

0

4 star:

0

3 star:

0

2 star:

0

1 star:

1
Sorry Jen,
I think you have got this all wrong. Is this a general copy and paste comment you quickly throw out there without much reading or careful thought of who or what you are attacking? Life is precious and about balance, diversity and education #Startwith1Thing.
Do your homework - don't go out there with loose words and potentially destroy causes / beliefs you don't have time to learn more about. You didn't even look below the surface.
Why aren't more people disgusted by this? We consider ourselves a "higher-thinking" thinking species yet we parade such barbaric trends around, slap it with a sexy alcoholic brand, add some music and somehow think this is FUN, and worst of all, NOBLE? This movement does not at all have "pig love" as they say on their t-shirts and despite their frivolous efforts at "honest agriculture," you fail to mention that the raising of pigs causes degradation beyond the wildest imagination of those who patron such silly food movements. "Factory farming accounts for 37 percent of methane (CH4) emissions. Methane has more than 20 times the global warming potential of CO2." Pigs are incredibly intelligent and kind animals with intricate social relationships...much more than what I can say for the human species apparently. Wake up people! This is NOT COOL, it's extremely cruel to raise additional pigs (and create a greater burden on the earth and further contamination of our environment), tout them around as mascots for their own slaughter and proceed to kill them for the sake of the culinary wants of a few thousand neanderthals who latch on to every passing trend their is. I feel so sorry for where we've gone as a species.