Daruma-ya to open in Tribeca
Soba is the star of this downtown izakaya, with plates from Nobuhito Dosei (of L.A.'s Michelin-starred Mori Sushi).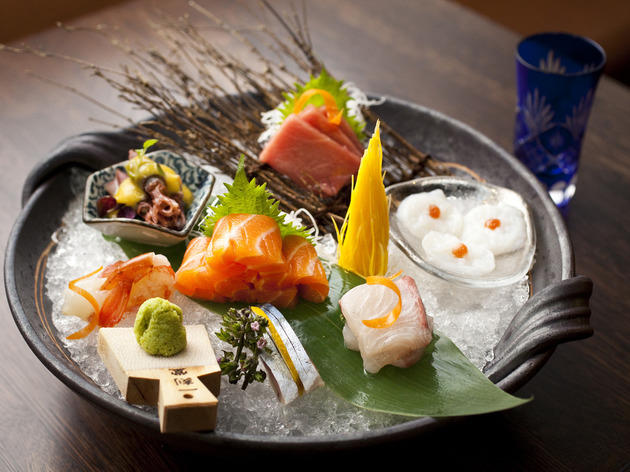 1/5
Photograph: Jessica Lin
Sashimi platter at Daruma-ya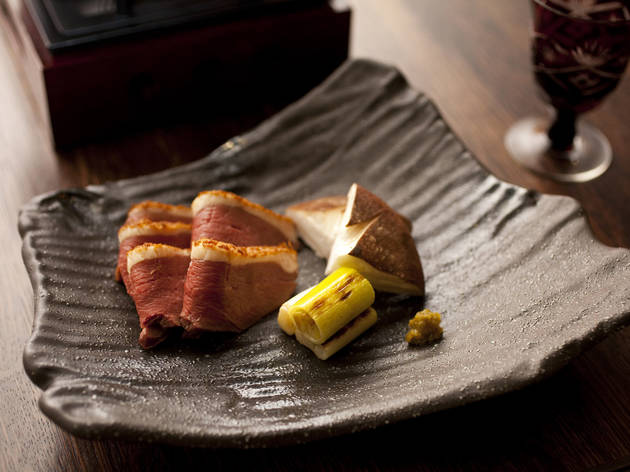 2/5
Photograph: Jessica Lin
Kamo toban yaki at Daruma-ya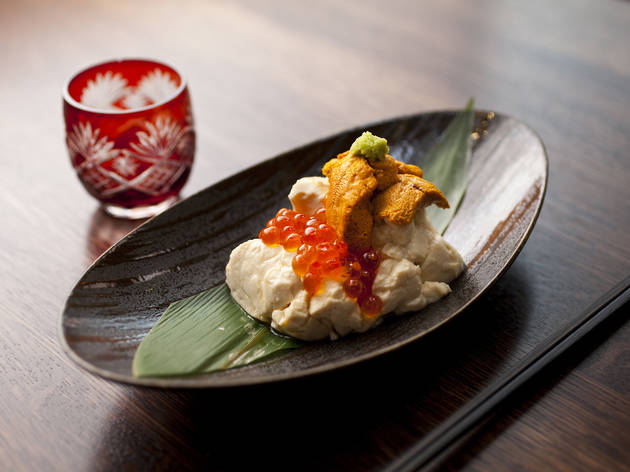 3/5
Photograph: Jessica Lin
Tofu with uni at Daruma-ya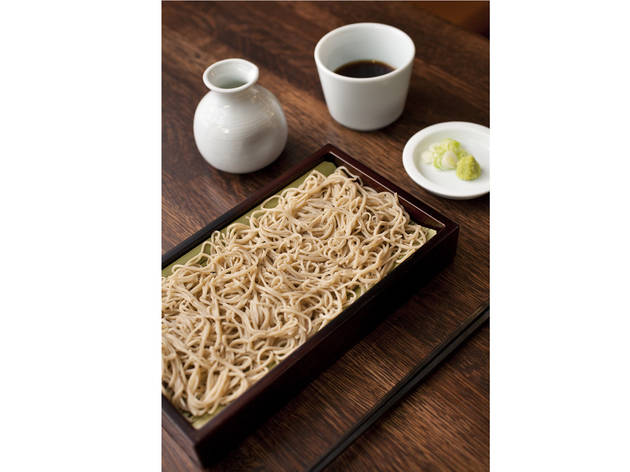 4/5
Photograph: Jessica Lin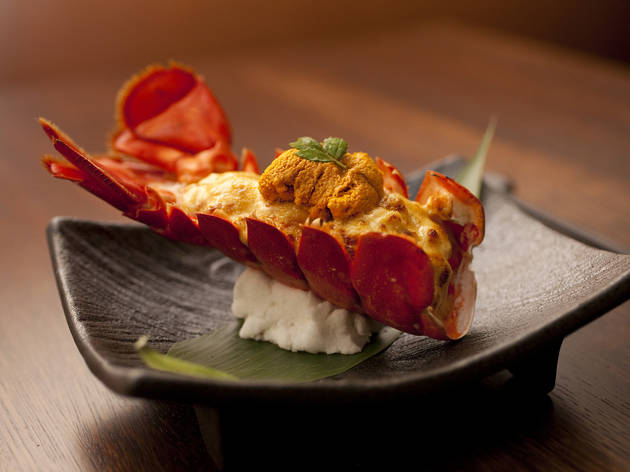 5/5
Photograph: Jessica Lin
Ramen is the undisputed king of New York's noodle pantheon, but this 40-seat izakaya—taking over the space atop Sushi Azabu come April 7th—spotlights ramen's more high-maintenance cousin, soba. Noodle master Shuichi Kotani turns out fresh tangles every 30 minutes, grinding imported Japanese buckwheat by stonemill—the resulting strands serve as base for eight dishes, topped with ingredients like roasted duck, Japanese bottarga and grated yam. Beyond the noodle bowl, Nobuhito Dosei (of L.A.'s Michelin-starred Mori Sushi) whips up small plates like live scallops with smoked salt and yuzu juice; deep-fried tofu with nameko mushrooms in dashi; and kobe beef with wasabi and oroshi-ponzu sauce. Check out a sample menu below. 428 Greenwich St at Laight St (212-274-0428)
MENU:
Raw bar
Sashimi, 3 kinds $20
Sashimi, 5 kinds $35
Sashimi, 7 kinds $55
Nama gaki (kumamoto oysters with ponzu and black pepper), $12
Hotate (live scallops with smoked salt and yuzu juice), $10
Small dishes:
Edamame(boiled soybeans with shitimi salt), $6
Oshinko (homemade Japanese pickles), $8
Hijiki no umani (Hijiki seaweed simmered with soy sauce and sugar), $5
Nasu ageni (deep-fried eggplant in dashi sauce), $5
Mosukusu (seaweed in vinaigrette), $7
Ikura oroshi (salmon roe on grated daikon radish), $8
Tako wasa (marinated octopus with wasabi sauce), $8
Ita wasa (fish cake with wasabi), $5
Ume kyuri (cucumber with Japanese plum sauce and salted konbu seaweed), $6
Gyu shigureni (boiled tender beef with mirin soy sauce), $10
Salad:
Gyokai aburi salad (seared seafood salad with onion konbu vinaigrette), $18
Daikon kerasumi salad (Japanese daikon radish salad with bottarga), $14
Kaiso salad (seaweed salad), $8
Kisetsu Yasai salad (seasonal vegetable salad with onion and konbu vinaigrette), $12

From farm:
Dashimaki tamago (egg cooked with dashi sauce), $7
Zaru dofu (tofu with sea urchin and salmon roe), $15
Agedashi dofu (deep-fried tofu with nameko mushroom in dashi sauce), $10
Tomokorosi tempura (sweet corn tempura), $7
Yasai tempura (seasonal vegetable tempure), $15
Yasai seiiro mushi (steamed seasonal vegetables with sesame and miso mayonnaise), $13

From ocean:
Sengyo carpaccio (fluke carpaccio with ponzu sauce and yuzu pepper), $17
Maguro tartare (tuna tartare with soba cracker and quail egg), $15
Salmon tartare (salmon tartare with chopped wasabi and quail egg), $15
Hotate okaki age (crispy fried scallops with rice cracker), $17
Toro-duke kushi yaki (skewered grilled marinated fatty tune), $18
Asari whiskey muchi (steamed clams with Japanese whiskey), $15
Ebi tempura (shrimp tempura), $20
Taraba-gani iso mayonnaise yaki (king crab with seaweed mayo), $28
Kama-yaki (today's catch jaw, grill), $12
Saba nitsuke (boiled mackerel with miron and soy sauce), $15
Gindara saikyo-yaki (grilled cod with saikyo miso), $18
Lobster uni mayonnaise yaki (grilled lobster with sea urchin and mayo sauce), $20

From land:
Wagyu tataki (thinly sliced Wagyu beef, Japanese radish, onion), $21
Tori karaage (crispy karage chicken), $12
Foie gras aonori sauce (sauteed foie gras with seaweed sauce), $18
Kamo toban yaki (duck cooked on porcelain tile), $18
Mugi buta shabu shabu (mugibuta pork belly), $16
Menchi katsu (deep-fried ground pork and beef), $20
Uni gyuniku maki (kobe beef with sea urchin on rice cracker), $30
Washu gyu steak (kobe sirloin steak with wasabi and oroshi ponzu sauce), $55

Soba:
Seiro soba, $13
Kamo seiro soba (duck soba), $28
Gyokai bukkake soba (sashimi soba), $26
Uni soba (sea urchin soba), $24
Karasumi soba (Japanese bottarga soba), $20
Nameko orosshi soba (nameko mushroom soba), $16
Tororo soba (grated yam soba), $15
Tempura soba, $24

Sponsored listing
Loreley
Sitting outside on the patio, quaffing giant steins of beer is possible year round at Loreley, a heated outdoor beer garden on the Lower East Side. If truly awful weather pushes you inside, grab a seat in the indoor beer hall. With rustic wood benches for seating and exposed brick walls, this bar and restaurant has a modern German aesthetic. Thirsty patrons can sample beers from Weihenstephaner—the world's oldest brewery—and the 11 other German-inspired breweries on tap. Kolsch, hefeweizen, lager and IPA: this beer garden has it all. Not into the suds? There's also a wine list and full bar available. The bartenders will even mix up specialty cocktails, if you're so inclined. All that drinking got you feeling peckish? Order something from the kitchen. Loreley's extensive menu features classic pub food and German favorites. Think everything from giant soft pretzels, currywurst and weiner schnitzel to buffalo wings, nachos and burgers. Keep an eye out for special events, like holiday brunches and weekend craft beer festivals.
Venue says: "We are the largest heated outdoor beer garden in Manhattan's lower east side and have a great selection of imported beers, wines & spirits."