Dinner dates for less than $50
Impress someone special with great tastes, and have enough left over for a second date.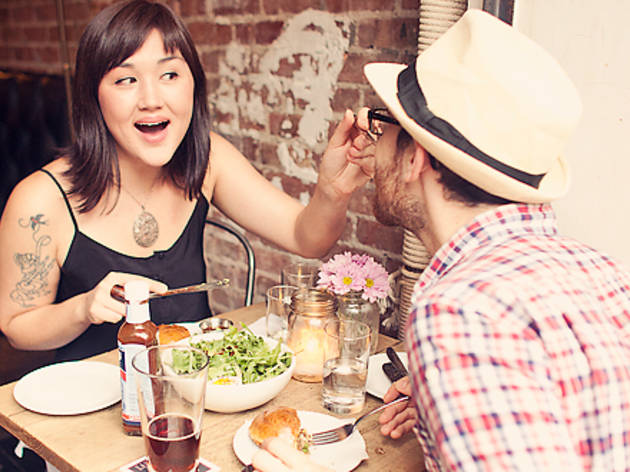 1/5
Photograph: Lizz Kuehl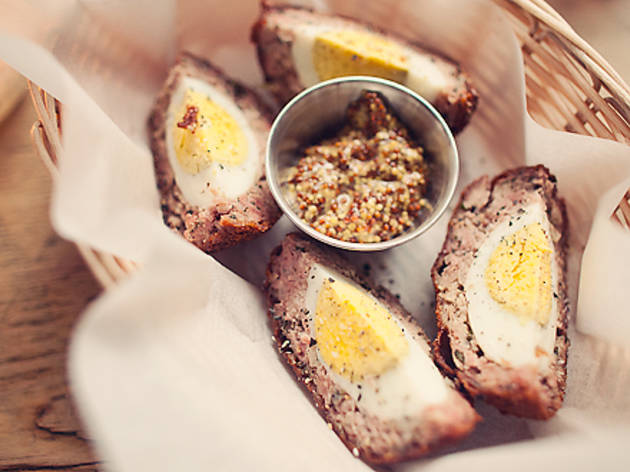 2/5
Photograph: Lizz Kuehl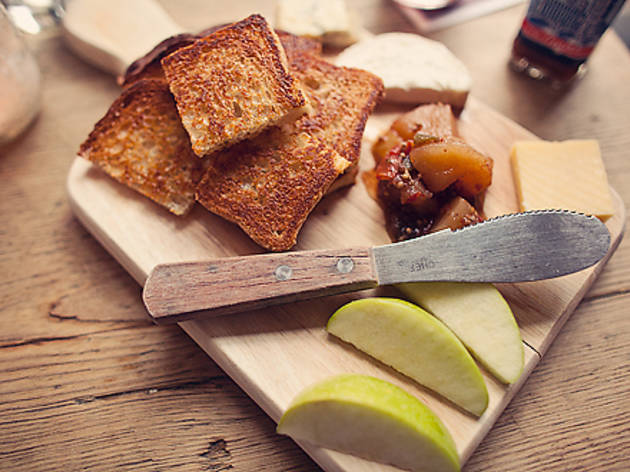 3/5
Photograph: Lizz Kuehl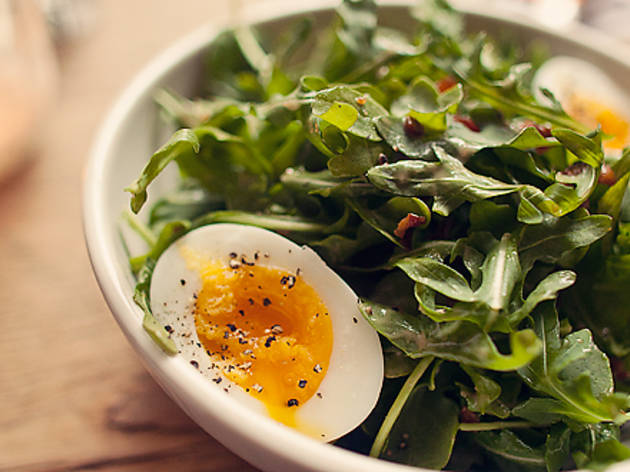 4/5
Photograph: Lizz Kuehl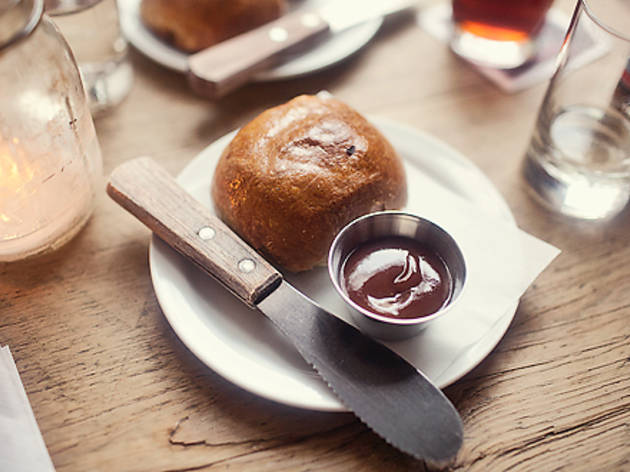 5/5
Photograph: Lizz Kuehl
Fonda
The happy-hour specials served at this year-old spot from former Rosa Mexicano chef Roberto Santibaez supply some of the city's finest Mexican eats at taco-truck prices. Perch yourself at the tall bar Tuesday to Friday from 4 to 7pm (weekends 4 to 6pm) and order any of four serious snacks for just $5 each: a molcajete filled with freshly made guacamole for two, accompanied by house-made soft corn tortillas; crispy fried corn tortillas stuffed with shredded chicken, salsa and cheese; fried corn tortillas with black beans and slow-roasted pork shoulder; or two-cheese quesadillas melted with mushrooms or chorizo. Try them all for $20, and add $3 Mexican brews or a couple of lime-kissed $5 house margaritas. 434 Seventh Ave between 14th and 15th Sts, Park Slope, Brooklyn (718-369-3144, fondarestaurant.com)
RECOMMENDED: All our Cheap Eats listings
Restaurant Riki
This authentic izakaya is a subterranean midtown hang for Japanese businessmen draining pitchers of Kirin ($18; mug $5). Its sunken backroom booths also make for a stellar dinner date. Share a few of the more than 150 small plates on the menu, including crunchy rounds of battered and fried lotus root ($6); a thin omelette served with spicy cod roe ($7); skewers of grilled short ribs (two for $7); the tender chicken meatballs, called tsukune (two for $5); or a simple dish of grilled mackerel with lemon ($7). Finish as per tradition with either the nori-seasoned rice ball, called onigiri ($2.50), or a brothy bowl of miso ramen ($9). 141 E 45th St between Lexington and Third Aves (212-986-1109)
Giuseppina's
The second spot from the folks behind Jay-Z's favorite pizza place (the always-crowded, BYOB Lucali in Carroll Gardens) follows its predecessor's beloved formula: a succinct, inexpensive menu serving puffy crusted pies or calzones ($20, plus $3 toppings such as beef pepperoni, olives and hot peppers). The quirky simplicity, $6 glasses of beer or wine and dim lighting—the flickering pizza oven is practically the only thing illuminating those rustic brick walls—make it a killer space for courting hipsters and middle-aged Italian-American couples, both of whom pack the place on weekends. 691 Sixth Ave at 20th St, Sunset Park, Brooklyn (718-499-5052)
Wilfie & Nell
Fewer spots are better suited for a budget-friendly beer-fueled tryst: Wilfie's top-notch pub grub is served in a cozy-cool West Village space with exposed brick and wood-plank tables. Flaky-crusted meat pies and deep-fried Scotch eggs are each $5; an arugula salad topped with bacon, egg and balsamic is $8, as are the chicken-liver toasts with onion jam. Vegetarians can have the $8 grilled cheese with pickles and whole-grain mustard on white, with a $5 side of fries served with malt vinegar. The most expensive menu item? An artisanal cheese plate topping out at just $12. 228 W 4th St between Seventh Ave South and W 10th St (212-242-2990)
Cocoron
One of the city's few noodle parlors focusing on soba—a Japanese variety made from buckwheat flour—this sparse modern shop is a destination for intrepid urban foodies. The toothsome, earthy strands are served in all manner of methods and with a wide variety of toppings. Order the zaru soba (small $8), and a thick pile of cold noodles are delivered on a bamboo tray with bowls of chopped scallions and flavored soy sauce. 61 Delancey St between Allen and Eldridge Sts (212-925-5220)
La Bonne Soupe
Channel 1980s Manhattan with a rendezvous at this classic bistro, with wooden caf chairs, wine by the glass for $8.50 (at most), an upstairs balcony and a surprisingly large number of meal deals for less than $20. For example, those soups—a nutty, cheese-capped French onion, or a hearty mushroom, barley and lamb—come with bread, salad, dessert and a glass of beer or house wine for just $19.50. Crpes (stuffed with leeks and goat cheese, perhaps) are $13.95 with a salad, as are burgers paired with pommes frites and topped with French sauces like Mornay, au poivre or red wine. A traditional quiche lorraine or a ratatouille-topped omelette is just $12.95. 48 W 55th St between Fifth and Sixth Aves (212-586-7650, labonnesoupe.com)
Mile End
By day, this shoebox serves the succulent slow-cooked brisket the Quebecois call "smoked meat" (seven ounces with rye and mustard $10), but by night, the diner vibe gets a serious upgrade with the addition of some impressively refined fare. There are the Jewish dumplings known as kreplach, stuffed with sweet peas and served with onions, chili and mint ($7); lamb's tongue on homemade pumpernickel with onion-raisin marmalade and fresh horseradish ($8); or trout teamed with horseradish cream and pickled beets ($16). Perhaps even more surprising are those reasonable prices, especially if you stick with $3 bottles of Labatt Bleue. 97A Hoyt St between Atlantic Ave and Pacific St, Boerum Hill, Brooklyn (718-852-7510, mileendbrooklyn.com)
Bar Veloce
Both the East Village and Chelsea locations of this wine bar are reminiscent of modern Milan, though you won't end up spending hundreds of euros. Beyond the long list of Italian wines stored in super-cool backlit shelving behind the bar (glasses start at $9), there are nicely bitter amari and liquori that Italians drink as aperitivi. Those are perfect to prime your palate—try an orange-kicked Aperol with a splash of soda, $9—for dozens of Italianate small plates, most under $10. Go for a tramezzino—a sandwich on white, crustless bread—stuffed with roasted eggplant, olive paste and tomatoes for $5; bruschetta with tuna, white beans and rosemary for $6; or a warm panino with prosciutto, mushroom, creamy Taleggio cheese and truffle oil for $11. 175 Second Ave between 11th and 12th Sts (212-260-3200) * 176 Seventh Ave at 20th St (212-629-5300) * barveloce.com
Dim Sum Go Go
This swinging dumpling joint represents a partnership between a Hong Kong--trained chef and the daughter of Chinese restaurateurs, who teamed up a decade ago. Their traditional family recipes are still worth sampling. Highlights include shareable dishes like steamed dumplings filled with duck or delicate sweet snow-pea leaves ($4.50), a Wise Man's Broth with fresh lily bulbs and bean curd in chicken consomm ($5.95), fluffy white buns stuffed with roast pork or steamed chicken ($4.50) or spring rolls with shrimp and mango ($4.50). 5 East Broadway at Chatham Sq (212-732-0796)
White Slab Palace
When the weather's warm enough for this modern Swedish bar to open its wide metal windows onto the Lower East Side, there are fewer places we'd rather spend an evening. It's better still over a glass of the herbal Scandinavian liquor called aquavit (glass $7--$8) and some small, shareable plates of Scandinavian specialties. Opt for a mixed platter of pickled and marinated herring ($15), lamb-stuffed Moroccan cigars ($5), smoked Norwegian shrimp ($10) and a fried potato pancake with black lumpfish caviar ($9). The less adventurous can always split the satisfyingly rich burger ($15), topped with bacon, cheese and a fried egg. 77 Delancey St at Allen St (212-334-0913)
RECOMMENDED: All our Cheap Eats listings
You might also like
Cheap New York: Bargain things to do in NYC
See all cheap restaurants
Free things to do in New York City
See more in Food & Drink
Sponsored listing
Spaha Soul
SpaHa Soul is a compilation of cusines but they all have one thing in comon - they are all dishes with a soul. My name is Artist Thornton, my earliest memories are of my feet hanging in a sink. Listening to the sound of fresh black eye peas being washed in a pan. Of my grandmother explaining what she was doing all the while humming when "When the Saints go Marching In". You see, I had the greatest formative years growing up with my Grandma. She came from Louisiana by way of Missouri. Now as an adult - and after years of traveling abroad and meeting and seeing all kinds of folks from all manners of life; after opening 7 different restaurants with several different cuisines - I have come up with this style of cooking that could be best described as" Global Soul". So after a day of traffic, noise, and knocking around this beautiful city come on home to SpaHa Soul!
Venue says: "Scratch kitchen, that makes soul food. And global food with a twist! Our food is made with music, laughter, and much Love."