Kappo at Má Pêche
A cool culinary outfit warms up.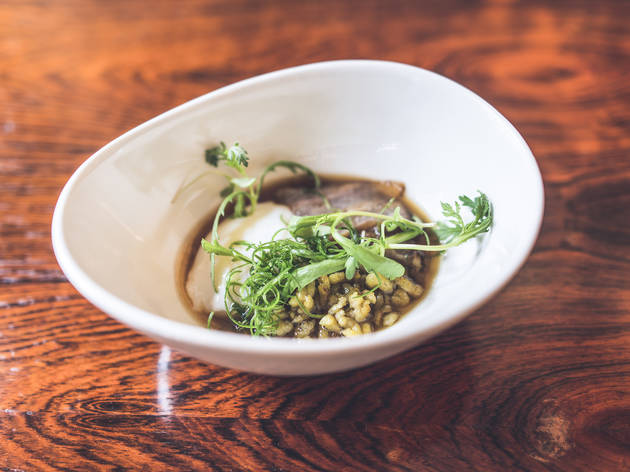 1/6
Photograph: Loren Wohl
Beef tendon broth at Kappo at Má Pêche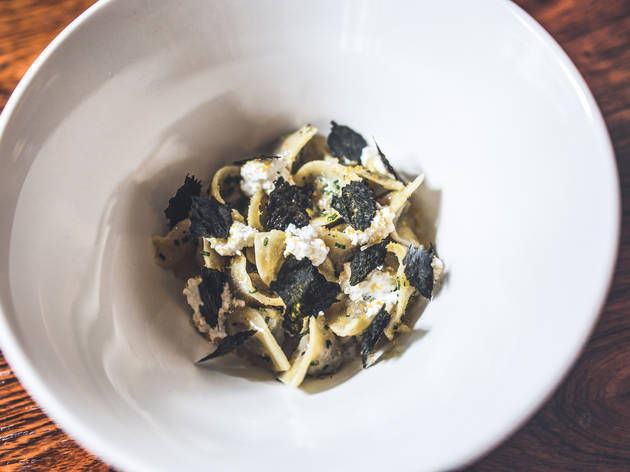 2/6
Photograph: Loren Wohl
Veal tortellini at Kappo at Má Pêche
3/6
Photograph: Loren Wohl
Surf clams with uni at Kappo at Má Pêche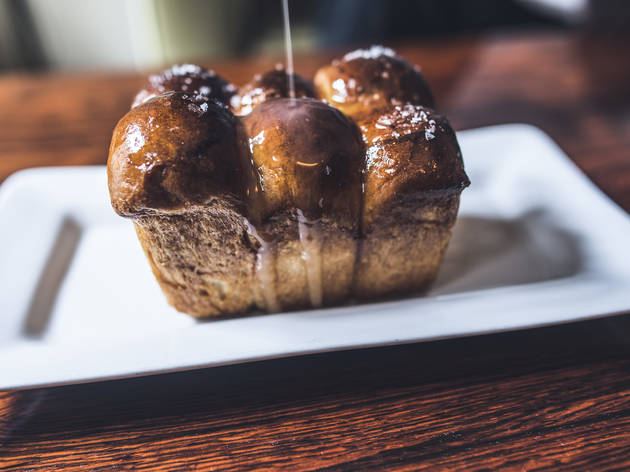 4/6
Photograph: Loren Wohl
Duck-fat challah at Kappo at Má Pêche
5/6
Photograph: Loren Wohl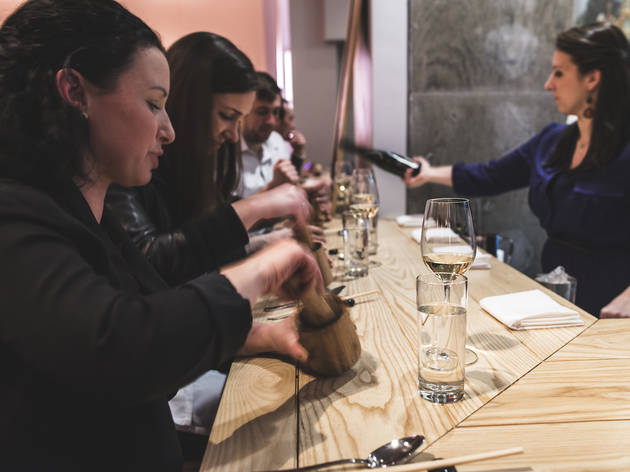 6/6
Photograph: Loren Wohl
DIY mofongo at Kappo at Má Pêche
Time Out rating:
Rating: 3/5
When white-hot tasting room Momofuku Ko blazed onto the scene five years ago—breathlessly detailed in the blogs, with precious online reservations snatched up in seconds—it cemented David Chang's reputation as a kind of culinary Prometheus, stealing the heat from the city's fine-dining dinosaurs. With just 12 stools and chefs that doubled as servers, Ko kicked off New York's intimate tasting-menu era, now familiar in dining rooms from Williamsburg to Brooklyn Heights.

So it would be easy to write off Kappo—the just-launched, eight-seat chef's counter inside Chang's 56th Street offshoot, Má Pêche—as an heir to Ko, a spin on the East Village restaurant caponized for midtown tastes. You could do that. But you shouldn't.

Kappo is the brainchild of Paul Carmichael, a Barbadian chef who did time at wd~50 before opening Má Pêche under executive chef Tien Ho in 2010. When Ho left in 2011, Carmichael took over the kitchen; he's spent the time since shifting the menu away from its French-Vietnamese roots and amping up the earnestness in Má Pêche's chilly subterranean dining room.

For diners accustomed to the detached service so common in downtown restaurants, the Kappo experience may be disorienting. The welcome here is warm and familiar, the vibe more like a particularly ambitious dinner party than a stoic tasting menu. And while so many chef's counters feel like awkward amphitheaters, Carmichael makes smart use of the personal setup, chatting amicably with guests, picking through surf clams and dispatching live lobsters as you nibble salty strips of fried-chicken skin and nori.

It's all very charming, but not at the expense of serious food. Those clams show up in delicate slices layered among silky tongues of uni, petals of sorrel and a cream-enriched conch sauce that mimics a velvety New England chowder. Later, there are perversely rich bundles of veal tortellini, pitted against tangy ricotta, briny sheets of nori and bottarga.

The best dishes nod to the chef's Caribbean roots: Green bananas are paired with sweet lobster meat, cucumber and punchy habanero, and plantains are worked into sweet, rugged dumplings in an intense beef-tendon broth. A DIY mofongo arrives in a palm-sized mortar and pestle filled with garlic, pork fat, more plantains and chicharróns—patrons mash it themselves, joyfully pounding away like children at the crafts table.

But there is a certain polish missing elsewhere in the meal: Striped bass is an exciting visual as Carmichael jailbreaks the fish from its salt-baked shell, but it's boring on the plate, teamed with lemon wedges and spinach. Pacing is sometimes jerky and the order of dishes occasionally ponderous—an exceptional, cottony challah bread slicked with duck fat emerged not as a predinner snack, but in the middle of the meal.

Even with these clunky missteps, though, Kappo comes through as a charismatic evolution of the chef's counter. Dinner ends with molasses candy, pulled like taffy and snipped into bite-size pieces; guests leave with signed recipe cards, and hard copies of the menu are sent via snail mail ("because it's cute," says Carmichael). At Ko, Chang put the chef-driven tasting menu on the New York map; with Kappo at Má Pêche, Carmichael has brought the form home.
Vitals
Eat this: The ten (or so) set courses vary each evening. Highlights included a DIY mofongo and beef tendon soup with plantain dumplings.

Drink this: The $65 beverage-pairing option ranges from pours of prickly Foggy Ridge Serious Cider and Kamoizumi KomeKome sake to nutmeg-dusted glasses of Barbadian rum punch.

Conversation piece: The hospitality starts the day before dinner, with a call from Carmichael himself. He asks about allergies, aversions and your taste in preprandial cocktails, which are presented at dinner in personalized decanters.

Chambers Hotel, 15 W 56th St between Fifth and Sixth Aves (212-757-5878). Subway: E, M to Fifth Ave–53rd St; F to 57th St. Tue–Sat seating times: 7:30pm. Ten courses: $95.
Sponsored listing
Dinosaur Bar-B-Que - Harlem
At this famed roadhouse, tykes can enjoy "dino" sliders ($4 each) made with pulled pork or brisket. The eatery scores extra points by offering temporary T. rex tattoos to children.
Venue says: "Harlem Dinosaur has a Happy Hour! Every Mon-Fri from 3pm-7pm at the bar. Check out our website for $2-$6 happy hour specials"