Music-food mash-ups
TONY explores funky new hybrids where tunes play a central role.
By Mari Uyehara Tue Feb 21 2012
The stirring combo of killer music with good eats and strong drinks may be as old as civilization itself, from the wine-and-flute-fueled symposia of ancient Greece to Harlem's Jazz Age supper clubs. These days, it's a given that every restaurant, bar or caf has a playlist that's as carefully curated as its pantry. But recently, a handful of indie food and drink shops have taken their audiophile leanings a step further, upgrading music from background scene-setter to foreground focus. Here, we take a look at new ventures where epicures and band buffs can find some common ground.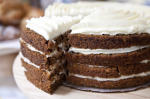 Miss Lily's Variety
As the name suggests, this next-door spin-off of sceney Caribbean eatery Miss Lily's Favourite Cakes serves a mishmash of functions: Jamaican record shop, Internet radio station, juice bar and bakery. The storefront is a passion project for partners Serge Becker and Matt Goias, who both have deep roots in the downtown music community. Becker also operates the Box, while Goias—dubbed "Jack of All Clubs" by Vogue when he was 22—was a noted hip-hop DJ and producer in his earlier days. The duo's record obsession is brought to bear in the wood-paneled front shop, where you can flip through more than 1,000 reggae, funk and soul sleeves, including everything from the Abyssinians to Zebra, and pick up a limited-edition, hand-silk-screened Lee "Scratch" Perry album ($120) or customized TDK boom box painted red, gold and green ($500). While you browse, resident DJ Max Glazer, Rihanna's on-tour beats man, bops his head over two turntables, pumping out tunes for the proprietary Internet station at radiolily.com. The music carries to the bright, sunny food shop in back. Here, you can get West Indian bites, such as a spicy, satisfying plate of goat curry with rice and beans, and the cake of the day, like a moist carrot slice layered with tangy cream-cheese frosting. But the real draw is the fresh organic juices. Becker recruited Melvin Major, who attracted a celebrity following at his juice counter inside Lifethyme Natural Market, and gave him his own platform, putting his name and face on the menu. Among the blends, we especially liked his zippy Jamaican Green, made with kale, apple, lemon, ginger and celery, and the vegetal Rise-Up, a combination of wheatgrass, pineapple, apple, bee pollen, strawberry and banana. 130 W Houston St at Sullivan St (646-588-5375)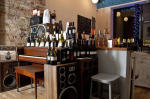 Vinyl Wine
Far Upper East Side booster Michael Cesari has created buzz for that hinterland 'hood with destination-worthy spots Earl's Beer and Cheese, ABV and this natural wineshop, bedecked with blown-up posters of wine-guzzling musicians like David Bowie and John Paul Jones. Cesari originally intended to sell records in addition to bottles, so he brought on Michael Faircloth, whose dual wine-music background was a perfect fit for the concept, to oversee sourcing and day-to-day operations. At the time, Faircloth was a viticulture and cellar assistant at Napa Wine Company, but the former jazz-studies major had also toured with a number of bands, including alt-country outfit Sea Legs and Afrobeat collective Hard Proof. The pair soon found that liquor-store laws barred the sale of nonwine accessories, meaning that they couldn't sell any vinyl; instead, they opted to dress up the shop with their finds, and occasionally slip customers freebies of current indie recordings, from artists such as St. Vincent or Beach House. The wine stock reflects a record collector's eye for rare finds, with a focus on small-production, organic and biodynamic selections and offbeat varietals. Bottles like the fresh, minerally 2011 Argyros Assyrtiko ($16) from Santorini, Greece, and light-bodied, earthy 2010 Monasterio De Corias Seis Octavos ($16) from Asturias, Spain, share shelf space with more than 1,000 decorative records. There's also a guitar and a 1940s upright piano on-site, should the inclination to bang out a ditty strike. 1491 Lexington Ave between 96th and 97th Sts (646-370-4100)
Whirlybird
Bass player Jeff Bailey tasted his first breakfast taco in 2007, while touring with indie rock band Phosphorescent in Austin, where the Tex-Mex morning munchie is ubiquitous. This past December, Bailey brought the dish to Williamsburg via this three-stool daytime caf and independent music gallery. For each five-week installation, Bailey showcases the discography of one indie label, playing the records on a turntable through vintage Bose speakers and decorating the space with framed record sleeves. Currently featured is Brooklyn's No Quarter, which puts out an eclectic mix of organic folk (including Doug Paisley) and experimental rock (such as the Psychic Paramount). You can peruse the album covers while chowing down on the overstuffed taco ($4), filled with a soft Oaxacan-cheese egg scramble, chorizo, cilantro, potato chips and a seriously spicy salsa made from tomatillos, tomatoes, spices and three different chilies. Bailey, who worked as a barista for Oslo Coffee Roasters, also serves primo espressos, cappuccinos and lattes made with shots pulled from a La Marzocco Linea and creamy Hudson Valley Fresh milk. 254 South 2nd St between Havemeyer and Roebling Sts, Williamsburg, Brooklyn (no phone)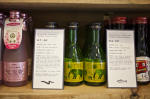 The Winey Neighbor
A study published last year by the British Journal of Psychology confirmed what many wine bars and restaurants already know: Mood-setting music can make wine taste better. Husband-and-wife artists Kenneth Tin-Kin Hung and Young Jung discovered that theory on their own one afternoon while sitting in their living room, drinking a good merlot and listening to Nina Simone, which struck them as the ideal match. Last December, the couple opened this stylized Prospect Heights vino shop—decked out with a typewriter, antique fan and 1960s Panasonic record player—to spotlight these sonic pairings. Each bottle on the wood shelves has a card featuring its tasting notes, price and recommended tunes, like Nat King Cole, John Coltrane and Mildred Bailey for a smooth, juicy 2010 Jean Bousquet Malbec ($13.50), or Blondie and Foster the People for a fresh, acidic 2010 Castel Sallegg Pinot Grigio ($18). The spot also stocks a healthy selection of sake, including a Eiko Fuji Brewery Ban Ryu Honjozo ($13.50), for which they suggest Yellow Magic Orchestra and Southern All Stars. 679 Washington Ave between Prospect Pl and St. Marks Ave, Prospect Heights, Brooklyn (347-715-6693)
FOOD RAP! For a list of the 50 best food-inspired hip-hop lyrics—from the likes of Lil Wayne, Jay-Z and Rick Ross—visit newyork.timeout.com/fd.
More music-food hybrids
Food Is the New Rock Before Midtown Lunch founder Zach Brooks became a full-time food blogger, he worked as a music programmer at Sirius Satellite Radio. In January 2010, he quietly launched this blog covering the intersection of his two interests, such as the food lineup for Coachella or coffee brands backed by artists like Wilco and James Murphy. Check it out at foodisthenewrock.com.
The Recipe Project Cooking instructions are reimagined as songs on this collaborative album. Brooklyn band One Ring Zero recited recipes from 11 chefs, including Mario Batali and David Chang, and set the vocal tracks to an original score. The disc comes in a book featuring interviews with the toques, plus printed versions of the recipes and essays on food and music from nine culinary writers, such as John T. Edge. Available at amazon.com. $24.95.
Snacky Tunes Twins Darin and Greg Bresnitz—creators of TV reality show Dinner with the Band—host this Heritage Radio show, mixing talk on contemporary food issues with live music sets. Past guests include Christina Tosi of Momofuku Milk Bar, TONY Food & Drink editor Jordana Rothman, and noted musicians VHS or Beta and Jos Gonzlez. Tune in on Mondays at 2pm, or listen to archived shows at heritageradionetwork.com.
Turntable Kitchen pairings box San Francisco couple Kasey and Matthew Hickey curate this mash-up mail service, which offers subscribers a monthly shipment of whimsical food and music selections. Each kit includes a code for a downloadable digital mixtape of up-and-coming acts; a seven-inch vinyl record featuring artists like songwriter Stphane Milochevitch; seasonal recipe cards, like one for a pear, honey and rosemary galette; and accompanying dried ingredients, such as smoked paprika. Sign up at turntablekitchen.com. $25 per month.