The best nachos in NYC
TONY tracks down the city's top nacho platters, plus nearby sports bars where you can catch the game.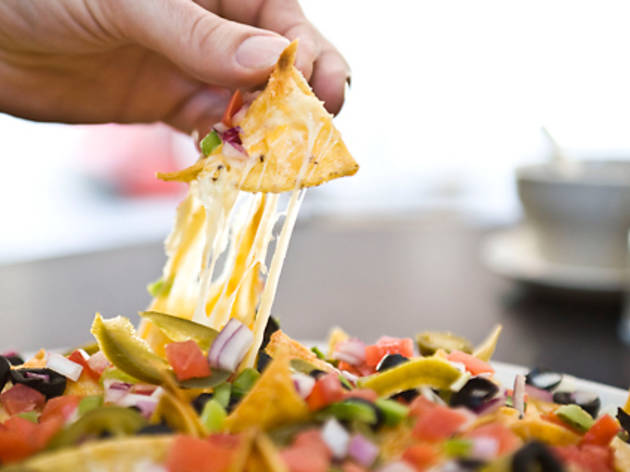 1/5
Photograph: Jolie Ruben
Nachos Supreme at Bar 89
This airy caf-bar may resemble a Sex and the City set, but push past the chocolate martinis and stray shopping bags to find one of the city's most progressive nacho platters. While there's nothing dainty about the dish (a half order is as large as any full plate you'd find elsewhere), the vegetarian-friendly preparation matches its chic environs with smart tweaks to the formula. The house-special cheese blend is nuanced---melted Jack punched up by sharp aged cheddar and a hit of creamy, nutty Havarti. And rather than serving as a perfunctory garnish, an eye-popping flourish of chopped jalapeos, black olives, green peppers, red onion and tomato covers the whole plate, turning the stoner staple into something vibrant and fresh. 89 Mercer St between Broome and Spring Sts (212-274-0989). $13, full order $19.

Proximity to a sports bar: Five blocks to Brinkley's(406 Broome St at Cleveland Pl, 212-680-5600), a Soho gastropub that suits up for big games by adding a projector to its arsenal of flatscreens. The selection of local suds on tap ($7) should satisfy anyone who doesn't want to chug Bud all game long.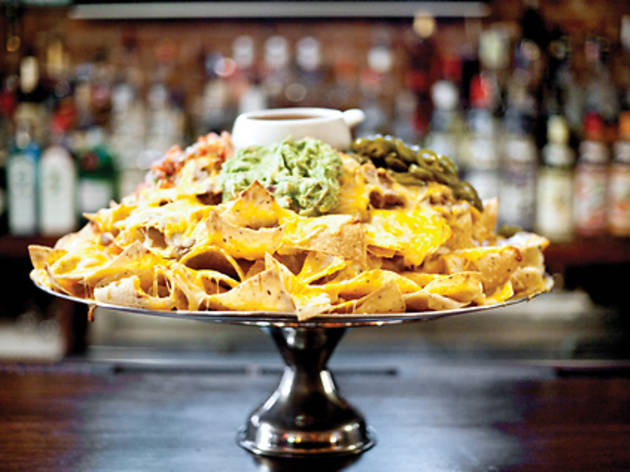 2/5
Photograph: Jolie Ruben
nachos03
Nachos de Tomas at Professor Thom's
In a city overrun with sports bars hawking kobe sliders and truffled popcorn, this boisterous game-day hang flies the flag for all-American barroom nachos. Stacked like a cheesy Chichen Itza on top of a pizza tray, they're the ultimate democratic drinking snack: messy, shareable and comically massive. Dollops of refried pinto beans---plus moist grilled chicken or marinated flank-steak (both $2)---lurk under a blanket of cheddar and pepper jack, while heaps of punchy house-made guacamole and bright pico de gallo are generous enough to last until the final chip. 219 Second Ave between 13th and 14th Sts (212-260-9480). $9.95, "XL" $17.95.
Proximity to a sports bar: Stay put---the Patriot loyalists who usually pack the bar on Sundays may be licking their wounds, but everyone else can enjoy 17 screens, an HD projector and Super Bowl drink specials: $4 Yuengling if you wear Steelers gear, $4 Miller Light for Pack supporters and free halftime Jell-O shots for everyone.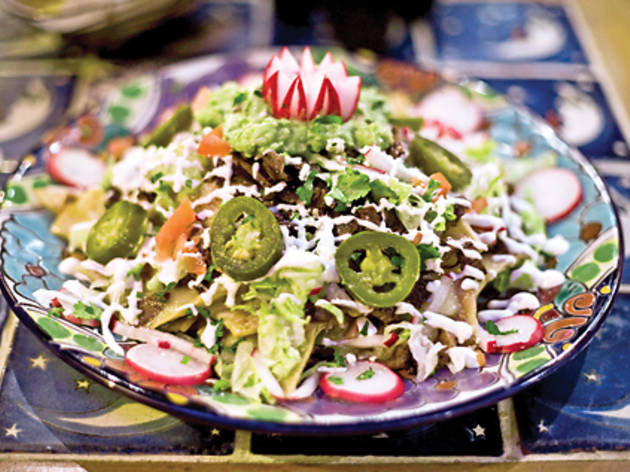 3/5
Photograph: Jolie Ruben
nachos02
Carne asada nachos at El Paso Restaurante Mexicano
The standard-issue carne asada nachos found at taquerias from Sunset Park to East Harlem are transformed into an elegant dish at this well-heeled cantina, thanks to thoughtful ingredients: tender skirt steak seasoned with garlic and pungent epazote; cilantro-laced guacamole; crunchy radish; and crumbled cotija cheese. Tangy Mexican crema is drizzled artfully over the plate, and layered refried pinto beans and melted Jack, Muenster and Chihuahua cheeses bind the meat to golden, double-thick tortillas. 237 E 116th St between Second and Third Aves (212-860-4875). $7.95.
Proximity to a sports bar: Twenty-three blocks---a straight shot on the 6 train---to Manny's on Second (1770 Second Ave between 92nd and 93rd Sts, 212-410-3300), a game-day favorite with 40 TVs, $12 pitchers of Coors and serious hot wings.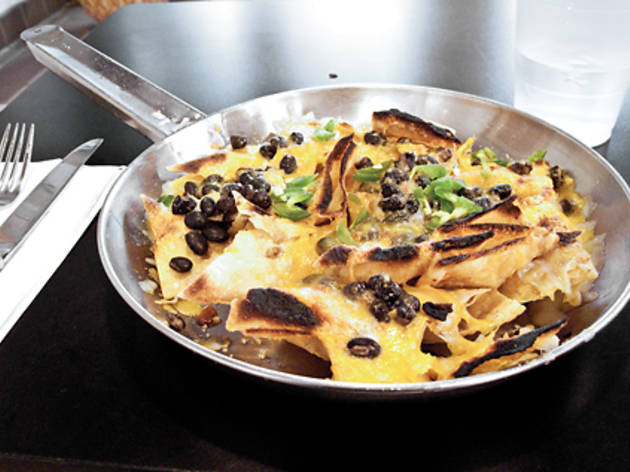 4/5
Photograph: Jolie Ruben
nachos04
Tex-Mex nachos at Shopsins
While Kenny Shopsin is best known for his culinary mash-ups (mac-and-cheese pancakes, chicken-burrito soup), the cantankerous chef plays it straight with this homage to the nacho's humble origins. Corn tortillas, still glistening with oil from the fryer, arrive piled in a steel skillet, smothered in a bubbling patchwork of Monterey Jack and cheddar. Minimalist toppings accentuate the homespun charm: heaps of meaty black beans and thick slices of raw jalapeo---a refreshingly crunchy departure from the neutered pickled variety. Heads up: Shopsins closes at 3pm on Sundays. Essex Street Market, 120 Essex St between Delancey and Rivington Sts (shopsins.com). $8.
Proximity to a sports bar: One block to Mason Dixon(133 Essex St between Rivington and Stanton Sts, 212-260-4100), which boasts 10 HDTVs, and one hell of a drink deal: a beer, a shot and a mechanical-bull ride for $15.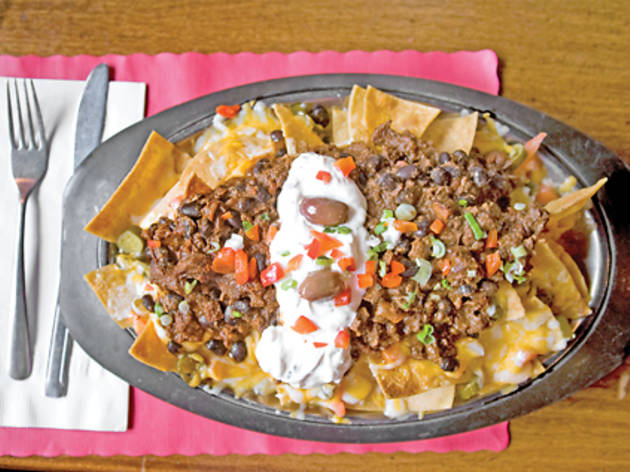 5/5
Photograph: Tia Ryan
nachos05
Venison chili nachos at Pete's Waterfront Ale House
Carnivorous nacho lovers, meet your El Dorado. This saloon deploys savory-sweet venison-and-black-bean chili to give a Tex-Mex classic a hint of up-north flavor. Chive sour cream and kalamata olives help cut through the richness of the meaty stew, which drips over beautifully browned Monterey Jack and cheddar cheeses. These are stick-to-your-ribs nachos built for the winter---hearty and well matched to a Kings County microbrew. 155 Atlantic Ave between Clinton and Henry Sts, Brooklyn Heights (718-522-3794). $12.95.
Proximity to a sports bar: Less than a block away, find a $15 "crap-a-copia" (six beers in a bucket) and bocce ball at the Midwestern-styled Floyd NY(131 Atlantic Ave between Clinton and Henry Sts, Brooklyn Heights; 718-858-5810).