The Feed first look: The Grange Bar & Eatery
Harlem gets a farm-focused bistro and bar, with locally sourced comfort fare from chef Alan Vargas (Thymari).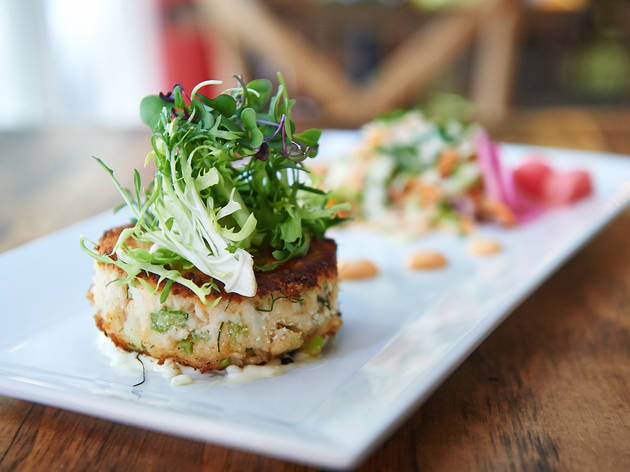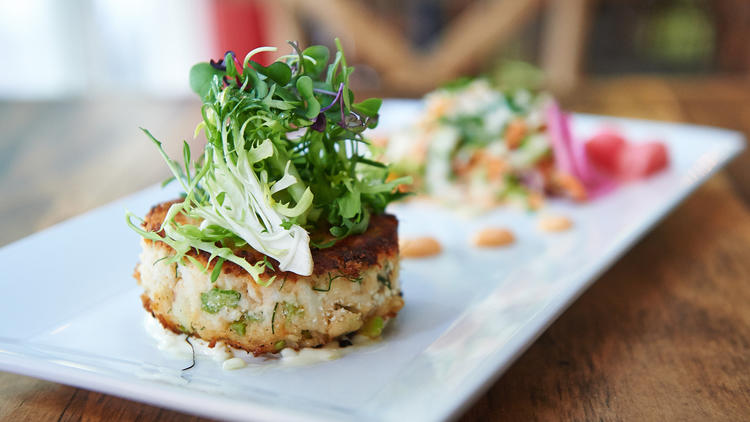 1/9
Photograph: Filip Wolak
Crab cakes with lime slaw at the Grange Bar & Eatery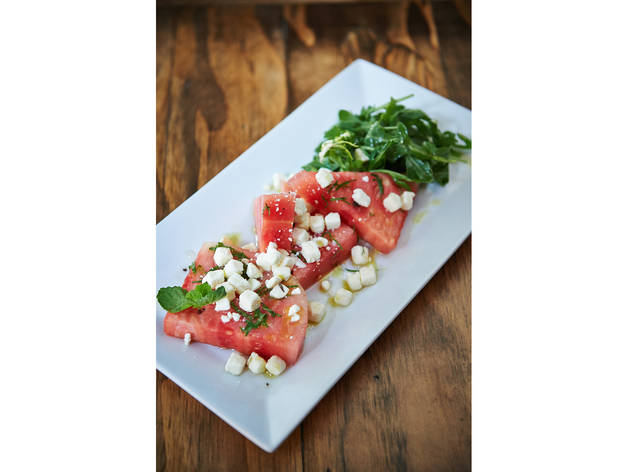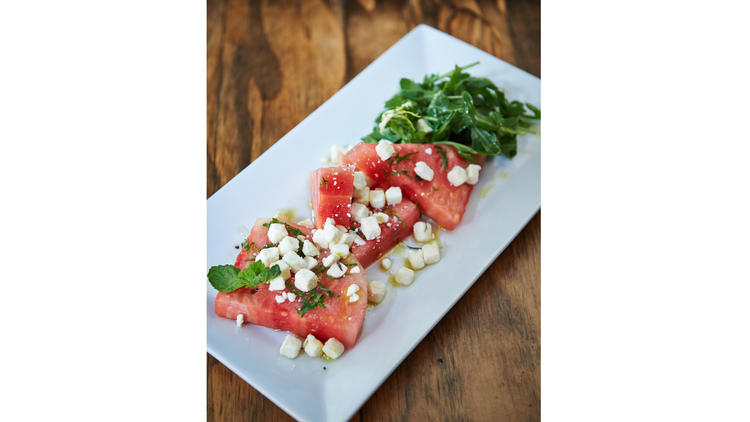 2/9
Photograph: Filip Wolak
Watermelon salad at the Grange Bar & Eatery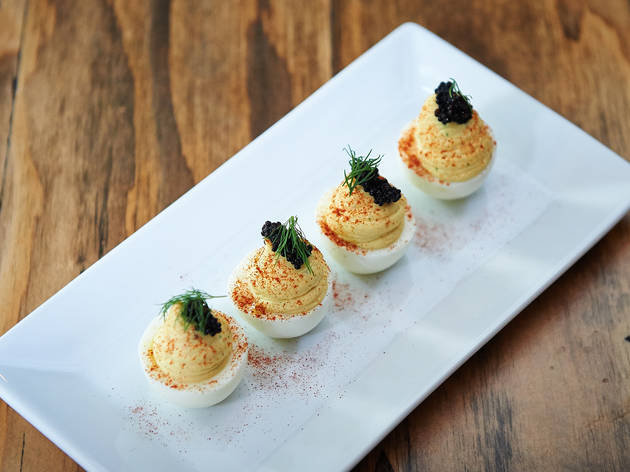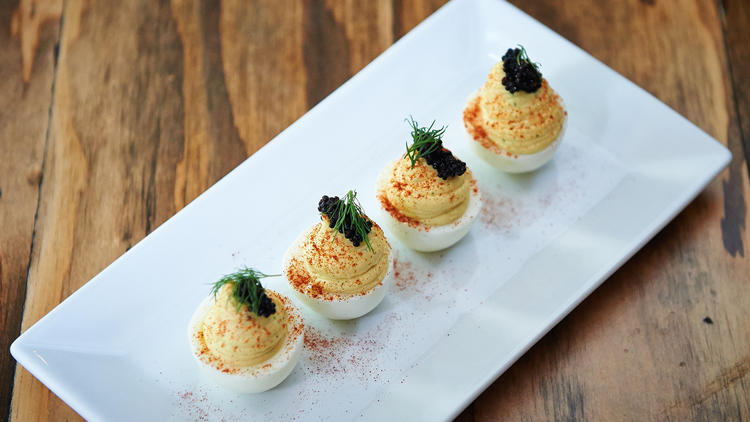 3/9
Photograph: Filip Wolak
Devilled eggs at the Grange Bar & Eatery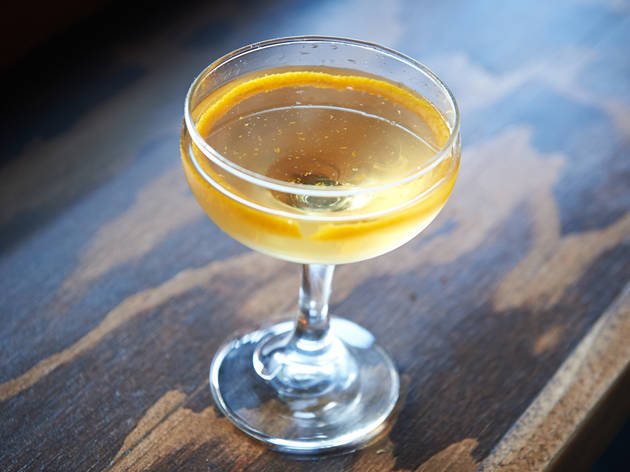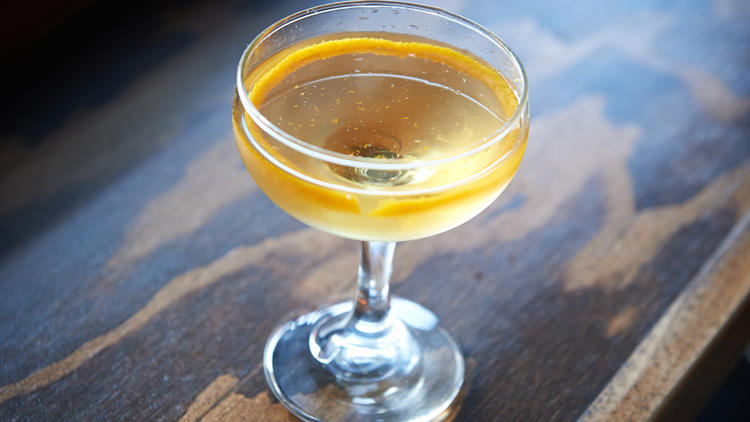 4/9
Photograph: Filip Wolak
Champs Elysees at the Grange Bar & Eatery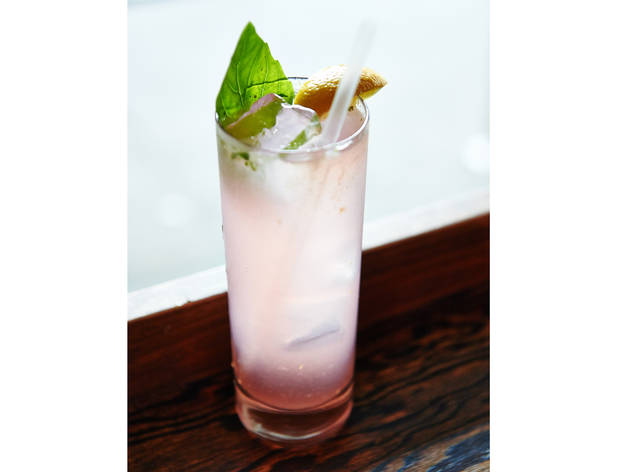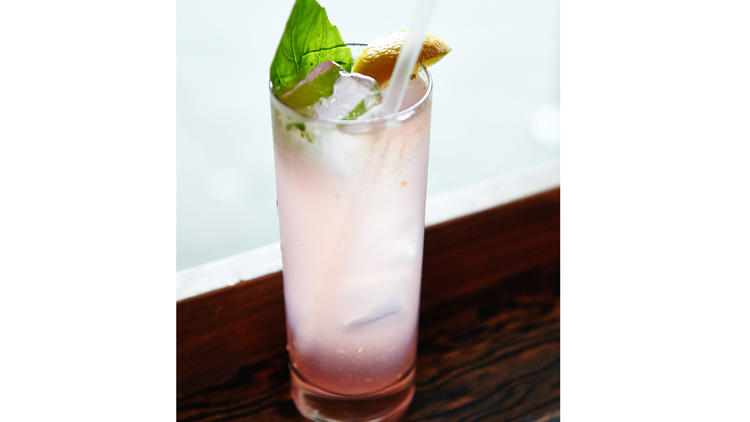 5/9
Photograph: Filip Wolak
Grange Collins at the Grange Bar & Eatery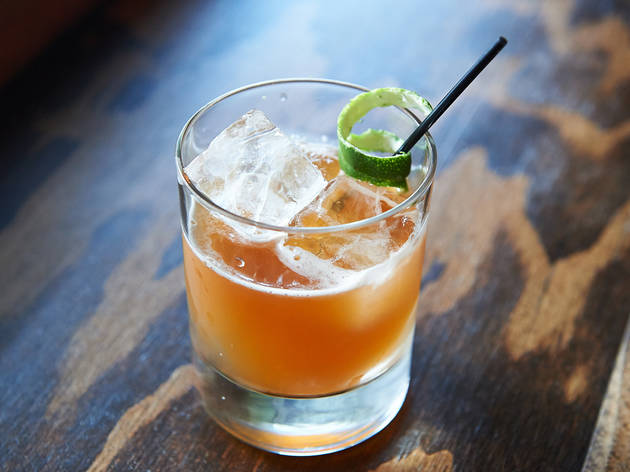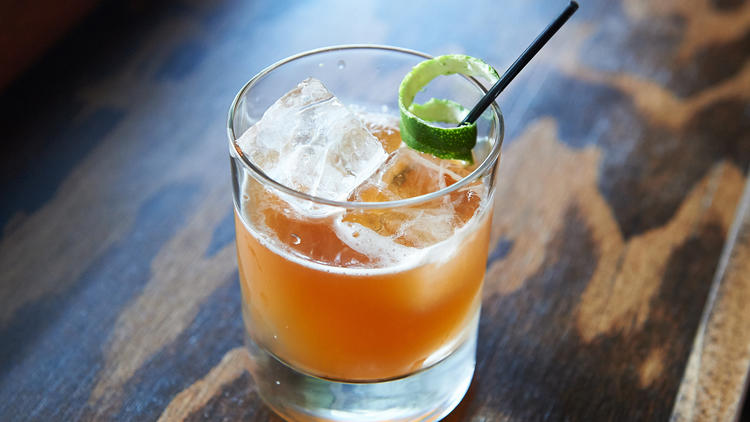 6/9
Photograph: Filip Wolak
Edgecombe Overlook at the Grange Bar & Eatery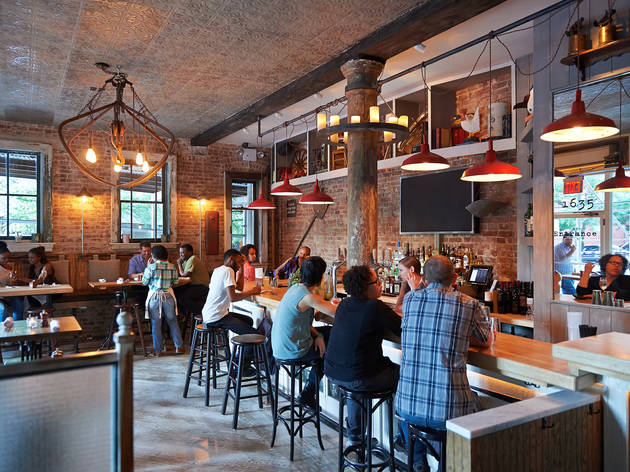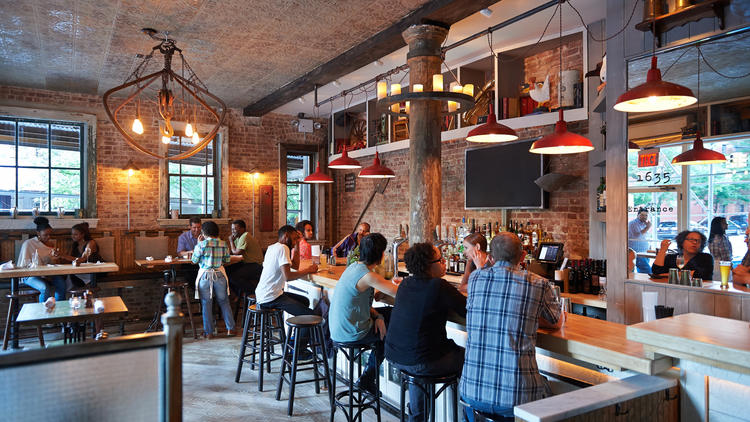 7/9
Photograph: Filip Wolak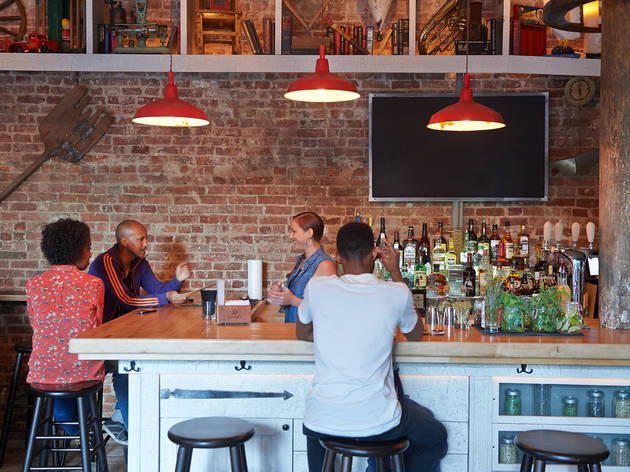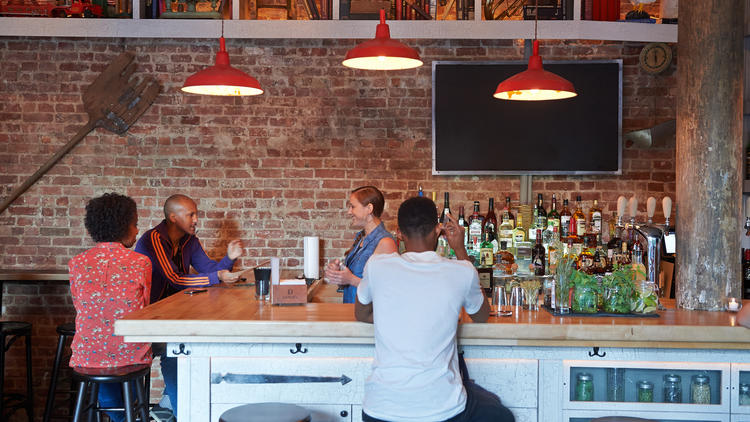 8/9
Photograph: Filip Wolak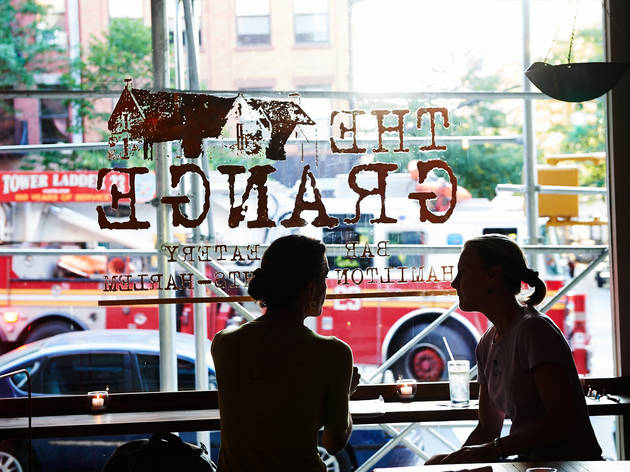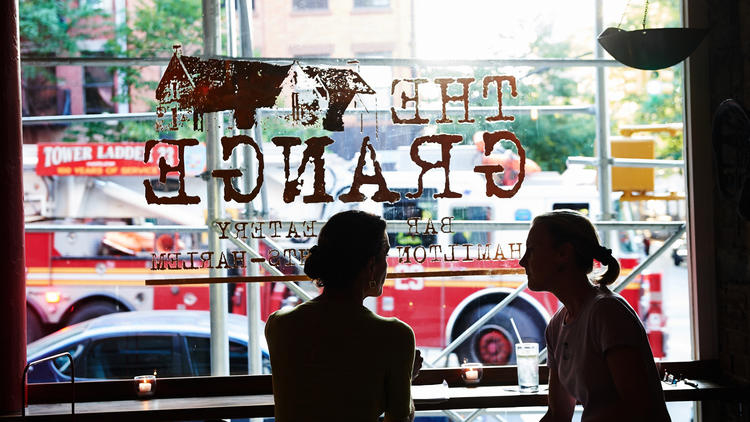 9/9
Photograph: Filip Wolak
Harlem meets the farm at this locavore bistro and bar, outfitted with mason jars, weathered white-oak floors and antique chandeliers. Chef Alan Vargas (Thymari) oversees a comfort-food menu rooted in seasonal produce. Having scoured nearby farms like Old Chatham and Coach Farm, Vargas dispatches seared crab cakes with celery-parsnip slaw; watermelon with feta, arugula and mint; and a roasted-beet salad with lime yogurt, almonds and goat-cheese croutons. At the 40-foot-long butcher-block bar, find a beverage program designed by Dead Rabbit head bartender Jack McGarry—cocktails include the Grange Collins (Farmer's Gin, pomegranate liqueur, basil, lemon juice and soda) and the Convent Stroll (Heaven Hill whiskey, ginger, honey, lemon juice and soda). See a sample menu below. 1635 Amsterdam Ave at 141st St (212-491-1635, thegrangebarnyc.com)

SAMPLE MENU
SMALL PLATES
Spiced sweet potato fries with ginger and lime crème fresh.
Fromage plate: chef's cheese selection. Served with our berries compote.
Charcuterie plate: prosciutto, capicola, soppressata.
Fried green tomatoes with heritage bacon, red pepper and harisa goat cheese spread, tomato compote and frisee.
Deviled eggs topped with black caviar, paprika, and dill.
Steamed mussels, fennel, garlic and white wine. Served with rustic sourdough bread.

SALADS
Watermelon salad with Hungarian feta cheese, mint, citrus vinaigrette and arugula.
Roasted beet salad with goat cheese, Marcona almonds, lime yogurt, and herb goat cheese puff crouton.
Poached duck egg and asparagus salad with citrus hollandaise and garlic panko.
Seasonal greens salad with shaved seasonal vegetables with truffle and yuzu vinaigrette.
Heirloom tomato salad with country bread croutons, burrata cheese and balsamic glaze.
SOUPS
Roasted butternut squash with herb greek yogurt and basil oil.
Daily soup selection.

ENTREES
The Grange burger: 100% grass feed beef (dry-aged, short rib, hanger) cooked to perfection, served on a brioche bun with lettuce, tomato, pickles, hand cut fries.
Seared skate fish with sautéed spinach, lemon and wine.
Braised short rib with port demi glaze and sweet potato mash.
Roasted free range chicken with lemon and herbs, garlic mash and sautéed asparagus.

Sponsored listing
Boilermaker
This East Village bar and restaurant is out to become your new go-to for everything from burgers and fries to late-night breakfast. If you come for a dinner and drinks, choose from classic bar eats like burgers ($8 for a single, $11 for a double), barbecue, spicy or curry wings ($8 for five, $14 for 11) and fries or onion rings served with a variety of gourmet dipping sauces (both $6). The aptly named bar also offers a variety of boilermakers, or beer and shot pairings. Try the El Diablo Shuffle, a shot of Rancho Alegro Blanco Tequila with Tecate ($8), or the Soft Pour Corn, Johnny Drum Private Stock Bourbon washed down with Sixpoint Sweet Action Cream Ale ($10). Stay long enough, and you might even make it to midnight pancake time, when the kitchen starts turning out hot stacks of buttermilk ($8), red velvet ($10) and strawberry ($10) pancakes.
Venue says: "Best happy bar in NYC by New York magazine "best of New York issue". Pancakes served 7 days a week midnight to close."