The year in dining
As 2010 comes to a close, TONY's Food & Drink team recalls the year's most memorable meals and quaffs. What were yours?
By Time Out editors Fri Dec 10 2010
Jordana Rothman, editor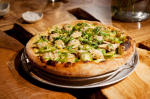 ABC Kitchen
To praise Jean Georges Vongerichten's Gramercy gem for providing the most outstanding meals I devoured in 2010 is to join a veritable Greek chorus of writers who've tossed accolades at the place. But for once the hype is deserved. The chic decor—JGV didn't get the memo that a restaurant focused on Greenmarket cooking must look like an abandoned farmhouse—sets the stage for executive chef Dan Kluger's exuberant food, with dishes as emblematic of the various seasons as earmuffs and flip-flops. Last spring I marveled at a sugar snap pea salad with a funky Parmesan dressing suspended within its curls. This fall there was a lamb shank—earthy and fall-apart tender—and a fluffy pizza, topped with a tangle of briny clams and hot peppers. Not bad for a restaurant inside a furniture store. ABC Carpet and Home, 35 E 18th St between Broadway and Park Ave South (212-475-5829)
Corn 'n Oil at Peels
In such a good year for cocktails, it was near impossible to choose just one standout. The Trinidad Sour at Painkiller was weird and wonderful; the Lions in London at Summit Bar was more round and soft than any Negroni deserves to be. But my favorite quaff of 2010 is one I downed recently: a heady revival of an almost-forgotten Caribbean classic—the Corn 'n Oil, at Peels. Like an old-fashioned of the tiki world, the Corn 'n Oil is brown, bittered and intense: Using lime juice, nutty falernum and crushed ice, head bartender Yana Volfson mellows rich, murky Cruzan single-barrel rum. A float of blackstrap rum on top adds depth, sweetness and a vicious molasses aroma—"too much and your drink starts to taste like pancakes," says Volfson. 325 Bowery at 2nd St (646-602-7015). $13.
Jay Cheshes, critic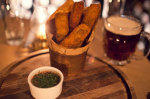 The Breslin Bar and Dining Room
Fans of rich, fatty food (guilty as charged) owe a debt of gratitude to April Bloomfield, who kicked off a gluttonous year for New York restaurants by opening her hunting-style lodge in the Ace Hotel—the most accomplished of the city's many new meat mausoleums. Among the guilty pleasures I ate with abandon in the Breslin's dark dining room (and paid for on the treadmill) were fried lamb-belly scrumpets, groaning boards of game-meat terrines, and of course, that extravagant whole foreleg of pig slathered in cream sauce and stuffed with house-made cotechino sausage. In so much lusty food I found real solace from the recession's lingering sting. Ace Hotel, 16 W 29th St at Broadway (212-679-1939)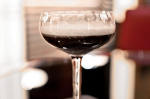 White Russian (Munich style) at the Lambs Club
It's fitting that Sasha Petraske, a trailblazer in the cocktail revival, would be responsible for conjuring up the finest classic mixed drink I sipped this year. The Milk & Honey impresario, consulting at Geoffrey Zakarian's Lambs Club, devised a drinks list as spot-on nostalgic as the venue it's served in, bringing new life to old standards. Along with a delicious fresh-fruit riff on a Pimm's cup, he serves the most pristine White Russian I've ever tasted, a great stand-in for dessert, served "Munich style"—gently stirred with Tito's vodka and drizzled with heavy whipped cream. 132 W 44th St between Sixth and Seventh Aves (212-997-5262). $16.
Chris Schonberger, associate editor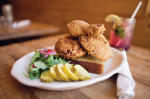 Peaches HotHouse
Comfort food continued its prolonged reign this year, but my favorite recession-friendly meal was more jarring than it was soothing. Utter the words extra spicy when ordering the Nashville-style hot chicken—a cayenne-laced riff on fried fowl—at Peaches HotHouse, and prepare for a complete sensory experience. The crispy shell yields an audible crunch, the tender free-range bird sends rivulets of juices racing down your arm, and a slow-burning fire tingles the lips before spreading into a full-body euphoria (no wonder owner Craig Samuels likens adjusting the levels of pure capsaicin in each batch to cutting "pure china-white" cocaine). In the stickiness of the Bed-Stuy summer, fragrant hunks of basil-and-feta-topped watermelon and glugs of sweet tea helped balance the wonderful delirium. Don't sleep on this place—as Samuels says, "The chicken's hot, the neighborhood's hot, the block is hot." 415 Tompkins Ave at Hancock St, Bedford-Stuyvesant, Brooklyn (718-483-9111)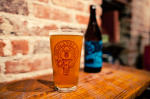 Brew Dog's Punk IPA at Highlands
As a dual citizen of the U.S. and the U.K., I'm often forced to draw my beer-drinking loyalties in the sand. I'm proud to champion the American craft scene in these pages, but I bristle when certain flag-waving hopheads turn their noses up at traditional English brews—the same lovely, malty ales I was weaned on as a lad. With this in mind, Brew Dog's Punk IPA won my heart more than any other beverage in 2010. Billed by its brazen Scottish creators as a "transatlantic fusion IPA," the hazy-gold pour starts off mild and biscuity (just as those fusty Brits like it), then hits you with a rebellious wallop of bright, floral American hops. Knocking back the pondhopping brew at Highlands—an unlikely Scottish hot spot in the West Village—only added to the feeling that I'd found my reconciliation in a pint glass. 150--152 W 10th St between Greenwich Ave and Waverly Pl (212-229-2670). $16.
Mari Uyehara, writer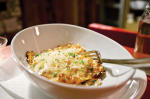 Kaz An Nou
With so many boldfaced toques busy tending to their empires this year, I reveled in the personal touch of humble neighborhood joints like Kaz An Nou—Sbastien Aubert's French-Caribbean BYOB charmer. Among the soul-warming dishes, I found comfort in the lamb lasagna, a creamy mound of homemade pasta with a spicy kick that cuts straight through the dish's richness. The smoky jerk chicken was rustic and elegant, tender slices fanning out across the plate and streaked with a bright, milky sauce of goat cheese, honey and tarragon. And the silky crme brle is built for sharing, its caramelized-sugar shell wide enough to withstand the simultaneous tapping of my consorts' spoons. Still, having waited two hours for the pleasure of this heartening food and port-in-the-storm atmosphere, it was hard to give in and truly forget I was in New York. But then again, why would I want to? 53 Sixth Ave between Bergen and Dean Sts, Prospect Heights, Brooklyn (718-938-3235)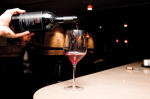 2008 "Nero di Lupo," COS at Anfora
Cocktail culture showed no signs of waning this year, and I certainly had my share of dazzling drinks—an absinthe and Concord grape concoction at PDT comes to mind. But there's still something unimpeachable about the pleasures found in one good bottle of wine. My most memorable glass in 2010: a 2008 "Nero di Lupo" I sipped at Italian wine bar Anfora. This unusual Sicilian vino is made, according to ancient Roman methods, by aging the juices of nero d'avola grapes in terra-cotta vessels buried underground—a process that heightens its earthy, mineral notes. Slightly spicy, a little smoky and intensely aromatic, this remarkable, splurgeworthy bottle is a stunner that had me sinking into Anfora's buttery leather banquettes. 34 Eighth Ave between Jane and W 12th Sts (212-518-2722). $66.