A girl walks into a bar...alone
A writer gets over her fear of flying solo.
By Time Out editors Tue Aug 12 2008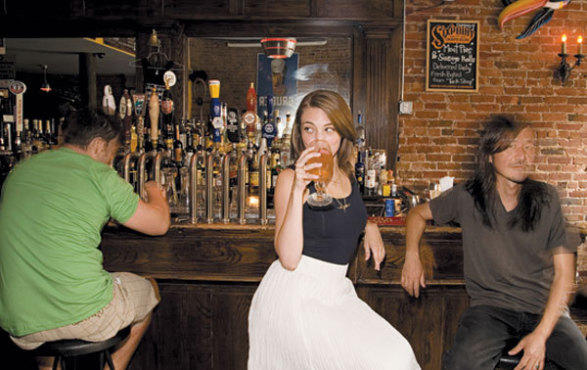 Ladies, have you ever wondered why so many of your male friends have a neighborhood bar they call their "spot," while the only spot you've got starts with a G and has a precise location that remains somewhat elusive? Well, I have. So I decided that if guys can go out alone, so can I. Two weeks, five bars and a lot of solo searching later, I found that a girl's night out is more fun than fearsome.
My first stop—after several aborted attempts—was the bar at Odessa (119 Ave A between St. Marks Pl and E 7th St, 212-253-1470). I ordered a beer and some food (so I'd have somewhere to look while I drank) and eventually started talking to the bartender, Ziggy. He introduced me to a few regulars who were friendly and talkative. I got stuck listening to one man's personal woes, but I paid for only one beer all night. Next up was a restaurant bar: Rue B (188 Ave B between 11th and 12th Sts, 212-358-1700). It was a rainy Monday so the crowd was sparse, and I came to the conclusion that if you're looking for anything more than a meal, restaurants are not the way to go. Only one other person was there alone, and he seemed pretty invested in his book. At least I made it home in time for Weeds.
The Corner Bistro (311 W 4th St at Jane St, 212-242-9502) was a better place for friendly chitchat. It was packed, but I lucked into the last stool at the bar next to another girl who was also alone. After ten minutes, during which I at last understood what guys must go through every time they try to hit on a girl, I finally got up the nerve to strike up a conversation with her. We spent the next hour talking about her job as a cook at The Spotted Pig and debating the numbing effects of whiskey with the bartender.
The Lower East Side proved more perilous: I made the mistake of heading there on a Thursday to catch a band playing at Pianos (158 Ludlow St between Rivington and Stanton Sts; 212-505-3733, pianosnyc.com). Beer in hand and standing alone in a sea of hipster girls, I spotted a guy looking my way. His too-tight gray shirt screamed, "I think I'm hot and so should you," and his shoulder-length blond hair was blown out more fastidiously than mine. Bouncing along to the music, he turned toward me and proceeded to engage in some sort of mating dance that was equal parts Animal Planet and Saturday Night Live. I was frightened, so I ran away and wedged myself into a spot at the bar. My last stop was Nancy Whiskey Pub (1 Lispenard St at Sixth Ave; 212-226-9943, nancywhiskeypubcom). Old and divey, this is probably one of the only bars in Manhattan where the (straight) guy-to-girl ratio is always about 15 to 1. The guys were lined up for a shuffleboard tournament. Budweiser was on special for $2.50 and I was quickly engaged in a conversation about the Euro Cup with Liam, an Irish lad who works in construction. I understood only about every third word he said, but he was very clear about wanting to buy me a beer every time he bought himself one. When Liam's friend showed up and wanted to buy a round of Jamesons for everyone, I had to call it quits. I stumbled out of the bar only $5 lighter but drunk enough to have walked three blocks in the wrong direction. I'd call that a success! It seems you don't have to belong to the old boys' club to go out alone after all. Just be sure to avoid Pianos on Thursdays.
Need a Julia fix? Go to timeoutnewyork.com