Dating made easy
Dating sucks. Lucky for you we've taken some of the work out if it. We handpicked hot singles who are looking for love--and give you the chance to date 'em. Plus, satisfy your fetish and the perfect $50 dates.
By Time Out editors Thu Feb 12 2009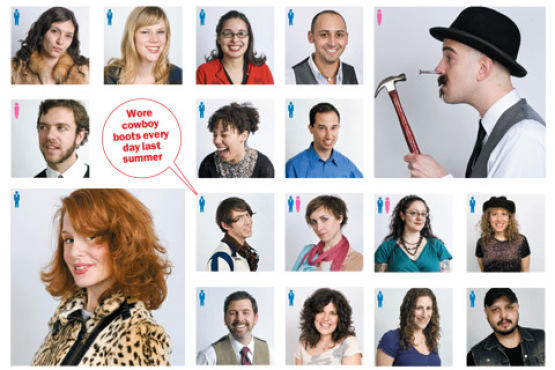 Date these New Yorkers >>
Choose from more than 100 hot singles.
Play TONY Singled Out! >>
A TONY twist on MTV's Singled Out.
VIDEO: Room raiders >>
For our version of the MTV game, we unleashed a local lady on the flats of three men she's never met. Which will she pick?
$50 win-a-date >>
Five readers will get to go out with these singles—on TONY's dime. But there's a catch: They'll have to dish about it after, just like on that show Love Connection.
Fetish finder >>
In a city of 8 million people, there's someone for everyone—you just have to know where to look. Here, a starter guide to scoping out suits, LARPers, shopgirls and other niche scenes.
How the laid-off get laid >>
Times are tough—especially when you're single and jobless. Here's how some New Yorkers make ends meet on the meat market.
VIDEO: Do sex sprays work? >>
Intern Jonathan is having a hard time finding dates. Can Turn Up the Heat spray-on pheromones boost his mojo?
Judah Friedlander photo shoot >>
Plus: read his dating survey!
Ellen Stagg photo shoot >>