Matchmaker, matchmaker
Can a dating specialist help me?
By Julia Allison Thu Feb 5 2009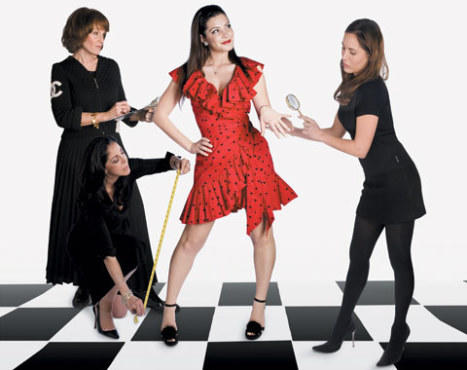 Photograph: Michael Kirby
Manertia: the state in which one's dating life is no longer new or exciting and continues in its existing state of extreme banality, unless that state is changed by an external force.
In this case, my external force has a name; three names, actually: Amy, Janis and Lisa—all professional matchmakers. While the idea originally seemed prohibitively expensive, most matchmakers don't charge ladies a penny. And after sampling three, I discovered that the men who use these services are incredibly eligible bachelors. They all have time to date, but they don't have time to date the wrong people.
Matchmaker 1:
Amy Laurent

($10,000 per year for men, free for women; amylaurent.com)
Just two minutes into our meeting, Amy tells me she has someone in mind for me: a 34-year-old Ben Affleck look-alike, Ivy League--educated banker. Blerg. I explain that I've stereotyped bankers as boring fucks, but Amy tells me to trust her intuition. I do and she sets me up.
First, there's Cameron (the aforementioned banker, who, true to Amy's word, could easily double as Mr. Jennifer Garner), then Kirby, a charming 41-year-old Upper West Side doctor-turned-hedge-funder-turned-philanthropist. Both ask me on second dates midway through the first, and third dates midway through the second. They are gentlemen, scholars and "relationship-minded" (been there, played that, ready for the next phase). I'm thrilled.
She even tries to set me up with a third fellow, who (due to my travel schedule) makes a date with me two weeks in advance, but texts me the day before: "Julia, hey, this is [redacted]. I hope you had a good trip to Vegas! I'm sorry to get back to you on such short notice, but I am not going to be able to meet tomorrow. Basically, I went out on a date with someone late last week, and saw her again this week. We kinda hit it off, so I think I am going to focus on this. I hope you understand. I hope it's okay that I texted rather than called. Hope all is well." I'm impressed. I've had actual boyfriends who haven't been that conscientious.
At the end of my dates, I ask Amy if the guys had any feedback. "There was the impression that you didn't have time for dating," she explains via e-mail. Interesting. I thought that my insane schedule made me more desirable.
Matchmaker 2:
Janis Spindel

($25,000 starting fee for men in the tristate area, women who want to be eligible need to be approved; janisspindelmatchmaker.com)
Janis Spindel is the undisputed grande dame of New York yentas, with an astronomical, almost unbelievable, success rate—more than 800 marriages! Sounds promising.
My hope fizzles when my date rolls up (in a town car that he had hired for the occasion). Out steps a fellow at least 20 years my senior, with what might charitably be described as "not quite a full head of hair." He presents me with two CDs (Kings of Leon and some other group) still in their Virgin Megastore bag, and announces that we'd be going to Bagatelle. Bagatelle? On a first date?!? On any date?!? The place is basically a bumping discotheque, with all the charm of Marquee. Why not just go to Cipriani's for models and bottles?
Fleeing to the ladies' room, I hysterically Twitter "Oh my GOD. I'M TRAPPED IN THE BATHROOM AT BAGATELLE. SAVE ME FROM THIS DATE!"
When I emerge, my date stood there smiling with two glasses of red and an admission that Bagatelle was indeed an awful choice, so would I mind if we moved to Aquagrill? I don't mind at all. Aquagrill is arguably one of the best restaurants in the city for first dates. The atmosphere and meal are pitch-perfect, and he turns out to be energetic, funny, intelligent and interesting—and one of the least skeezy men I've met in New York. I had judged him on his age and his appearance, and I was ashamed of myself.
It isn't a romantic match, but we have a solid basis for a friendship. Because I'm giving guys a chance that I normally wouldn't consider, I find that even "bad dates" through a matchmaker are pleasant experiences.
Matchmaker 3:
Lisa Ronis

(Starting package costs $15,000 for men and women; lisaronismatchmaking.com)
A nine-year matchmaking veteran, Lisa says she's not just a pimp, she's a coach, too.
Within 48 hours, she e-mails me a list of six boys:
1- Matt, a travel guy who lives on Charles Street. He's smart, edgy and successful.

2- James, 42, is an adorable doctor, smart and quite the catch!

3- Dan is so cute, 34, tall, handsome. You can look him up on Facebook. [I do. And he is.] He will be back on Monday and will call you.

4- Steve is tall, dark and handsome, 40, in banking. He is also away until Monday, but he is dying to meet you.

5- My publishing client will call you soon. He's 40, tall, dark and handsome.

6- I am trying to meet an L.A. boy for you, but that will probably happen after next week.
I am psyched, and each one calls (no texts?!?) to schedule a date. All are great in their own way, but the most memorable is Dr. James, who wins major points by suggesting a first-date itinerary that includes a live piano concert, then an Italian salmon-and-pasta dinner, followed by salsa dancing. He has one of the most fantastic attitudes of any guy I've met in New York. "I'm from the Midwest," he tells me, which explains it.
The evening turns into a grinfest. I ask Lisa for his impressions. "He thought that you two had the exact same energy and good chemistry," she e-mails. "But," she cautions, "he wasn't sure if you were serious about finding love." Oh no! I've heard this before. I immediately text him and reassure him that once I'm back from Vegas, D.C., Munich, and Davos, Switzerland, I'd love to see him again. He texts back, "I wanna go salsa dancing in Puerto Rico with you! xo and am sending you a smile. Safe trip and text me when u land!"
Okay, so he didn't read my "Bad textiquette" column the other week. But my manertia? Officially gone. Nine men, 15 dates and approximately 57 text messages later, my conclusion is unambiguous: Matchmakers are the best thing to happen to my dating life since I hit puberty.
More services to try
Samantha's Table
(212-717-6033, samanthastable.com)
$425 for a consultation, introduction packages start at $20,000.
Meaningful Connections
(212-877-5151, meaningfulconnections.com)$1,000 for an introductory membership, annual memberships up to $5,000. Mention TONY and get 10 percent off.
Christie Nightingale Premier Match
(212-448-1141, premiermatchmaking.com) Rates start at $6,500 for one year,
half-year rates are negotiable.
Club Elite
(212-242-4755, nyclubelite.com)
Specialized for gay men,rates start at $5,000.
VIP Life
(866-VIP-LIFE, clubviplife.com)
Free for women, rates start at $5,000 for men.
---
See more Julia Allison >>