Meet the Undateables: Emily and Ted
These lovelorn New Yorkers swear they're absolutely undateable. We pair them up to see if they're right.
By Dana Varinsky Tue Jul 1 2014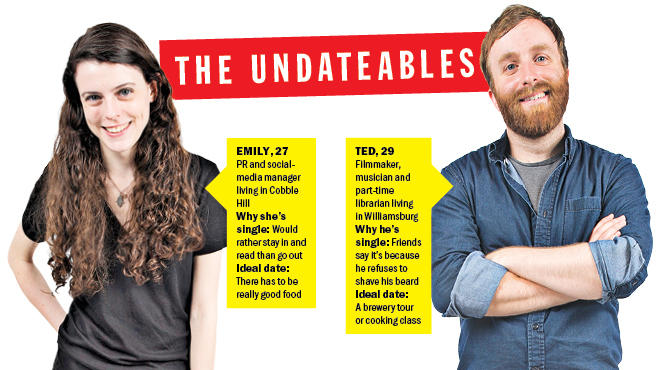 Recommended: See more Undateables

The date: Drinks, snacks and dessert at Graziella's (232 Vanderbilt Ave between Dekalb and Willoughby Aves)

First impression
Emily: "He looked like maybe he would have an Irish or Scottish accent. I was immediately like, Great! He doesn't look like a sociopath who's going to murder me! He looked really nice."
Ted: "She was cute. I was mostly focused on the fact that I was so sweaty—I rode my bike there and realized too late that it was not the right choice on a summer day."

Chemistry
Emily: "I'm in PR, so I can talk to anyone about anything, but sometimes the conversation was awkward and hard. We didn't have a ton in common."
Ted: "I didn't feel any chemistry, and I didn't really think there was any being returned. I felt more relaxed knowing it wasn't one-sided. My usual type is someone who's a little crazy, probably to a fault."

Memorable Moments
Emily: "There was a Baptist church next to the restaurant and at one point they were singing the Barney song. I sang along to a couple bars—I couldn't help myself."
Ted: "I had to convince her to get the dessert. She let me eat most of it, which for me was probably the best part of the date—just getting to pound chocolate cake."

Afterward
Emily: "He was like, 'What should we do, should I get your number?' So I gave him my e-mail. Maybe that's why he hasn't e-mailed me, because I gave him that vibe."
Ted: "Is that what the kids are doing these days—exchanging e-mails and Gchatting? I was glad she didn't offer her Facebook."

In three words
Emily: Ted is "friendly, jovial and genuine."
Ted: Emily is "smart, talkative and employed."

Verdict
Emily: "If he wanted to hang out again I would, but not in a romantic sense. He just wasn't my type. I tend to date really scrawny hipster nerds."
Ted: "The date felt kind of dull, but that was probably my fault. I tend to be debilitatingly nice on dates. But at least I'd stopped sweating by the end."

Undateable? E-mail us at undateable@timeout.com to get set up.
---