Moving in together
Five couples expose the realities of shacking up.
By Alison Zeidman Wed Nov 30 2011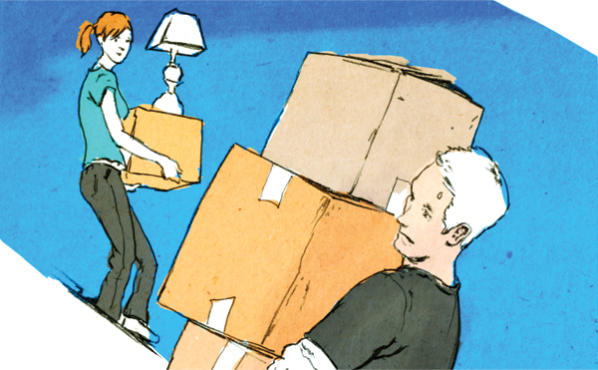 The tentative twosome

Producer for CNN and graphics playbacks operator for NBC and law student, 27 and 28, Hell's Kitchen
Apartment size: One bedroom
Together: Five years
Living together: One year
After meeting in an NYU graduate journalism program, these two spent four years separated by the bridges and tunnels between New York and New Jersey. The commute to keep the relationship alive was a constant hassle, but whenever they discussed moving in together, both expressed apprehension. After about a year of slowly introducing her parents to the idea of them sharing a place, warming him up to the idea of moving to New York and realizing that both their leases would be running out around the same time, they started their joint-apartment search. Since moving in together, they've dealt with typical challenges like dividing chores and finding ways to give each other space in a tiny place ("a pretty common New York problem," he says). They've also become more focused on planning time together as a couple: Despite their demanding schedules, they commit themselves to weekly Monday lunch dates and also make time for things at home, like coparenting raising their newly adopted mutt, Chupi.
Formerly long-distance loves

Executive search associate and marketing manager, 27 and 32, West Village
Apartment size: One bedroom
Together: Four years
Living together: 11 months
Before he was able to get a work transfer and move to New York from England, this twosome's relationship mostly took place over Skype. When he finally got his visa, there was no question that they wanted to move in together right away. Even so, it was difficult to secure an apartment during the slow winter real-estate season, particularly without him there to prove that he was legally moving to the country. They eventually settled for a one-bedroom sublet. After a few months, they grew increasingly annoyed with the lack of a bedroom door—which meant neither one ever got any alone time—and found something larger and more permanent. They may bicker over little things, like washing dishes and making the bed , but the patience they learned as a long-distance couple remains strong in this new phase of their relationship. He's gotten used to her watching Glee every Tuesday, while she's adjusted to his early-Saturday ritual of watching English soccer (and screaming every time a goal is scored). At the end of October, they finally found a perfect engagement ring to go with his proposal in June.