Apartment tour: 1BR in Greenpoint, Brooklyn
Billy Leroy, the eccentric owner of Billy's Antiques & Props and star of the Travel Channel's Baggage Battles, reveals his taxidermy-filled abode.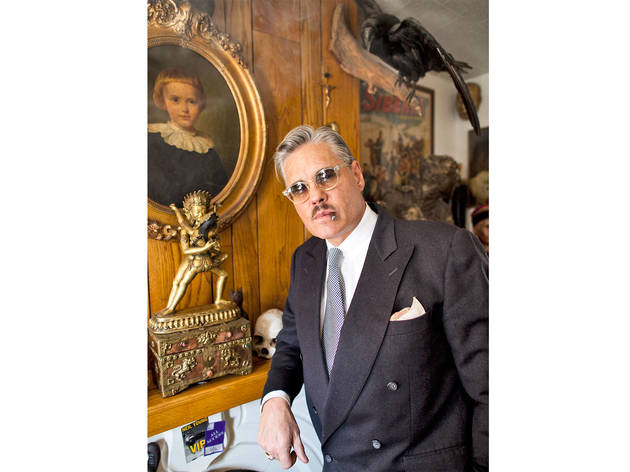 1/17
Photograph: Brian Harkin
If you've ever visited Billy's Antiques & Props (billysantiques.com), the renowned green tent in Soho crammed with eerie relics and heavy antique furniture, you wouldn't be surprised to hear that proprietor Billy Leroy's 1,800-square-foot duplex mirrors his quirky shop. Though the tent was demolished in March to make room for a brick-and-mortar store opening in 2014, Leroy will stay in the public eye as one of four junk-scouring experts starring in the new Travel Channel series Baggage Battles (premieres Wednesday 11 at 10pm). The show follows Leroy's trips to distant airport auctions, where he bids on unclaimed luggage with the hopes of uncovering left-behind treasures—a career he began decades ago. While working as a junior art director at an advertising firm, Leroy came across a rare French military painting in his off time, purchased it for $2,000 and then sold it at Christie's auction house for $12,000—the equivalent of his yearly salary. Leroy quit the office gig, left his Upper East Side heritage behind and slipped into the underbelly of the Bowery's culture. His apartment, which he's rented for the past eight years, is a testament to his journey.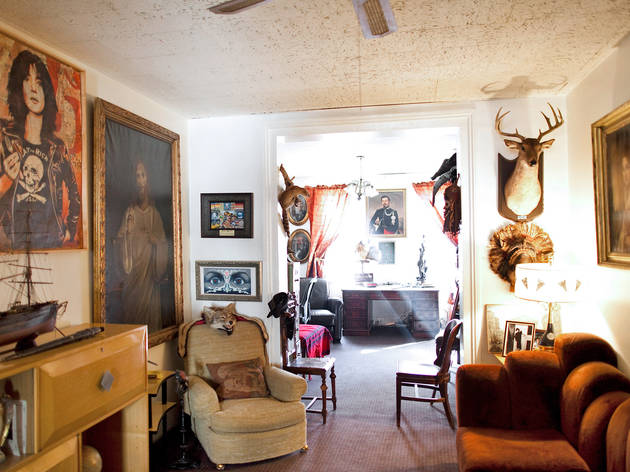 2/17
Photograph: Brian Harkin
The first floor encompasses the sitting room, living room and sleeping quarters, which Leroy and his wife, musician Lorraine Leckie (lorraineleckie.com), inhabit. Below, on the garden level, is the where the kitchen and music room are located. "I don't want people to feel too comfortable, but at the same time I don't want them to run out screaming," says Leroy of the taxidermy animals and dark artwork adorning his common areas. Surprisingly, Leroy claims very few items in his abode hold any sentimental value. "I'm a pure dealer," he explains. "Everything is for sale; you can't get too attached to this stuff."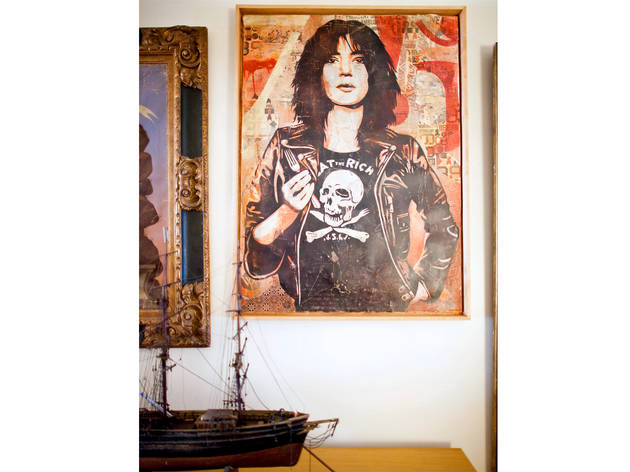 3/17
Photograph: Brian Harkin
Shepard Fairey, the controversial street artist known for creating Obama's HOPE campaign poster, made a mural next to Leroy's tent in 2010. "We made a deal," recalls Leroy, who gave Fairey a piece from his store in exchange for one of his paintings. Since he barters so often, Leroy doesn't remember exactly what he traded, but he ended up with this canvas painting of Patti Smith, based on a famous photograph of the punk-rock singer. "He added EAT THE RICH," notes Leroy of Smith's T-shirt slogan, which also serves as the title of the painting. "He's really an artist. He's just as voracious and passionate as Mr. Brainwash or any of those street artists who exclude him."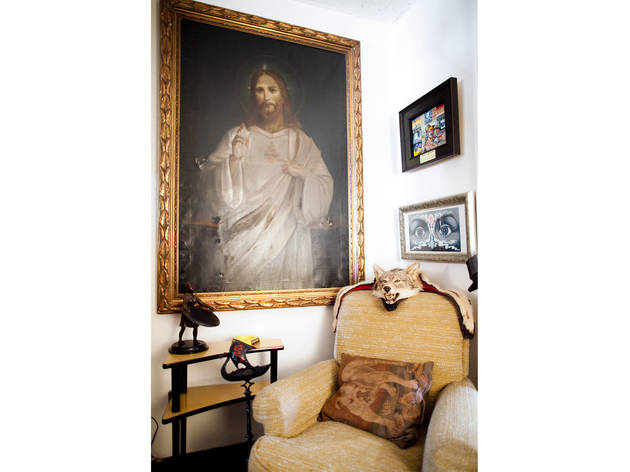 4/17
Photograph: Brian Harkin
Leroy found this religious painting at the Hell's Kitchen Flea Market(W 39th St between Ninth and Tenth Aves; 212-243-5343, hellskitchenfleamarket.com) back in the '80s, when it was located downtown and known as the Annex. "It needed a cleaning, but it's really good quality," he says. "It's from about the turn of the 20th century. You can always tell by looking at the back of the canvas—it becomes brown over time." The midcentury chair came from a shipment Leroy had purchased at auction in Pennsylvania. It's draped with a coyote-pelt rug Leroy preserves by using as a throw. The needlepoint pillow was a gift for his wife, who used to have her own bulldog, while the 1930s cast-iron Viking ship that stands next to the seat hails from a collector in New Jersey. "Vikings are very mystical, very strong," muses Leroy. "They lived by their own rules."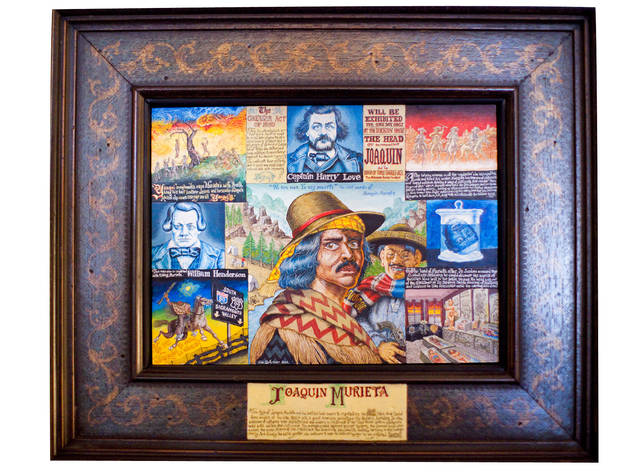 5/17
Photograph: Brian Harkin
This biographical scene painting by contemporary artist Joe Coleman (joecoleman.com) is one of Leroy's favorite items. Called Joaquin Murieta, it depicts an outlaw who was tracked down and killed in the American Southwest in 1853. His head was put into a jar to scare would-be criminals into law-abiding lifestyles. "You see the head in formaldehyde?" asks Leroy. "That is the one Joe Coleman owns and used as a model. I sold it to him." Leroy purchased the inspirational human head for $4,000 at the West 25th Street Market in the mid-'90s. "You never see stuff like that," he marvels. "But it is around."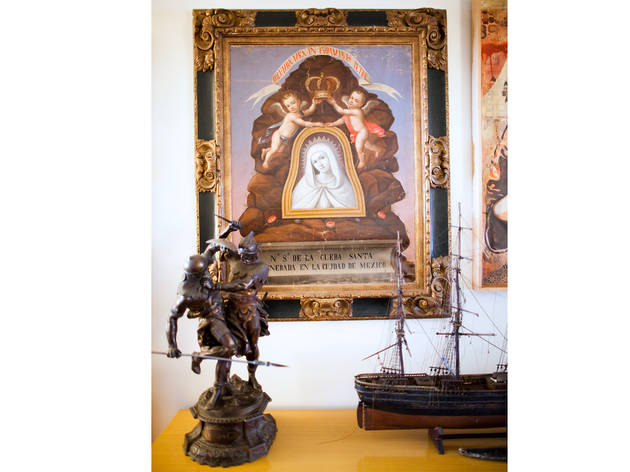 6/17
Photograph: Brian Harkin
Leroy bartered with underground photographer Nan Goldin for this iconographic painting, which she found in Mexico and had in storage. "She came into my store and went crazy," recalls Leroy, who traded numerous pieces for the artwork. "She loved what I had." He discovered the bronze statue of warriors fighting at the Brimfield Antiques and Collectibles Show (brimfieldshow.com) in Massachusetts last July. He often finds bronze figurines at military flea markets, where the sellers know less about antiques than they do weaponry. The 100-year-old model ship is from Paris. "It reminds me of one my father had in his apartment in the 1960s," he notes.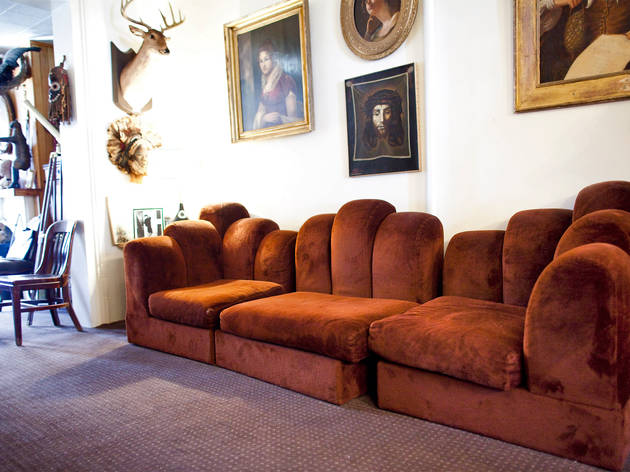 7/17
Photograph: Brian Harkin
This oversize velvet couch sat on the sidewalk in front of Leroy's tent without selling for three months before he hauled it into his own apartment. It originally came from a public Pennsylvania auction. "It's the funniest-looking sofa," he says. "There's an ass for every seat." The deer head on the far side of the room isn't real, although it moves and sings at the click of a remote. It was purchased for $100 at the Hell's Kitchen Flea Market. Leroy considers many of the paintings throughout the apartment, including those above the couch, haunted for their strange and creepy imagery. A 19th-century lady and a depiction of Jesus from France decorate the space.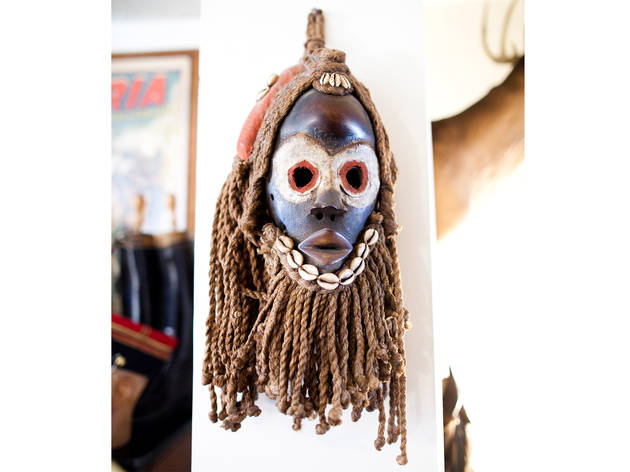 8/17
Photograph: Brian Harkin
"I love African masks," says Leroy, who procured this purely decorative one from the Showplace(40 W 25th St between Fifth and Sixth Aves; 212-633-6063, nyshowplace.com). "You have to be careful," cautions Leroy of purchasing African art. "Most are made to look old." Though fairly young, the mask appeals to Leroy for its strong aesthetic qualities. "[It] looks like the spirits of the Congo."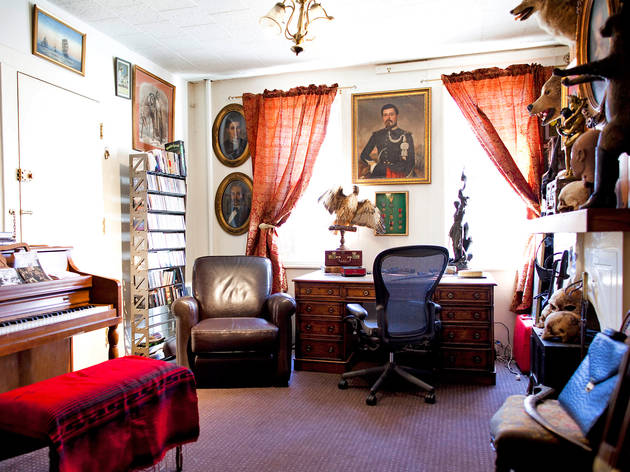 9/17
Photograph: Brian Harkin
"This room has a lot of mojo," says Leroy of the first-floor study, where his wife often practices the piano. "In the 1890s, English gentlemen would have their library and they'd just have this crazy shrunken head [in it]. I wanted it to look elegant but be a little racy, otherwise I'd just go to Ralph Lauren." To offset the macabre skulls and masks that decorate the space, Leroy added more traditional elements, such as the corner club chair he scored "off a bum on the Bowery."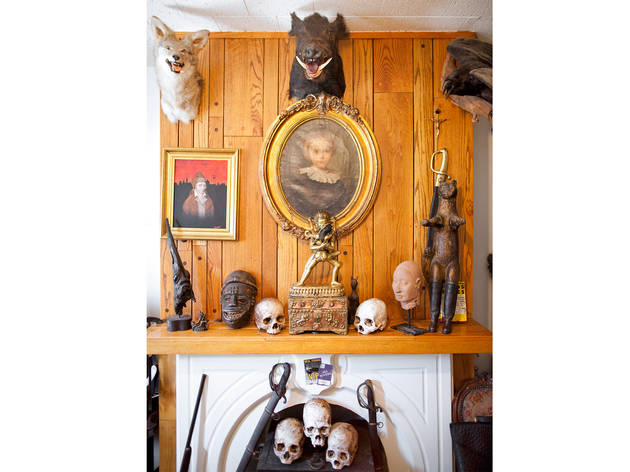 10/17
Photograph: Brian Harkin
"I love militaria," says Leroy, referring to the swords from Germany and France decorating the mantle. Leroy found the Puss in Boots statue, originally used as a French cobbler's sign, at a Paris auction in 1980, while the VIP passes covering the fireplace's crest are mementos from backstage visits at Neil Young and Brian Jonestown Massacre concerts. The 19th-century Tibetan bronze sculpture depicting a primal embrace sits beneath an equally old portrait of a young boy from Germany. Leroy admits he has a soft spot for "creepy kid paintings."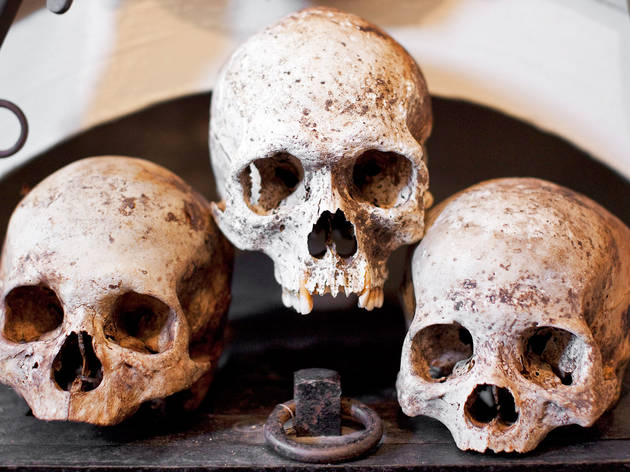 11/17
Photograph: Brian Harkin
Human skulls from the northern Philippines, purchased from a Canadian collector and originally captured 150 years ago by headhunters, also adorn the mantle. "The backs are muddy and the fronts are bleached," notes Leroy. "They were put in mud huts, probably as display." Ironically, Leroy admits that he doesn't keep them out all the time. "I put them out there for a little pizzazz," he says. "If my cleaning lady saw them, she'd flip out."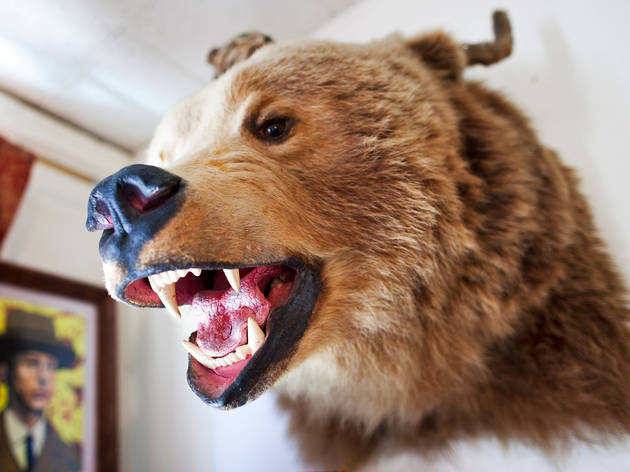 12/17
Photograph: Brian Harkin
Leroy's penchant for taxidermy stems from his love for shows like The Addams Family and The Munsters. "They always had crazy taxidermy," he says. "Some even talked." With the exception of this 1920s bear head, which predates grizzlies' move to the endangered-species list, none of the pieces are particularly rare. "I just like them because they are decorative," he explains.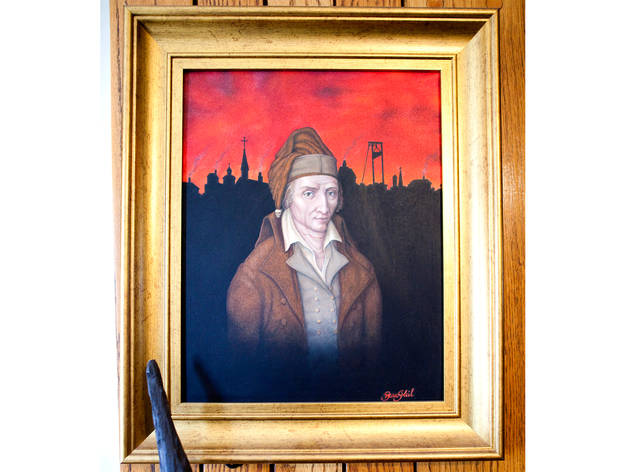 13/17
Photograph: Brian Harkin
"My ancestor is the Marquis de Montflabert, a French aristocrat," reveals Leroy. "He became a revolutionary and changed his name to the Tenth of August; he sent thousands of French aristocrats to the guillotine without acquittal, so this guy has been looming in my family history." Leroy contacted convict and artist Bobby Beausoleil (imprisoned on murder charges in relation to the Manson Family) in jail through another artist friend to commission this portrait of his relative. "The French Wikipedia page uses this picture as [Montflabert's] image," boasts Leroy. Beausoleil added a faint line across Montflabert's neck as a nod to his ultimate end. "He paid for what he did," says Leroy of his family member. "He was thrown into an unmarked grave."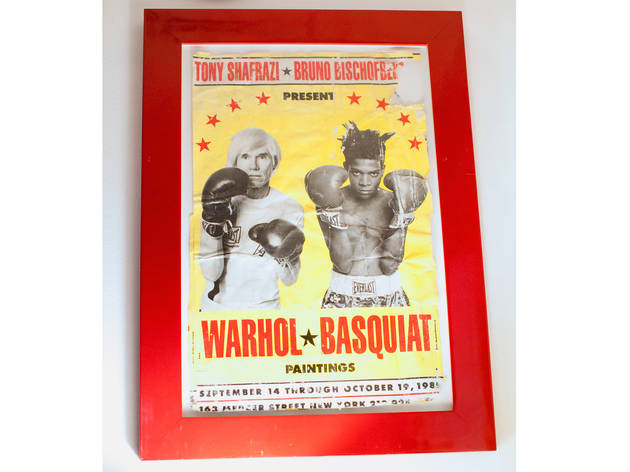 14/17
Photograph: Brian Harkin
Leroy hangs an original poster from the 1985 Warhol-Basquiat collaborative show at the Tony Shafrazi Gallery(544 W 26th St between Tenth and Eleventh Aves; 212-274-9300, tonyshafrazigallery.com) in his living room. "Now, you can go and find these posters framed very nicely, but this one was slammed on a bill on the street," he explains. Rather than purchase a reprinted or refurnished version, Leroy had a friend peel this authentic one off the wall and then framed it. "This is probably the only street one that's still in existence," he boasts.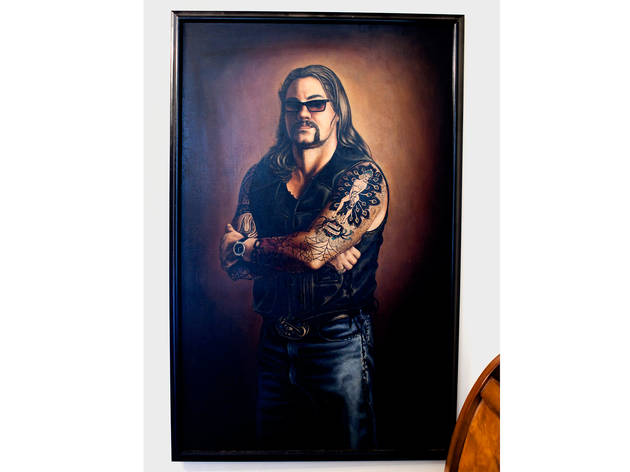 15/17
Photograph: Brian Harkin
One of the few items Leroy plans to keep, this painting is a portrait of him from another era—one in which he had long hair and rode his Harley motorcycle with more regularity. The tattoos depicted are real, although these days they're hidden beneath French-cut suits. "I think it would be nice for my daughter to have," says Leroy, who purchased the portrait from the artist Helen Garber (helengarber.com) after it hung in a benefit show at the now-closed Bronwyn Keenan Gallery in the late '90s.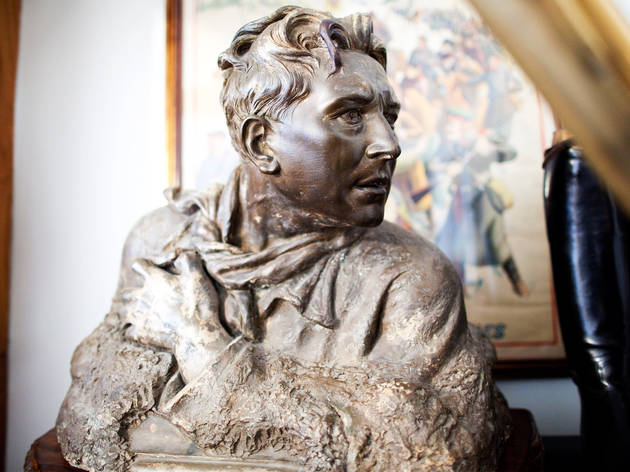 16/17
Photograph: Brian Harkin
A man from Queens brought this terra-cotta bust of John Barrymore to Leroy in the trunk of his car in 2008. He had no idea it was an original handmade piece from 1925. "He thought it was plaster," recalls Leroy, who purchased it from him for a mere $250. "I'm [in favor] of educating people to pay their dues. If you do your homework, you're going to get 50 or 60 percent better deals than if you buy through a guy like me."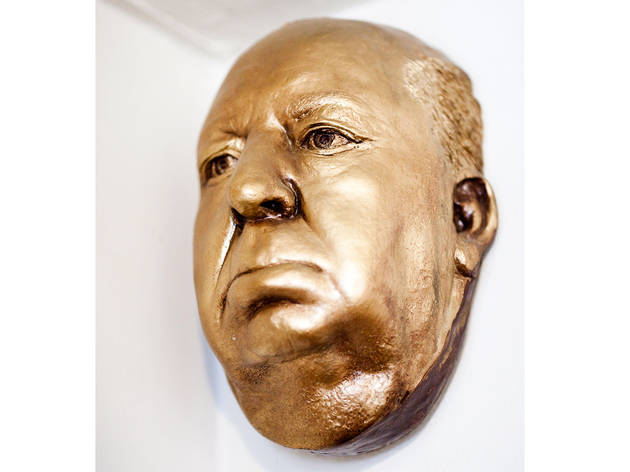 17/17
Photograph: Brian Harkin
"Hitchcock and Stanley Kubrick are my favorite directors," says Leroy, motioning to this plaster bust of the former silver-screen legend. "It's called a life mask." Actors often have busts made for movies, should prosthetics need to be made. Leroy bought this gold version from a makeup artist who briefly worked at Billy's Antiques & Props three years ago. "Intrinsically, it's not worth much," he says. "It's what you do with it."
Love the look? Get it here!
Clayton Gallery & Outlaw Art Museum161 Essex St between Delancey and E Houston Sts (212-477 1363, patterson.no-art.info/gallery/overview.html)
This appointment-only gallery was founded in 1986 and has weathered the storm of gentrification around the Bowery. Rather than showcase well-known artists, owner Clayton Patterson highlights emerging talent whose aesthetics he personally loves. Leroy calls him "the last original documentarian" of the neighborhood. "I love going there because it doesn't feel like the New Museum," says Leroy, who believes the larger institution tries to purchase street cred.
The Hole Gallery312 Bowery between Bleecker and E Houston Sts (212- 466-1100, theholenyc.com)
This art gallery is another of Leroy's favorite haunts, though not just for the artwork. "They have a cool retail shop," he says of the space, which sells limited-edition posters, printed hoodies and ephemera from various artists. "[Owner Kathy Grayson] supports street artists and young talent," says Leroy. "She goes with her gut.
Mantiques Modern146 W 22nd St between Sixth and Seventh Aves, suite 1 (212- 206-1494, mantiquesmodern.com)
If money were no object, Leroy says he'd shop exclusively at this high-end antiques store, which is run by his good friend Cory Margolis. "You'll find things there that you've never seen before," he enthuses.
Obscura Antiques & Oddities207 Ave A at 13th St (212-505-9251, obscuraantiques.com)
"They buy all the creepy stuff I buy," says Leroy of this dark boutique run by the stars of the Discovery Channel show Oddities. "[They focus on] creepy, weird, American-gothic stuff," he explains. "We have a lot of the same customers.
25th Street Flea Market29 W 25th St between Fifth and Sixth Aves (212-243-5343, hellskitchenfleamarket.com)
Leroy has frequented this outdoor bazaar for decades, and regularly scours it for anatomy specimens, decorative objects and furniture. Vendors often save specific pieces just for Leroy. "It's very small, but they've got great things if you go there early in the morning," he says. "It's the last and greatest flea market in NYC."