Best gift shops: Chelsea
Find out where to shop for gifts in this downtown Manhattan neighborhood.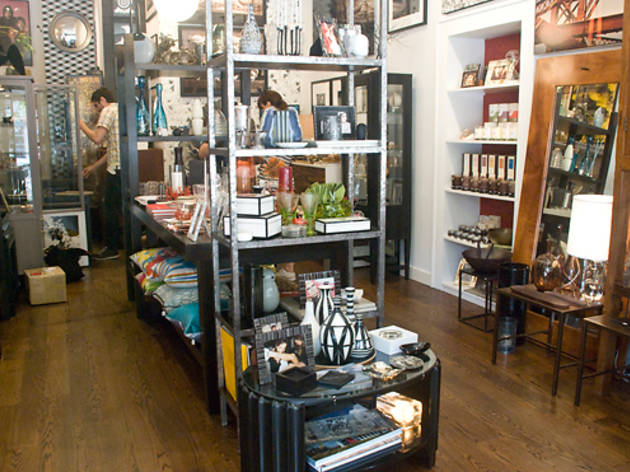 Husband and wife team Lana Sexton and Henry Stozek carefully pick every item for their reliably excellent home goods shop, so you'll find everything from one-of-a-kind creations by small, local artisans—with a special focus on Chelsea photogs—to globally sourced objects and vintage treasures.
Read more
More shops for gifts in Chelsea
Banchet Flowers is known for orchids, both cuttings and plants—especially the rare and unusual kinds. They deal in sought-after Black Magic Vandas, and all their bouquets include orchids (unless a client requests otherwise). While simple bunches are available, owner Banchet Jaigla specializes in contemporary arrangements using flowers sourced from as far afield as Holland, Singapore and Thailand ($175–$1,925). Along with the blossoms themselves you can take home imported vases, candles and other homewares, all chosen with an eye to unique or modern design.
Read more
It's aways a scene: Lower East Side bargain hunters compete with city antiques dealers for the best prices on all things antique and vintage. Hosting more than 100 vendors spread across two floors of an old parking garage, this market is perhaps the best-known in the city, and for good reason—while the prices aren't the cheapest you'll find, the merchandise usually hits the mark. It has its share of curio crap, but an early-morning trip through the stalls—best to get there before the postbrunch, hand-holding hordes—can be rewarding. It's run by the folks responsible for the Hell's Kitchen Flea Market.
Read more
This drugstore-like venue combines traditional medical services, homeopathy and natural remedies. Go for exclusive brands such as Becca, Organic Glam and Pepperface, as well as an assortment of vitamin supplements. There's nowhere else in the city to get Batiste Dry Shampoo ($12), Becca Mascara ($24) and Inneov Anti-Aging Firming tablets ($70).
Read more
If you're in search of local, handmade and one-of-a-kind products, hit up this temporary spot in Chelsea Market, where 11 New York vendors are showcasing their crafts. Stock up on home goods such as Monkey Barsoap vegan soaps in jasmine green tea ($8) and Gauge NYC decorative hanging word sculptures ($90). Hip threads include Beulah lightweight denim shirtdresses ($78) and Ellison slouchy sweaters with rhinestone embellishments ($78), both from soon-to-launch e-commerce site Humble Chic (humblechic.com). Brighten up your ensemble with Wendy Mink rainbow-jeweled necklaces ($422) and gold leaf cuffs ($245), or Judy Kaye leather leaf-charm wrap bracelets ($170).
Read more
Chelsea Market, the go-to place for Amy's Bread and super fresh seafood, is now also home to an especially New Yorkified version of this free-spirited chain. In addition to the artsy clothes and housewares that we've come to expect from Anthropologie, the outpost stocks dresses by SOR Select and jeans hand-painted by Carol Horn, plus an array of antique jewelry sourced from a Paris flea market. The shop also features topiaries of local landmarks like the Highline and the Chrysler Building.
Read more
The shop formerly known as Art:asap may have changed ownership, but it's still providing every art service under the sun (well, almost). The gallery does custom framing, consultation and installation, and carries a huge array of prints, original canvas paintings, and photography (starting at $200). And that's not even the half of it.  
Read more
After two successful stints inside Chelsea Market (one in 2011 and another in early 2012), this temporary shop will be back for a third round. More than 50 local designers and retailers will be hawking a mix of eclectic apparel ($25–$500) and accessories ($48–$375) from brands such as Cynthia Rybakoff and Naturevsfuture. Vendors rotate every few weeks, but we recently spotted 1970s vintage felt fedoras ($78) from Brooklyn Blue Vintage, Naturevsfuture wool coats ($498) and Vale Jewelry triangle-stone rings ($375). Also look for quirky goods including Golly NYC lightboxes ($250) and patchwork denim vests ($75).
Read more
This concept shop is filled with pricey unusual objects and limited-edition art. Located on the ground floor of the HL23 building on the High Line, each collection lasts a couple of years. Dutch designers Studio Job curate Collection 1, which includes a mix of pieces made exclusively for Chamber. New items will enter the shop over the course of the run, including fragrances by Julian Bedel of Argentine perfumery Fueguia 1833 ($350) and Dystopian Brutalist shirts by Martijn van Strien ($185). Want more info on the products? Check out the collectible hardcover book ($100), which tells the history behind each piece.
Read more
Walk through the doors at this Chelsea fragrance shop to feel instantly relaxed by the clean scents, soft music and soothing pastel color-scheme. The peaceful space is a cross between an old American country store and a Provence boutique, outfitted with a faux orange tree, violet walls, potted flowers, white cabinets and brown wood furniture. Fifteen years ago owner Christine Dimmick started crafting her scent-and-home-goods business in her kitchen, selling her products online until she opened this NYC store. Find all-natural cleaning products in four signature fragrances: Italian Citrus, Pure Grass, Village Lavender and Beach Days. We're fans of the recycled-plastic beads, which release aromas when used in a vacuum (one $15 container supports 12–14 uses). But the pièce de résistance is the potpourri bar, where customers can choose from 18 botanicals. Handpick a potpourri blend (starting at $15 for two cups), add an essential oil, and watch a staffer mix it right before your eyes.
Read more
Since 2006, Massachusetts jewelry designer Jill Schwartz has been hosting Jingle, a temporary multidesigner holiday shop in Chelsea Market. This is the first year that she'll unveil a spring version of the fair in the same massive space. The ten-day bazaar will feature booths from 18 different vendors, including Beebop & Wally, Fred Flare and Motel Deluxe. Check out Schwartz's own collection, Elements Jill Schwartz, which includes colorful beaded earrings ($77) and assorted charm and stone necklaces ($140). Peruse great gift ideas, such as Linden Hill Gardens fern-filled terrariums ($85), Hudson Valley Hatworks lace cabbie hats ($32) and Junk Lab Design lamps made from found objects ($695). We're fans of Fred Flare's kitschy goods, especially ice-cream lamps ($50), Baggu canvas totes ($28) and BB Dakota striped frocks ($64).
Read more