Best gift shops: Nolita
Find out where to shop for gifts in this downtown Manhattan neighborhood.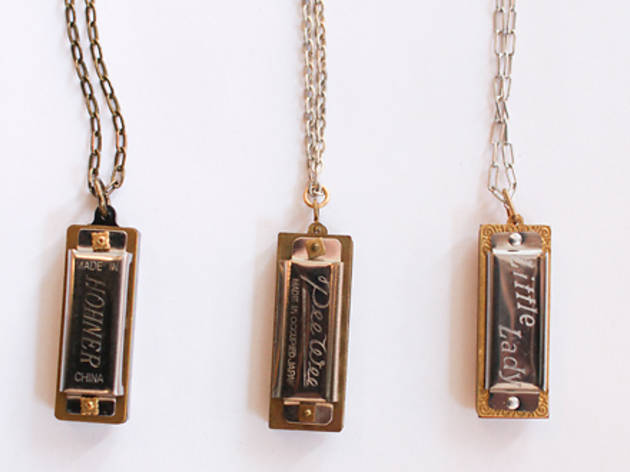 More shops for gifts
Every time we step into this minimalist, white-walled shop, we find something new to lust after. Erica Kiang opened the globally minded boutique in November 2009, and specializes in clothing, accessories and tchotchkes sourced from more than two dozen countries: jumbo weekender bags from Ghana, floral frocks from Australia, wacky watches from Japan and so forth. The prices might trip up budget shoppers ($259 art-deco heels or a $119 motorcycle coat from Japan, for example), but you're unlikely to find this stuff anywhere else in the city.
Read more
Located across the street from the New Museum, this design-focused gallery quietly resides above a busy home-supply store with only a banner hanging outside its second-story window advertising its existence. Cofounders Rebecca Kong and Jon Tomlinson both worked as contemporary art dealers before they started Artware Editions in 2006 to challenge visual artists to produce limited-edition, functional design objects, such as Christopher Kurtz's circle-motif armchair and ottoman set ($1,500). The only criteria are that the pieces must have utility and a strong conceptual connection to the artists' previous work. You'll find items from nearly 150 artists (including Marina Abramovic and Damien Hirst) on display in the white-walled space. Highlights from the collaborative efforts include Markus Linnennbrink colorful paint-drip watches ($70), Ligorano/Reese fuck snow globes ($60) and Little M by Miyeon Lee drop-chain earrings ($120).
Read more
Shop owner Loriann Smoak has racked up a lot of stamps on her passport (she traveled to 19 countries last year alone!), and now she's bringing her worldly finds to this Nolita boutique. The bright, white, marble-detailed space is decorated with plants and greenery, and it's loaded with garb from local and international designers. Eco-friendly silk tanks by Amour Vert come from France ($72), Ghost Dancer beaded bib necklaces are inspired by Native American culture ($178), Juma bird-printed scarves are made in India ($175) and cult photographer Neil Krug's Pulp Art Book of grainy Polaroid-film photos can decorate coffee tables ($50).
Read more
Founded in 1412 as a Florentine infirmary, Santa Maria Novella opened to the public 200 years later as an apothecary. Its time-tested bath, body and home products are distributed in the States by fragrance distributor Lafco New York, and this joint shop is the primary place in the city to stock up on the heritage goods. Wrought-iron doors, large pillars and vintage apothecary jars exude an old-world European charm. Peruse indulgent items such as rosewater toners ($28), pomegranate-milk body lotions ($85) and men's olive-oil–infused shaving foam ($28) laid out on rustic metal tables. Many wares are still made using the brand's ancient recipes, including cosmetic vinegars ($52) that treat dry skin and dandruff, toothpaste ($20) formulated with Florentine iris root to prevent bleeding in sensitive gums, and secret-recipe potpourri ($35), once used to mask the smell of dead bodies in the dispensary. 
Read more
Husband and wife Rob Magnotta and Winnie Beattie have opened their first boutique, filled with eclectic women's threads ($97–$2,000), accessories ($41–$2,500) and vintage books ($13–$80) meant to imbue a cozy feeling. The space retains the original hardwood floors from its past life as an olive-oil factory and uses an antique post-office mail sorter for merchandise. Zebra-print rugs and tropical plants give it a nature-inspired vibe. Shoppers can also nab home goods such as Auntie Oti towels ($41) handwoven in India and beach-scented Apothia candles ($55). Embrace your inner romantic with Roseanna lace tops ($212) and Vanessa Bruno Athé chambray dresses ($306). Extra trimmings include Locals flip-flops ($18), which are native to Hawaiian drugstores; Jerome Dreyfuss linen-and-leather handbags ($288); and VK Lillie necklaces ($667) filled with healing crystals.
Read more
The men's fragrances are so appealing in this three-year-old shop that girls are likely to strut out with a bottle themselves. "I've noticed that most women don't like to smell too girly and so they run straight to our men's line," manager Maiko Shiratori says. "But, honestly, our scents are for everyone; we just label gender for customers who need that additional assistance." The best-sellers include Rose 21 ($62 for 15ml) and Verdama 22 ($62 for 15ml).
Read more
After serving as a destination for flowing, eye-catching apparel and cruise-perfect adornments for nearly two decades, resort-wear brand Calypso St. Barth has opened a boutique devoted entirely to high-end, ultrafeminine accessories. A delicate shell chandelier hangs above a velvet tufted pouf sitting at the center of the 500-square-foot space. Colorful decorative accents abound: Embroidered scarves ($95–$995) are draped over a brass elephant that dwells in the boutique's window seat, bohemian-luxe baubles ($45–$1,800) rest on hand-polished natural-stone slabs ($395), and folk-art-patterned pouches ($185) are displayed on shelves. Designs reminiscent of distant lands include jeweler Coralia Leets's semiprecious-stone-laden line ($45–$895), Lena Skadegard's handcrafted freshwater-pearl jewels ($75–$1,800) and russell+hazel stationery ($30–$45). Also look for Calypso St. Barth's house-label creations, including rabbit-fur-trimmed wool scarves ($95) and fitted knit beanies with rabbit-fur pom-poms ($65).
Read more
If you're dead serious about keeping warm this winter, Swedish brand Fjallraven has you covered. The brand's first stateside store is equipped with well-engineered outerwear (their specialty), coats in every size and shape, camping gear, backpacks, boots, and even axes. Prepare for winter with double-layered down coats ($250), beanie hats ($40-$50), and (for when the unemployment benefits stop rolling in) two person tents ($428).
Read more
Owners Kiara Ellozy and Jodie Patterson offer hand-selected beauty products and by-appointment hair stylists at their Nolita fusion shop-salon, which boasts a hip-but-homey vibe, thanks to their wall-spanning inspiration board. The front half of the airy, art-decked space is stocked with a range of lesser-known bath and body goods, including all-natural products from New York's Dolly & Mila Wildcrafted Skincare ($18–$68) and Georgia by G and Company, the store's own collection of sumptuous, essential-oil-packed lotions and soaps ($8–$34). You'll also find lively accessories such as Purple Pill Babies tribal fabric-wrapped glasses ($45–$58) and Huit Lingerie lace briefs ($45). Wander toward the back for goof-proof pencil-applicator makeup from new brand Color by Cynde Watson ($15–$30), or opt for one of Georgia's pros to do it for you (makeup application starts at $150). The skilled stylists also man the full-service, two-seat salon, and pride themselves on being able to work with any hair type. To wit, there's a wide range of services, from unisex haircuts ($100–$200) and color ($110 and up) to dreadlocks ($140). After having your mane coiffed, be sure to check out the shelves of hair products from high-performing favorites like Barex ($22–$70), Davines ($21–$46) and Oyin Handmade ($11–$15), whose all-natural line is a must for girls with curls.
Read more
You may feel as though you stepped through the looking glass upon entering designer Abby Hoe's quirky dollhouse-like store. A hot-pink chandelier hangs from an upside-down table painted to look like a clock, zipper-mouthed puppets sit in teeny chairs along the windowsill, and antique lamps with doll heads decorate the shop. You won't find sizes on the lacy eponymous tags, since all styles are made loose and billowy enough to fit most body types. Pinewood racks and wicker hangers show off cotton dresses embroidered with music notes ($88), cropped crocheted tanks ($125), floral blouses ($85–$98), printed maxi dresses ($125) and multicolored patchwork totes ($55). Create your own bracelet by selecting kitschy plush toy charms ($15 each) and linking them to metal and fabric chains ($3–$7).
Read more
In addition to a large stock of body lotions, oils, creams and exfoliants, you'll find three types of organic perfumes here. The most covetable is Guaiac, a mix of fresh herbs, citrus and floral blends; it's available in a roll-on ($48 for 10ml) and a concentrate bottle ($186 for 15ml). Because the perfumes are organic, the resulting aroma varies from customer to customer, manager Stephanie Dohaney explains. "If you're using a synthetic perfume, it's going to smell the same on everybody," she notes. "With our organic perfumes, the smell alters [depending on] your body chemistry."
Read more
Former publicist Fiona Thomas and fashion designer Allison Sires combined their names and talents to create Thomas Sires, a women's clothing and gift shop in Nolita. In addition to designing their own fashion line, the duo travels the world in search of inspiration and interesting knickknacks to fill their cozy, pale brick-walled shop. Peruse leopard-print, gathered tops ($250); reversible faux-fur vests ($400); Otto oversize Lucite necklaces ($325); Colombian canaflecha fiber spiral bracelets ($18); and Japanese fish-shaped soaps-on-a-rope ($40).
Read more