Best gift shops: Upper East Side
Find out where to shop for gifts in this uptown Manhattan neighborhood.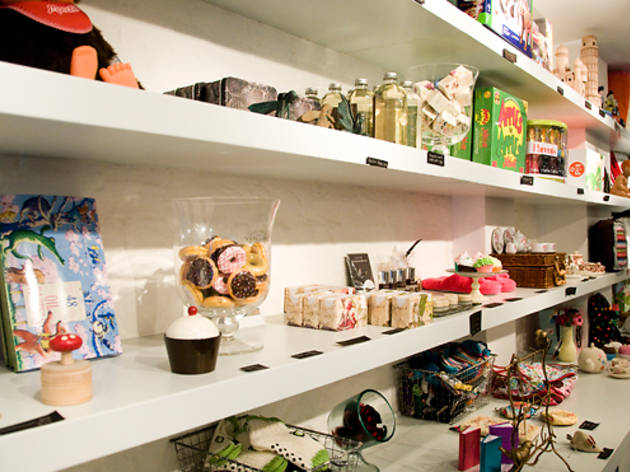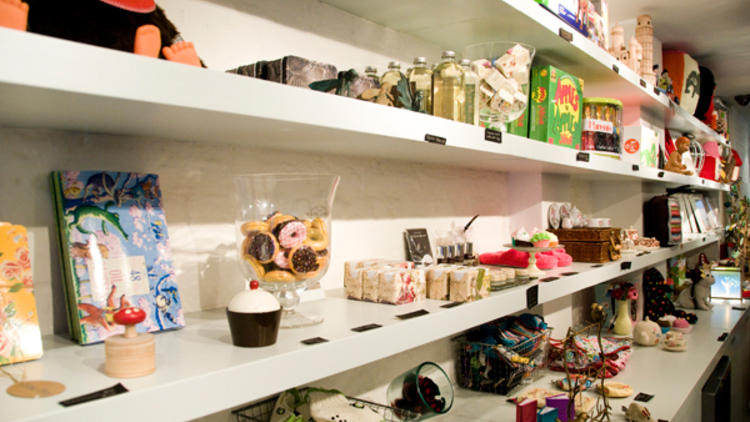 More stores for gifts
Dealing in bold colors and minimalist, architectural designs, Ovando is where celebs go when they need to impress their significant others (Maroon 5's Adam Levine sent a bouquet from the shop to his boo, Victoria's Secret model Behati Prinsloo). Arrangements ($165–$375) for the holidays include a heart-shaped wreath of roses on a bed of brilliant red beads, a duo of pink rosebuds and a floral Rosa Mexicana candle, or a fan of roses (akin to those Levine sent to Prinsloo). Even better, you can put off making a final decision until noon on Valentine's Day.
Read more
This charming boutique is filled with preppy accessories, nearly all of which can be personalized. There are more than 50 monogram styles—from single letters to full names—and the work is complimentary with any purchase. Make your mark on seersucker duffles ($38), dopp kits ($58) and portable bar buckets ($45), or bring in your own towels, totes or apparel (the shop can embroider any item within a week, starting at $10 per piece).
Read more
For nearly half a century, Fred Kooby has been running this prim-and-proper stationery boutique, and though he's watched as paper companies shrink their lines and e-cards replace formal invitations, his own business has grown from a single storefront to the better chunk of the block. Attribute this to his loyal clientele, who appreciate proper etiquette and classic taste—tenets that are best represented by the wall of Crane & Co. place cards (ten for $9–$100), and selection of Caspari greeting cards ($3–$9) and Charing Cross leather-bound calendars ($32–$49). Kooby's daughter, Vanessa, oversees the custom-design department, whose shelves are jammed with sample books from lines as mid-range as William Arthur and as elaborate as C'est Papier. Aside from paper products, the store also stocks Kolo photo albums ($17–$50), Tizo picture frames ($17–$150) and fine writing instruments ($39–$495) from Waterman, Parker and Cross.
Read more
The beloved NYC women's apparel and accessories brand opens a third outpost, located inside a three-story prewar townhouse. Joining the Soho and Flatiron District stores, the nearly 7,900-square-foot shop houses the entire collection of whimsical handbags ($98–$598), clothing ($58–$698), accessories ($19–$498) and home goods ($30–$249). The decor suits both the label's modern aesthetic and the elegance of the boutique's zip code (emblazoned on tote bags, $698) with mod gold-and-oak furniture, oversize Sputnik-themed chandeliers, mirror-tiled stairs and a bow-inspired facade. Standouts include patterned party frocks ($268–$448), floral linen tanks ($248), leather flats ($198–$328) and bangle watches ($250–$295).
Read more
The husband-and-wife team behind this Upper East Side flower shop specialize in tastefully simple custom designs, unqiely crafted for each client. From precious petit arrangements to luscious compositions, the owners believe that flowers with deep jewel tones are a must on Valentine's Day. Bouquets start at $150; centerpieces from $100.
Read more
Art-gallery giant Gagosian opens a 600-square-foot gift shop on the ground floor of its Upper East Side location. The space was designed by Selldorf Architects (selldorf.com), a local firm with a history of developing art-display spaces. Posters ($15–$750), prints ($1,000–$100,000) and publications ($10–$4,500) are the main focus, but artist-designed home decor ($20–$15,000) and useful objects ($699–$10,000) pepper the offerings. Store-exclusive Urs Fischer ink-jet wallpaper prints on nylon-reinforced paper ($1,500–$15,000) and Plexiglas-framed Andy Warhol prints ($350) instantly add art-world cred to residential walls.
Read more
Stationary. A lot of it. In the custom printing section, on-site graphic designers can honor your wishes for letterhead adorned with colored inks, pearlized paper and your fave images. There's also a letterpress printing service offering exclusive designs for your change-of-address announcements. Of course, you can also pick up personalized basket-weave notebooks ($10–$13), frames ($5–$68) and paperweights ($32) to beautify your desk. Various other locations.
Read more
While we support the green movement in any way we can, sometimes a paper invitation should trump an ubiquitous e-vite: It won't ever end up in spam and it's much more personal. If you have a special occasion, hit up Dempsey & Carroll's flagship on the Upper East Side; the company has been engraving card stock paper since 1878. Combined interior elements of dark wood and mossy green walls conjure the feeling of a cozy library, a perfect setting to build your stationery stock or design special occasion cards. Not sure when to send that thank-you note or how much notice to give for a wedding? The store's etiquette experts are on hand for style recommendations, invitation wording and guidance for penning appropriate thank-you and sympathy notes.
Read more
Sure, you can pick up a tome about the museum's current exhibition of lighting designer Ingo Maurer's lamps, but the design-focused arm of the Smithsonian thankfully carries much more than just souvenirs. In what was once Andrew Carnegie's wood-lined library, you'll now find brilliant wares such as a USB memory stick encased in a twig ($89), Lady de Lacey stainless steel cuff bracelets ($135) and graceful letterpress cards ($24) created by Maryland Institute of Art M.F.A. students.
Read more
Nowadays, you're more likely to shoot an e-mail than handwrite a letter, but Mrs. John L. Strong's stationery store exalts good old pen-and-paper musings. The luxury stationer has catered to customers' whims with its bespoke services (starting at $1,000) since 1929, but this retail space offers a ready-to-write collection ($40–$175) that guarantees a personalized feel, sans the high price that comes with customization. The petite shop packs plenty of pomp and circumstance into 100 square feet, with marble floors, brocade-printed walls and a candelabra chandelier. All of the stationery is handmade and employs techniques like engraving, colored dies and hand-bordering, which decorates the label's signature vanilla paper stock. Charming motifs embellish card sets, such as illustrated elephants (20 for $150) and stamped clovers (five for $60). There are also gifts and accessories to peruse, including miniature desk calendars ($80) and linen-bound journals ($125) designed for planning gatherings or keeping recipes
Read more