Most stylish New Yorkers 2013: Judson Harmon
The stylist and model, who is also the youngest store owner on our list, favors New York designers, androgynous dressing and avant-garde fashion.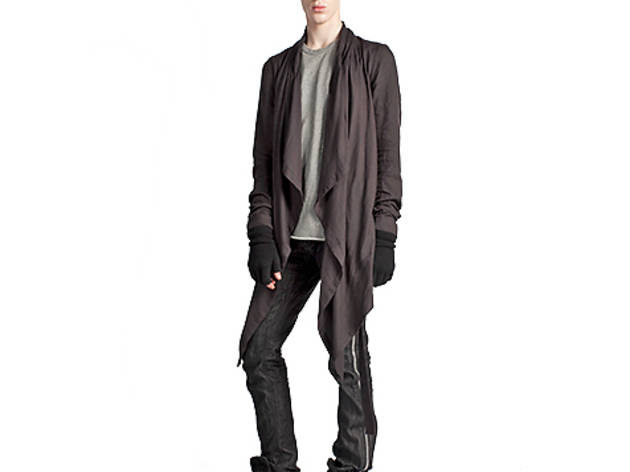 1/9
Photograph: Noffar Gat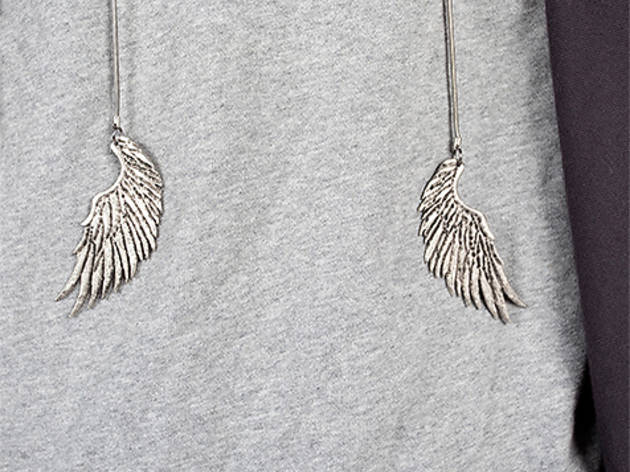 2/9
Photograph: Noffar Gat
Harmon sports an Osklen (osklen.com) wing necklace like a scarf. "I love this piece because there's no limit to how you can wear it," he says.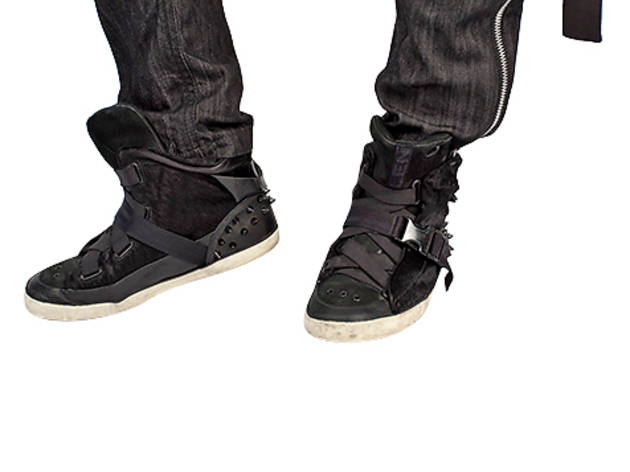 3/9
Photograph: Noffar Gat
Harmon calls these high-top Osklen kicks his go-to sneakers. He scored them at a wholesale price from his friend who is a manager at the brand's store. "I'm a huge geek at heart, and these remind me of the planet Hoth from Star Wars," he notes.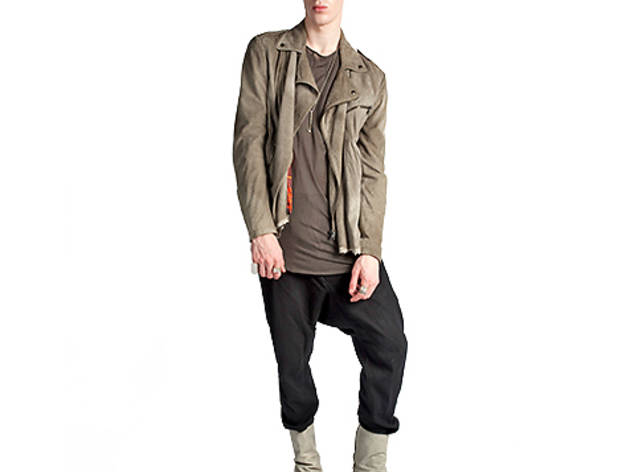 4/9
Photograph: Noffar Gat
"I'm into switching off days where I wear drop-crotch pants and tailored dress pants," Harmon says. His Rick Owens(250 Hudson St between Broome and Spring Sts; 212-627-7222, rickowens.eu) trousers are an example of the latter. He tops them off with an Alexander McQueen(417 W 14th St between Ninth and Tenth Aves; 212-645-1797, alexandermcqueen.com) jacket and a T-shirt from his own Odd collection.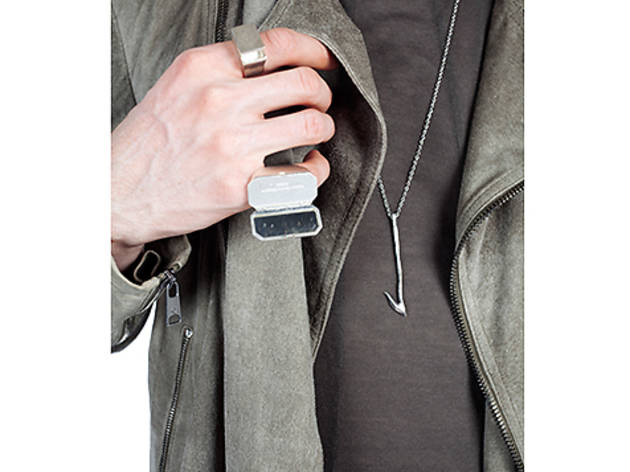 5/9
Photograph: Noffar Gat
Harmon likes how distressed his Maison Martin Margiela(801 Greenwich St between 12th and 13th Sts; 212-989-7612, maisonmartinmargiela.com) rings get over time. His favorite of the two opens to a mirror. A sterling-silver necklace from NYC jewelry brand the Forgery (bytheforgery.com)—sold at Odd—adds edge to the designer's ensemble. "A harpoon looks dangerous, and I like that," he says.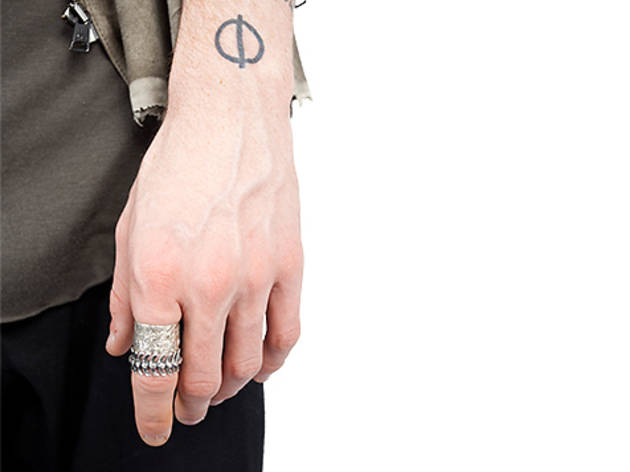 6/9
Photograph: Noffar Gat
Harmon's tattoos include his store logo and a quote from his favorite book, Alexandre Dumas's The Count of Monte Cristo. He was inked by Diego at Daredevil Tattoo (174 Ludlow St between E Houston and Stanton Sts; 212-533-8303, daredeviltattoo.com). The model bought these stackable rings over the summer from a street vendor on the Lower East Side.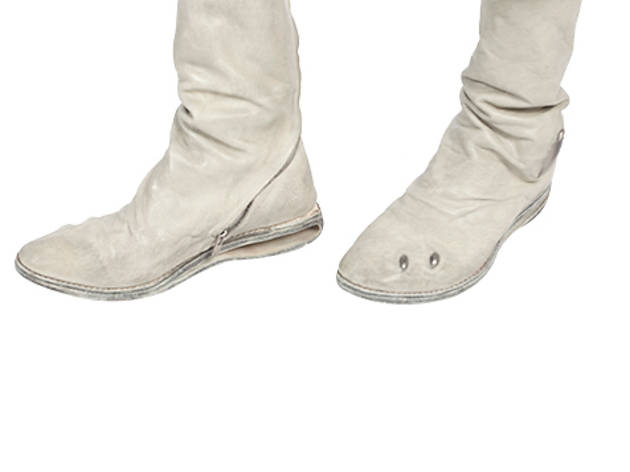 7/9
Photograph: Noffar Gat
"I got these to break my habit of only buying black shoes, and I wear them all the time now," Harmon says of his beige Carol Christian Poell (carolchristianpoell.com) leather boots from L.A. shop Maxfield (maxfieldla.com).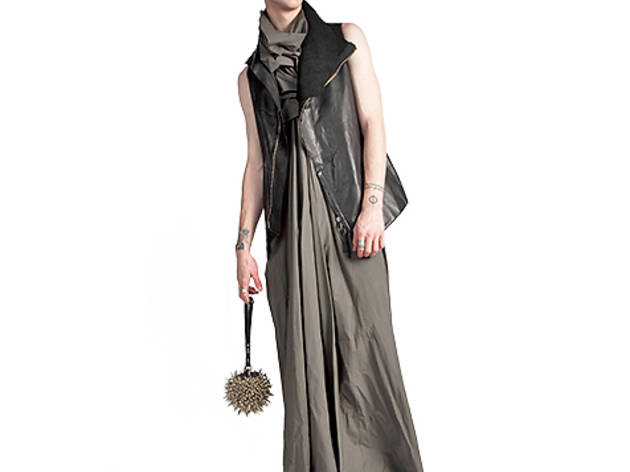 8/9
Photograph: Noffar Gat
"This is one of my more daring outfits," Harmon admits of his Rick Owens men's frock and Boris Bidjan Saberi (borisbidjansaberi.com) leather vest, another H. Lorenzo purchase. "I love the drapery of the dress with the structured vest on top," he explains. "It takes a feminine silhouette and adds masculinity to it."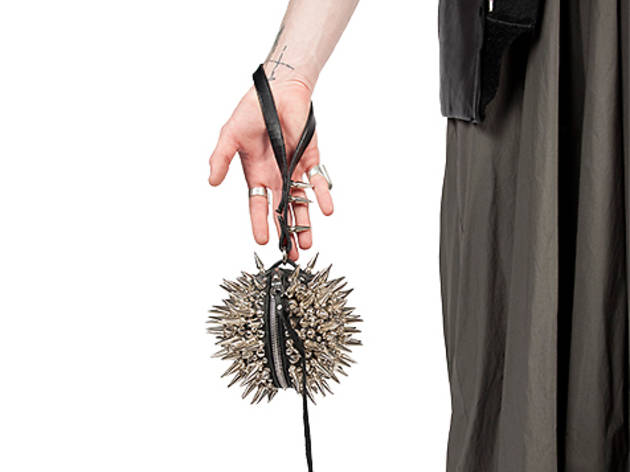 9/9
Photograph: Noffar Gat
Harmon couldn't resist purchasing one of these spiked bags from Los Angeles designer Dafne Balatsos from his store. "Its more of an art piece," he says. "I suppose some of the NYPD might consider it a weapon. If you are carrying this bag, no one will argue with you."
Judson Harmon, owner of Odd, proves he is one of Time Out's most stylish New Yorkers by using his comfortable and functional basics to create edgy looks. He turns to clothing from fashion designers such as Rick Owens, Alexander McQueen and Alexander Wang, and shops at NYC indie stores Any Old Iron and Atelier.
RECOMMENDED: Most stylish New Yorkers

Judson Harmon, 21, Hell's Kitchen; model, stylist, designer and owner of Odd(164 Ludlow St between E Houston and Stanton Sts; 646-559-0406, odd-style.com)

His personal style: "Most of my wardrobe represents the different sides of my personality, like a physical representation of my character traits. When I'm in a good mood, I wear more comfortable clothing. When I'm in a bad mood, I usually dress my best. Sometimes I like to shock people and wear color."

His style inspirations: "I'm inspired a lot by history, specifically the Elizabethan era, when everything was so detailed and intricate. I look at old paintings and think how beautiful it would be to deconstruct those garments and show raw beauty."

About his store: "My store can be best described by its name—odd. We provide our clients with a mix of daring and tailored pieces, our own brand and many other brands [such as Martin Martin and Dafne Balatsos] that you can't find anywhere else in the city. We prefer to dress individual personalities, not just bodies."

Favorite stores: "I love Andrew [Clancey]'s selection of punk-rock-inspired pieces at Any Old Iron(149 Orchard St between Rivington and Stanton Sts; 212-254-4404, anyoldiron.net). He has some of the most fun stuff in New York. I like to mix his colorful clothing in with my dark wardrobe as accents. Atelier(304 Hudson St between Spring and Vandam Sts; 212-941-8435, ateliernewyork.com) is a refined men's multibrand store. I could wear literally everything they carry, and nothing gets better than that."

How his profession influences his style: "Working in fashion puts me in a place where I think more about my own style. It has given me a much more critical eye, and I'm more willing to take risks."

Favorite NYC designers: "Dominic Louis (dominiclouis.com) is one of my favorite local [unisex clothing] designers. His attention to detail choice in fabrics is mind-blowing. The way [womenswear designer] Heather Lawton (heatherlawton.com) mixes fabrics and refines every detail with her garments has me hooked, along with the way she uses fur. Daniella Kallmeyer (daniellakallmeyer.com) makes amazing, wearable pieces for women that are both practical and edgy at the same time. I like practical pieces with an avant-garde twist because, after all, the point is to wear it."

His New York style icon: "[Stylist and fashion editor] Polly Mellen, because of her personality. A positive personality to me is more stylish than any outfit could ever be. For decades, she's brought such an uplifting energy to the fashion industry."

How his style has evolved: "My mother put me in Old Navy(locations throughout the city; visit oldnavy.com) growing up, so I'm certainly much happier with my current situation. It evolves more and more every day as I grow into myself. I crave spontaneity."

Favorite salon: "I go to Pimps & Pinups(101 Stanton St at Ludlow St; 646-861-3766, pimpsandpinups.com) across the street from my store. Lizzie Weinberg does my cut and Brittany Cline does my color."

Favorite spa: "Occasionally, I'll visit Nickel(77 Eighth Ave at 14th St; 212-242-3203, nickelspanyc.com) for a massage."

Follow Elizabeth Denton on Twitter: @elizabethann1