Trend watch: 50 women's swimsuits for $50 and under
Whether you favor bikinis, tankinis, one-pieces or something in between, we found the most affordable suits for every style.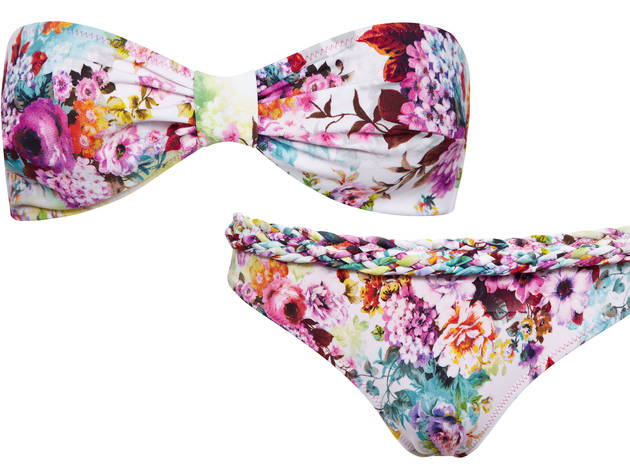 1/50
ASOS floral bandeau bikini top, $25; and plait-detail floral bikini bottom, $21; both at asos.com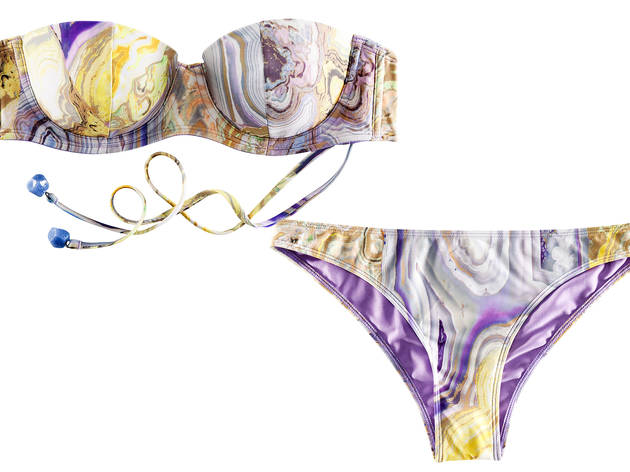 2/50
H&M Balconette top, $18; and Bambini bottom, $13; both at H&M, locations throughout the city; visit hm.com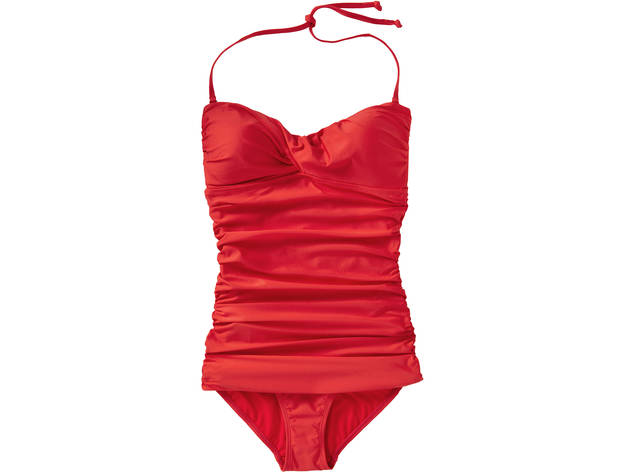 3/50
Old Navy Control Max halter swimsuit, $45, at Old Navy, locations throughout the city; visit oldnavy.com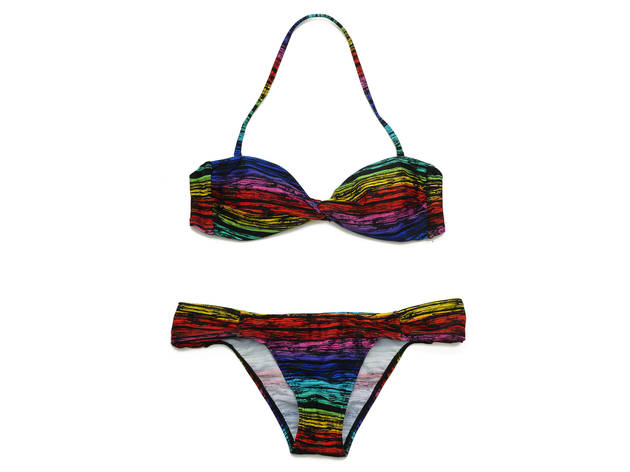 4/50
Joe Boxer rainbow zebra-print halter bikini top, $19; and bikini bottom, $19; both at sears.com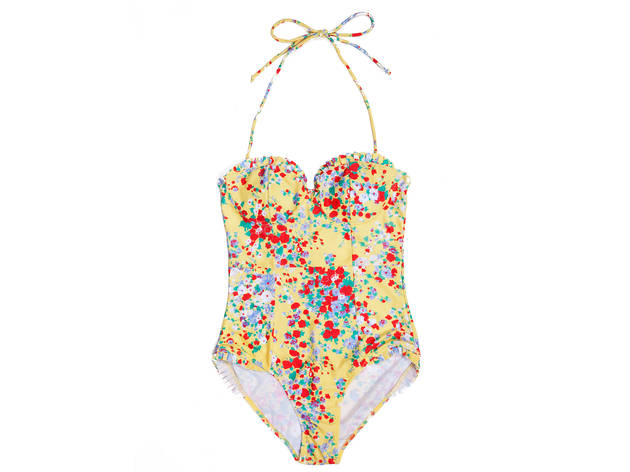 5/50
Motel Rocks Ditsy Flower Fruit Pastel swimsuit, $42 (normally $53), at us.motelrocks.com. Enter code "TONY" at checkout to receive this discount through Wed 6.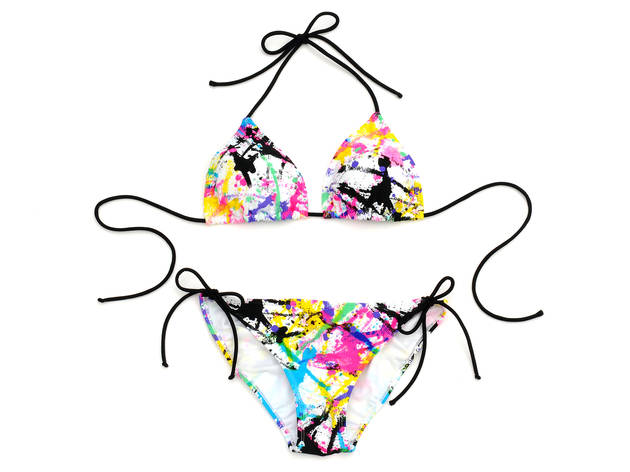 6/50
Op Spin Art bikini top, $8; and Spin Art bottom, $8; both at walmart.com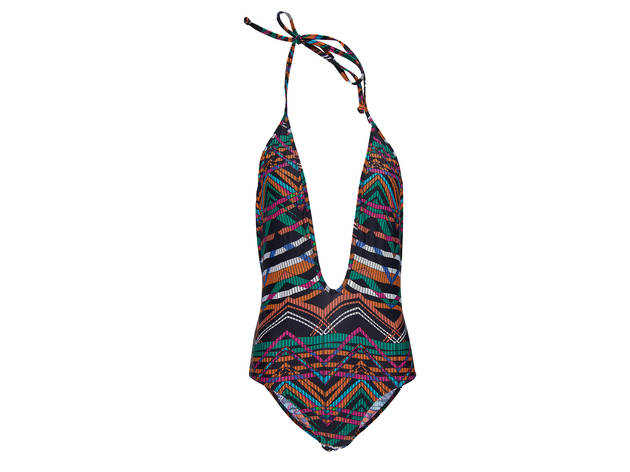 7/50
Mango trendy print one-piece, $45, at Mango, 561 Broadway at Prince St (212-343-7012, shop.mango.com)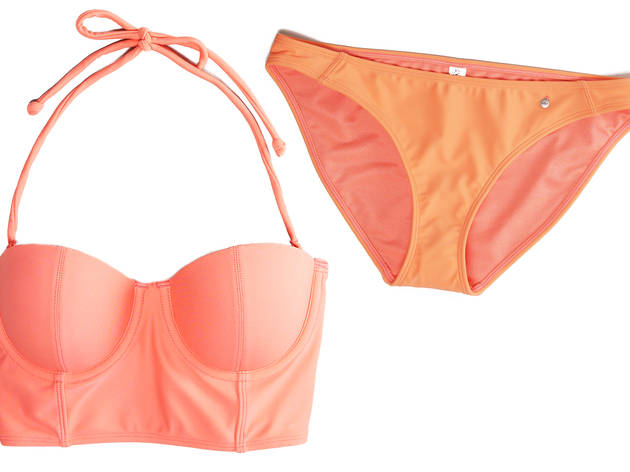 8/50
American Eagle Outfitters corset bandeau top, $35; and bikini bottom, $25; both at American Eagle Outfitters, locations throughout the city; visit ae.com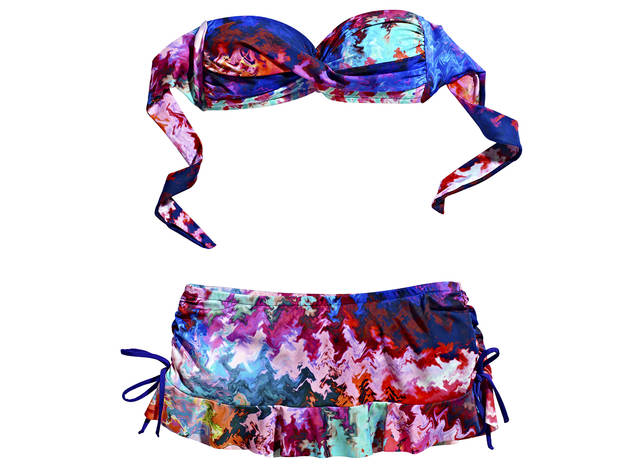 9/50
ABS by Allen Schwartz tie-dye bikini, $30, at Marshalls, locations throughout the city; visit marshallsonline.com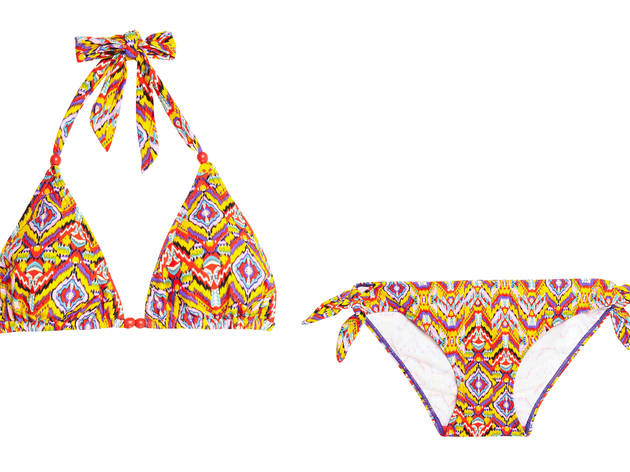 10/50
Warehouse bright ikat bikini top, $25; and bright ikat bikini bottom, $21; both at warehouse.co.uk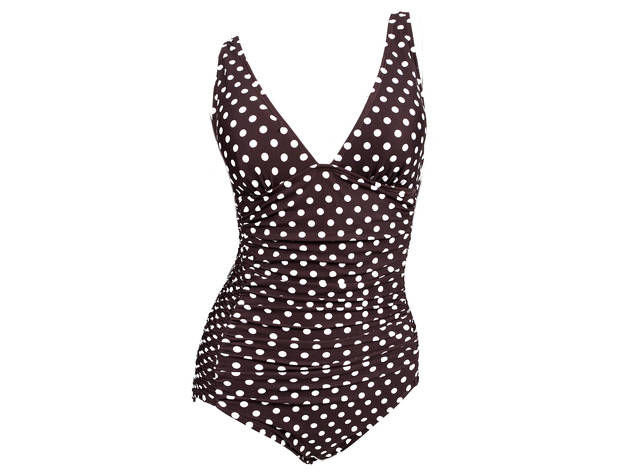 11/50
Photograph: Jessica Lin
AMI Clubwear polka-dot scrunched-sides one-piece swimsuit, $41, at amiclubwear.com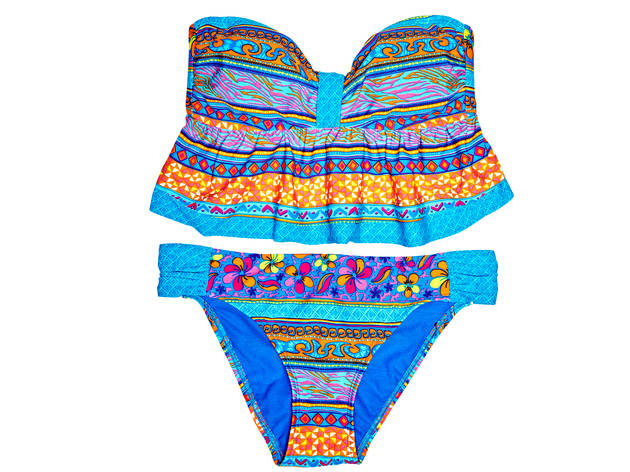 12/50
Arizona Mid-Kini ruffle top, $15; and side-shirred hipster swim bottom, $15; both at JCPenney, Manhattan Mall, 100 W 33rd St at Sixth Ave (212-295-6120, jcpenney.com)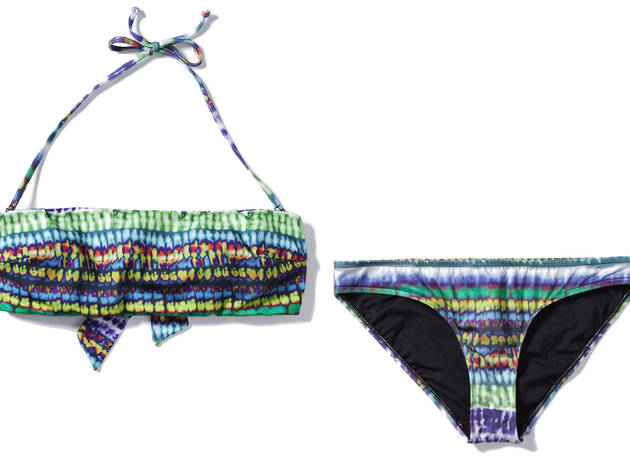 13/50
Zara print band bikini top, $20; and print bikini briefs, $20; both at Zara, locations throughout the city; visit zara.com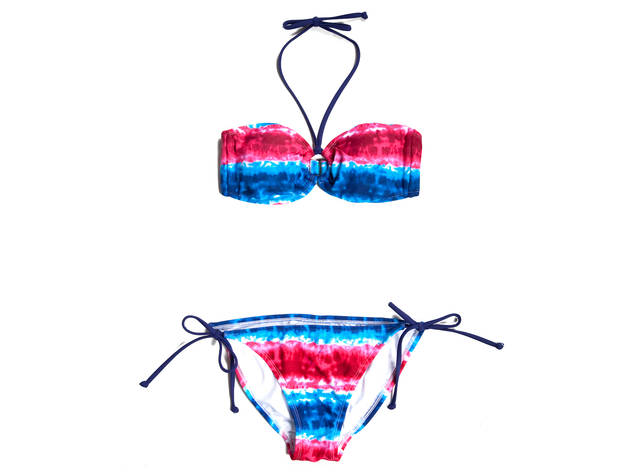 14/50
Xhilaration for Target Star Charm removable-strap bandeau bikini top, $15; and tie bottom, $15; both at Target, locations throughout the city; visit target.com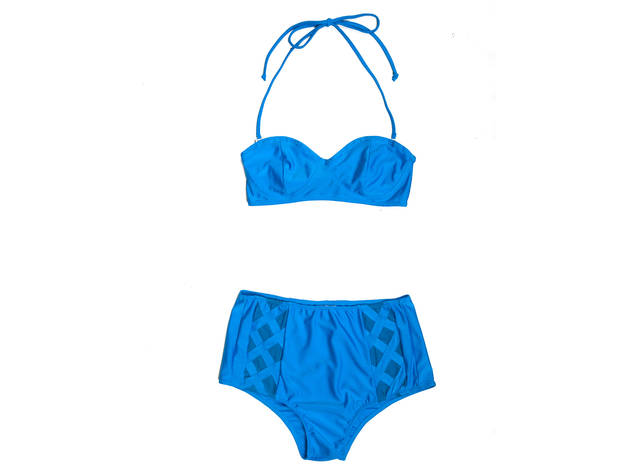 15/50
Motel Rocks Minties swimsuit, $43, at us.motelrocks.com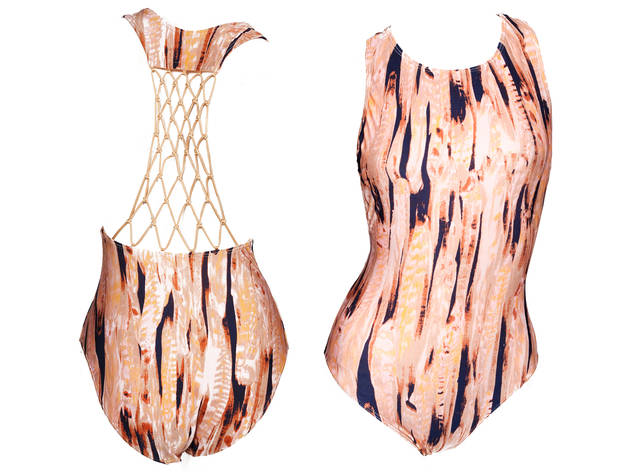 16/50
Photograph: Marielle Solan
H&M knotted-back one-piece swimsuit, $30, at H&M, locations throughout the city; visit hm.com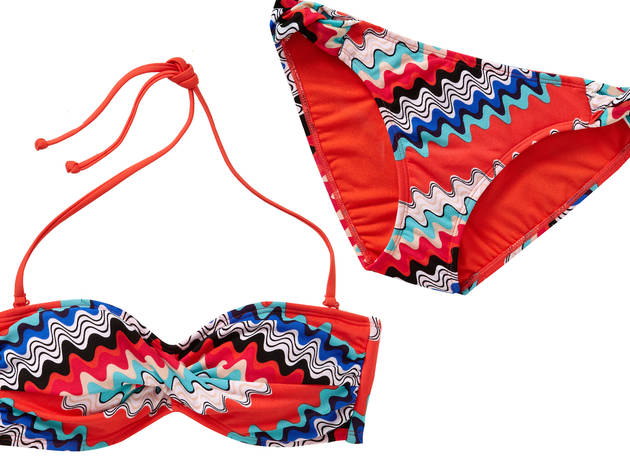 17/50
Old Navy splash-print bandeau bikini top, $20; and splash-print bottom, $20; both at Old Navy, locations throughout the city; visit oldnavy.com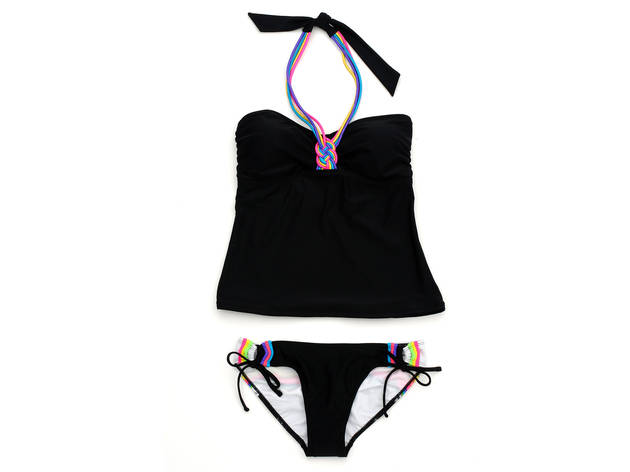 18/50
Op Rainbow Twist tankini top, $12; and Rainbow strap bikini bottom, $12; both at walmart.com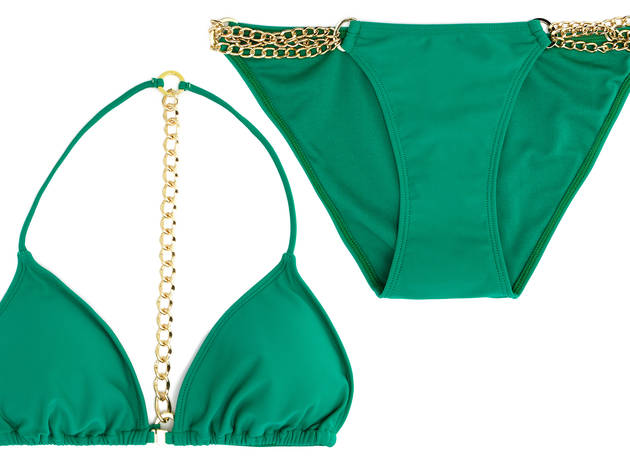 19/50
Charlotte Russe chain-strap bikini top, $18; and chain-strap bikini bottom, $18; both at Charlotte Russe, Kings Plaza Shopping Center,Ave U at Flatbush Ave, Mill Basin, Brooklyn (718-724-2377, charlotterusse.com)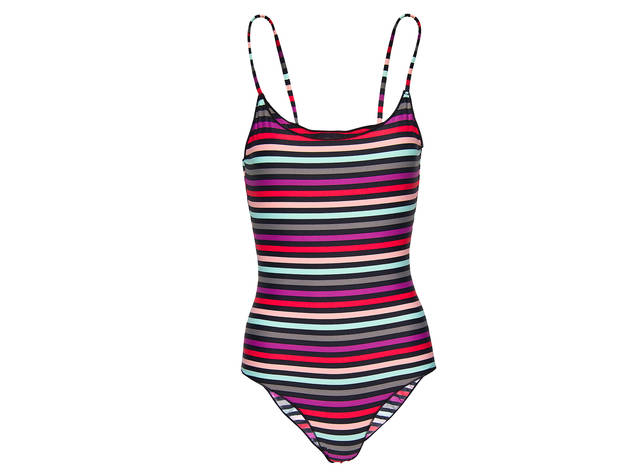 20/50
Mango striped one-piece, $50, at Mango, 561 Broadway at Prince St (212-343-7012, shop.mango.com)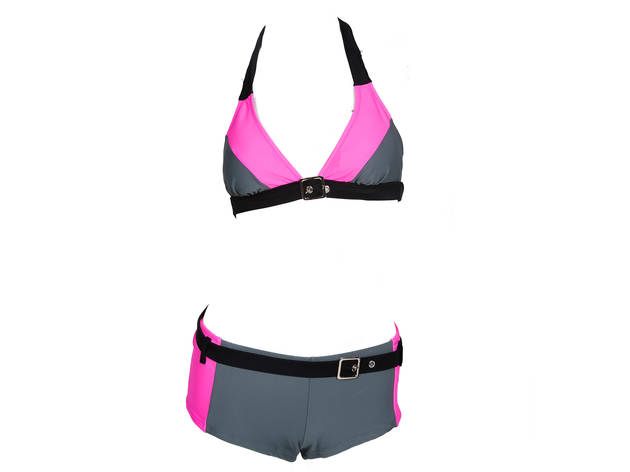 21/50
Photograph: Marielle Solan
AMI Clubwear halter belted boy-shorts swimsuit, $38, at amiclubwear.com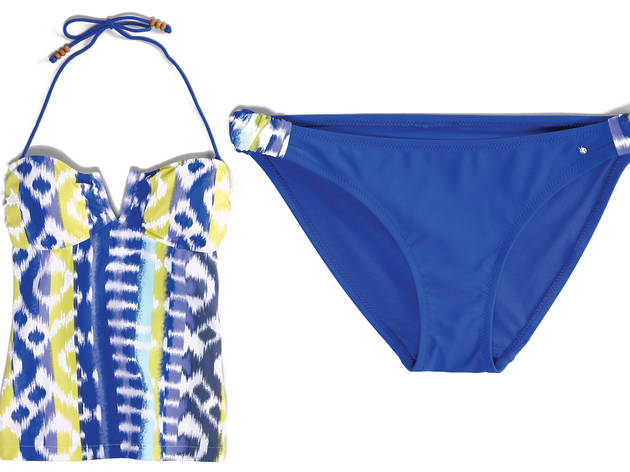 22/50
American Eagle Outfitters tie-dyed striped tankini top, $25; and ruched bikini bottom, $25; both at American Eagle Outfitters, locations throughout the city; visit ae.com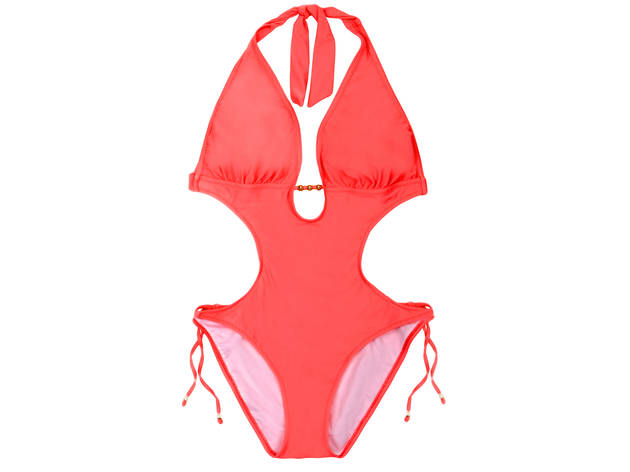 23/50
Photograph: Marty Crosley
H2-OMG! coral-pink monokini, $42, at lulus.com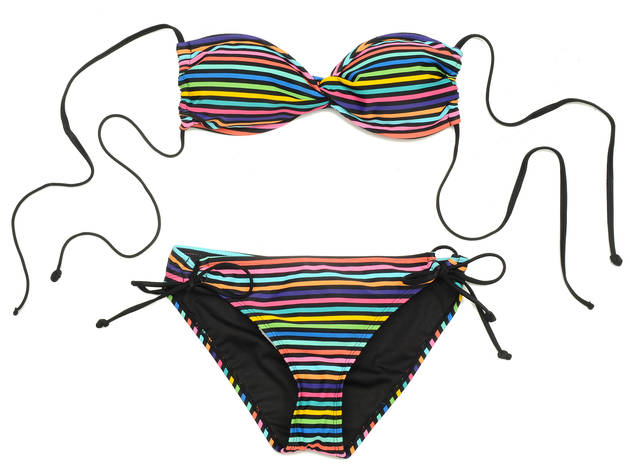 24/50
Joe Boxer multicolored strapless bikini top, $17; and bikini bottom, $17; both at sears.com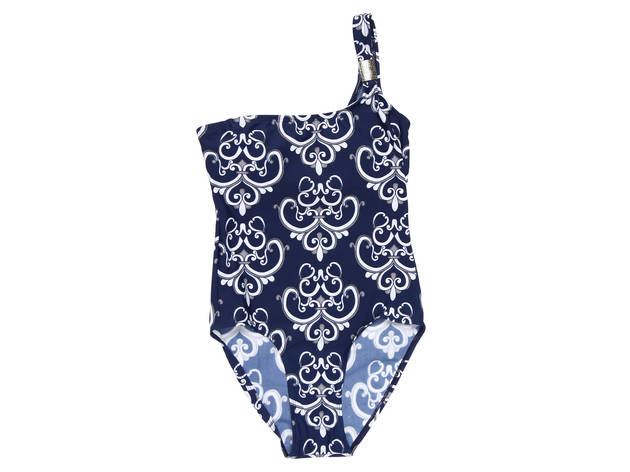 25/50
Photographer: John Taylor
Apollo one-shoulder one-piece swimsuit, $30, at overstock.com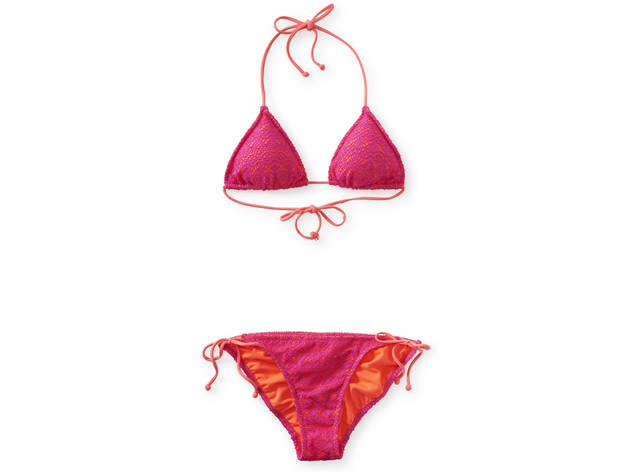 26/50
Aéropostale crochet sliding triangle top, $11; and crochet string bikini bottom, $11; both at Aéropostale, locations throughout the city; visit aeropostale.com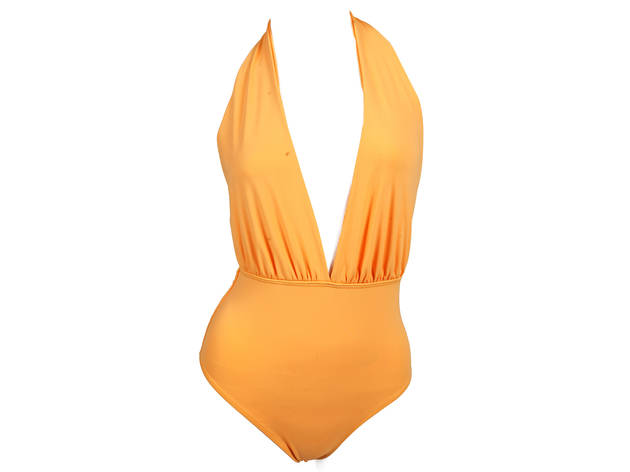 27/50
Photograph: Jessica Lin
American Apparel Tricot halter one-piece, $50, at American Apparel, locations throughout the city; visit americanapparel.com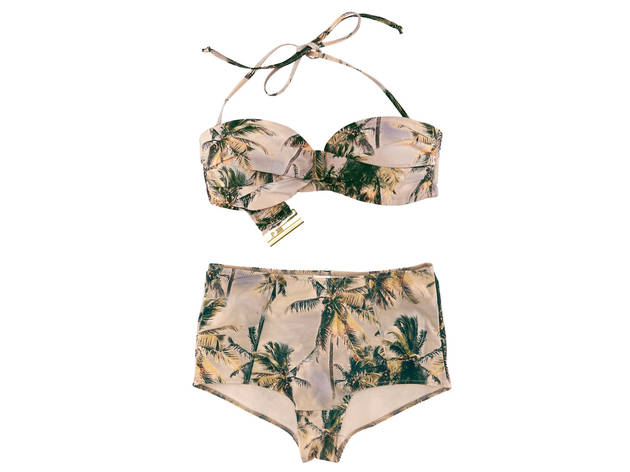 28/50
H&M for Water high-waisted bikini, $25, at H&M, locations throughout the city; visit hm.com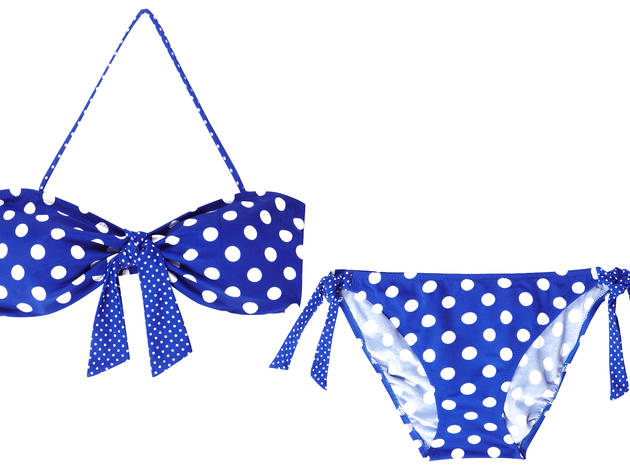 29/50
Warehouse multispot bandeau bikini top, $25; and multispot bikini bottom, $21; both at warehouse.co.uk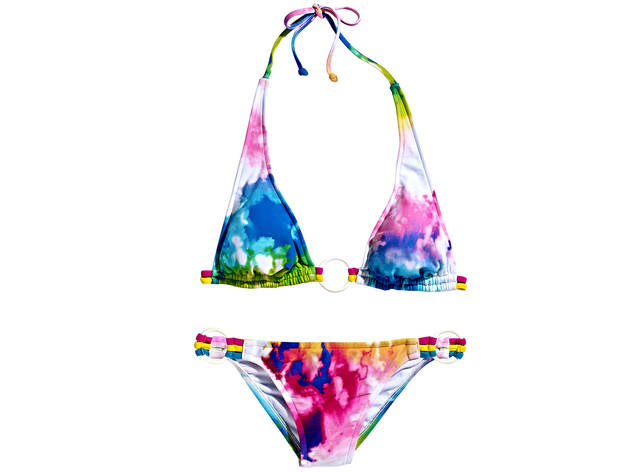 30/50
Tie-dye bikini, $15, at Marshalls, locations throughout the city; visit marshallsonline.com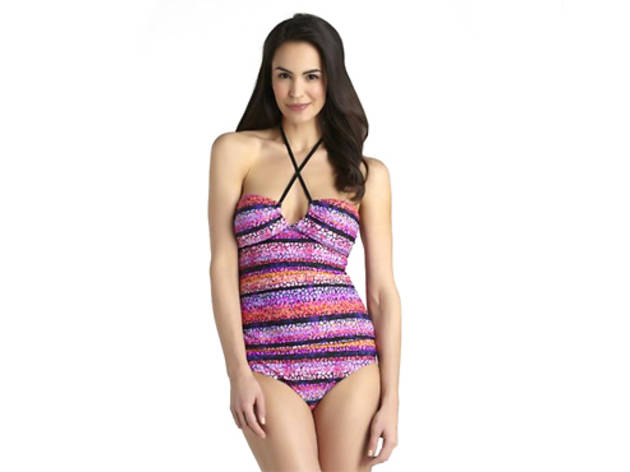 31/50
Jaclyn Smith print halter tankini swim top, $22; and print swim bottom, $22; both at Kmart, 250 W 34th St between Seventh and Eighth Aves (212-760-1188, kmart.com)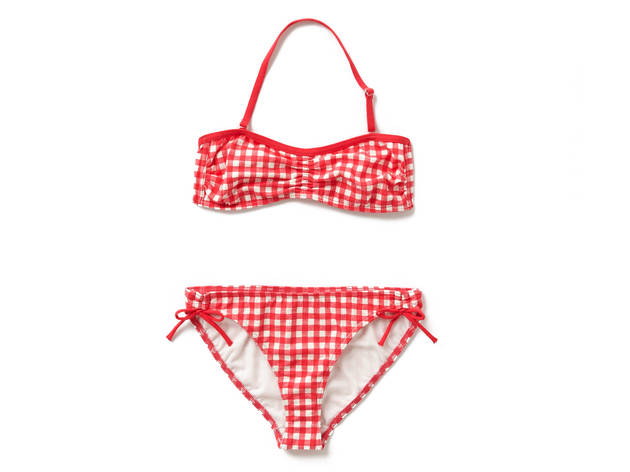 32/50
Johnnie b bandeau bikini $40, at bodenusa.com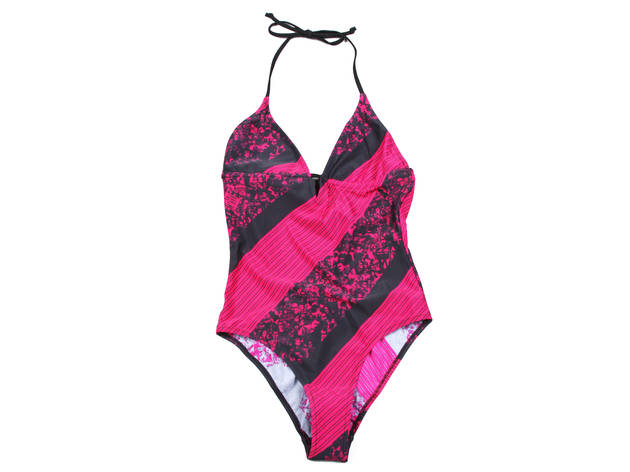 33/50
WeSC the Allison bathing suit, $42, at karmaloop.com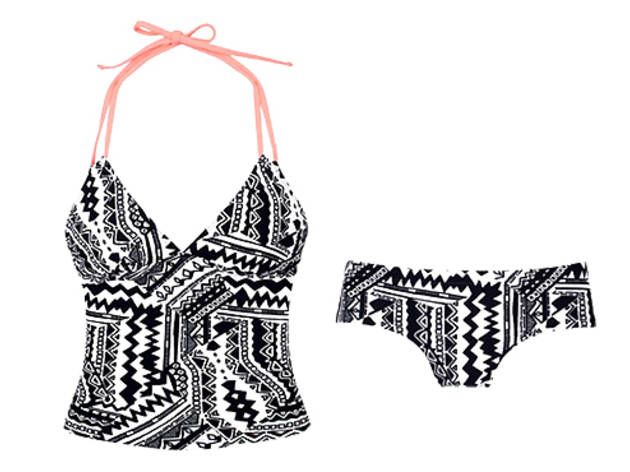 34/50
Delia's Tunnel Strap tankini, $25; and boy short, $25; both at delias.com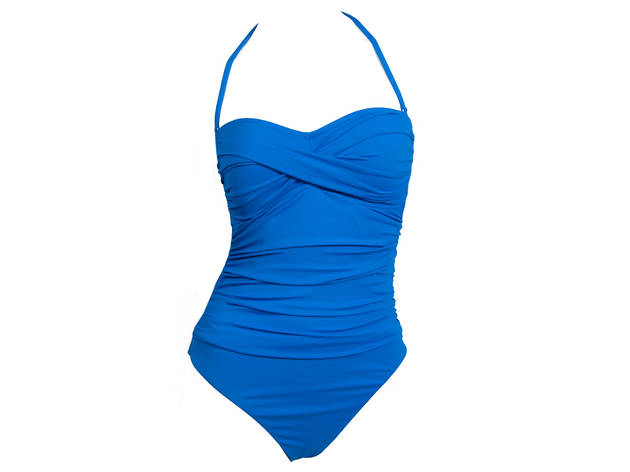 35/50
Photograph: Jessica Lin
La Blanca ruched halter one-piece, $30, at T.J. Maxx, locations throughout the city; visit tjmaxx.com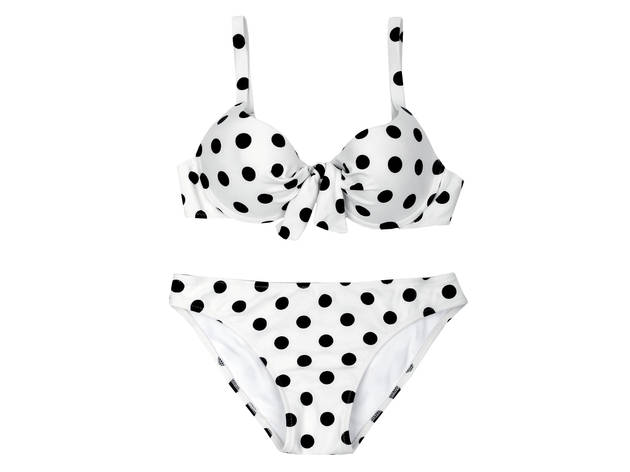 36/50
Photograph: Marty Crosley
Fifties Flirt polka-dot bikini, $42, at lulus.com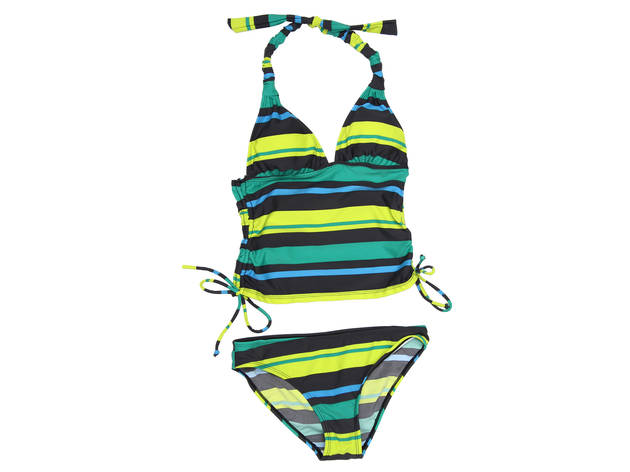 37/50
Photographer: John Taylor
Apollo striped halter tankini, $25, at overstock.com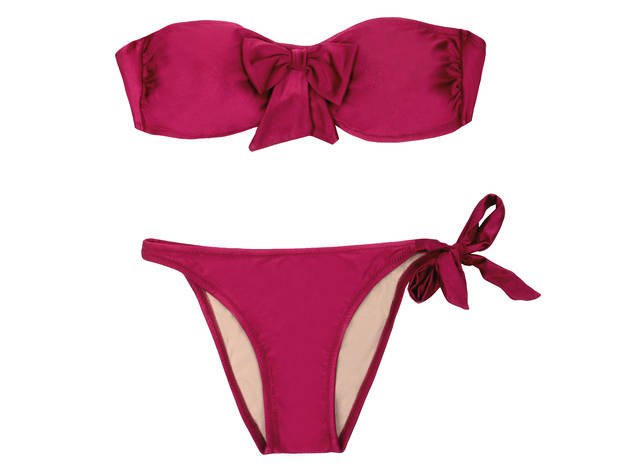 38/50
Photograph: Marty Crosley
Bow-t Party strapless burgundy bikini, $42, at lulus.com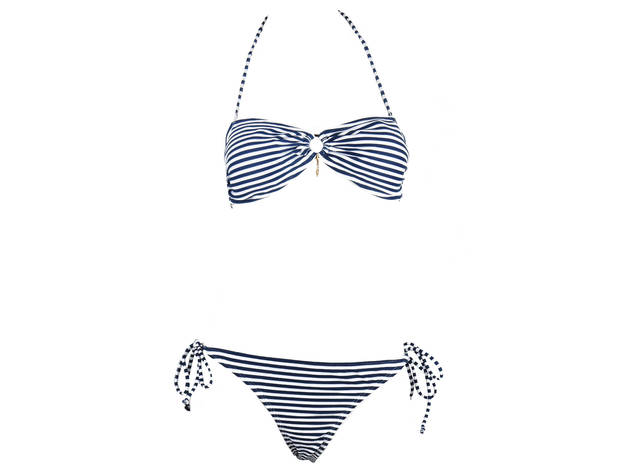 39/50
Aldo Arms striped bikini, $28, at Aldo, locations throughout the city; visit aldoshoes.com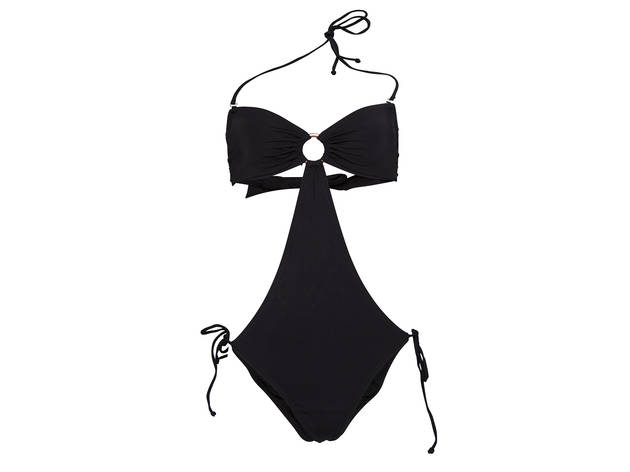 40/50
Mango Trikini Ring one-piece, $50, at Mango, 561 Broadway at Prince St (212-343-7012, shop.mango.com)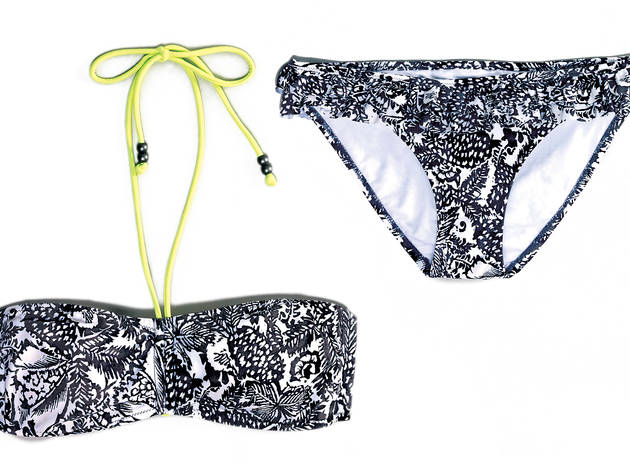 41/50
American Eagle Outfitters floral bandeau bikini top, $25; and ruffled floral bikini bottom, $25; both at American Eagle Outfitters, locations throughout the city; visit ae.com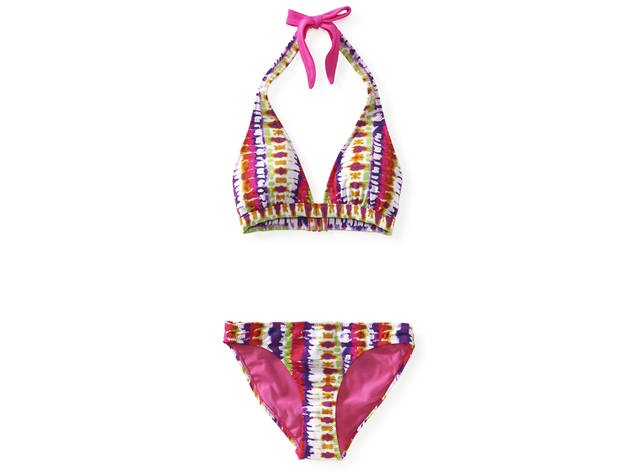 42/50
Aéropostale tie-dye halter top, $11; and tie-die lowrider bikini bottom, $11; both at Aéropostale, locations throughout the city; visit aeropostale.com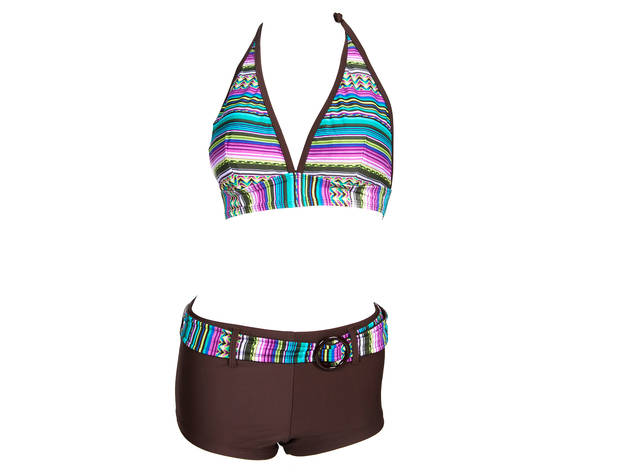 43/50
Photograph: Marielle Solan
AMI Clubwear purple green-striped two-piece boy-short swimsuit, $36, at amiclubwear.com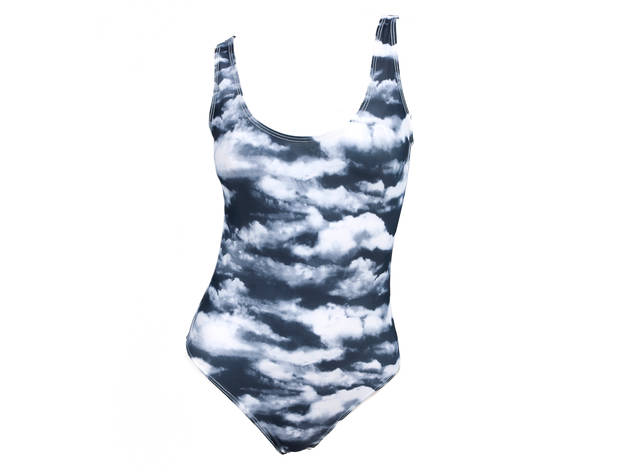 44/50
Photograph: Jessica Lin
American Apparel Malibu patterned swimsuit, $45, at American Apparel, locations throughout the city; visit americanapparel.com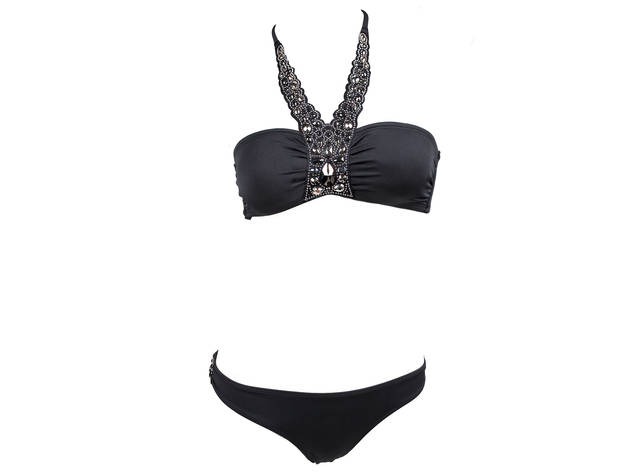 45/50
Photograph: Jessica Lin
H&M jeweled bandeau bikini top, $18; and bikini bottom, $15; both at H&M, locations throughout the city; visit hm.com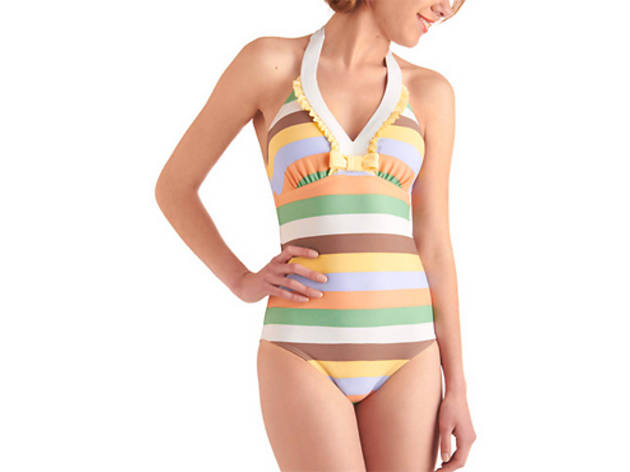 46/50
Modbe Bring Your Pool pastel one-piece, $50, at modcloth.com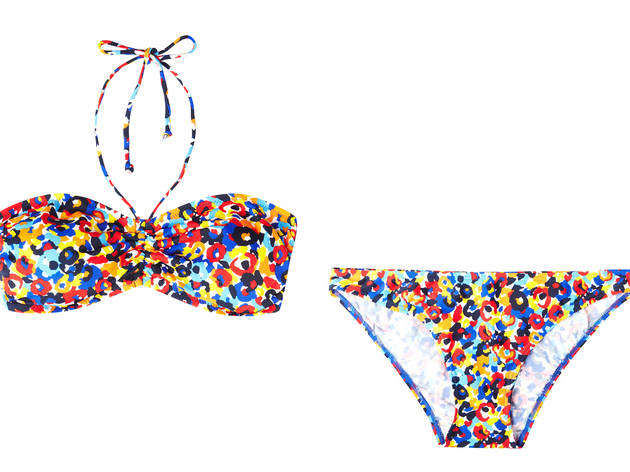 47/50
Warehouse Promenade floral bandeau bikini top, $25; and Promenade floral bikini bottom, $21; both at warehouse.co.uk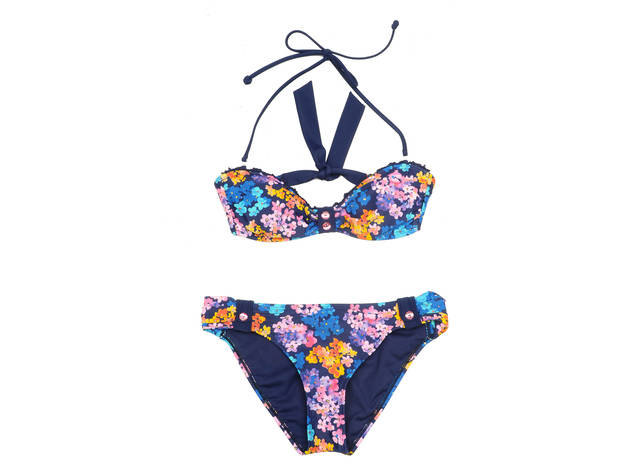 48/50
Joe Boxer rainbow zebra-print halter bikini top, $19; and bikini bottom, $19; both at sears.com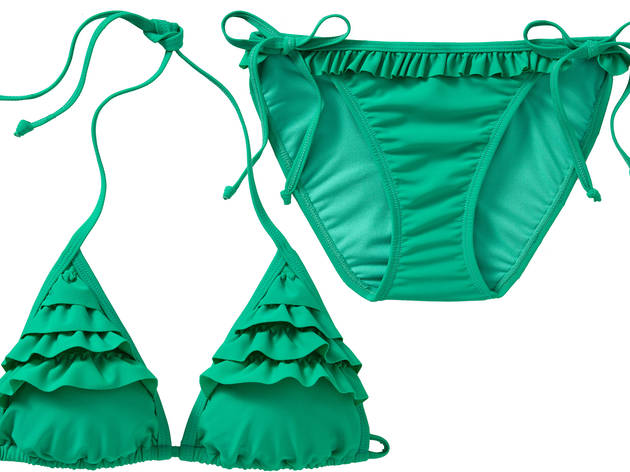 49/50
Old Navy ruffled string bikini top, $15; and bikini bottom, $15; both at Old Navy, locations throughout the city; visit oldnavy.com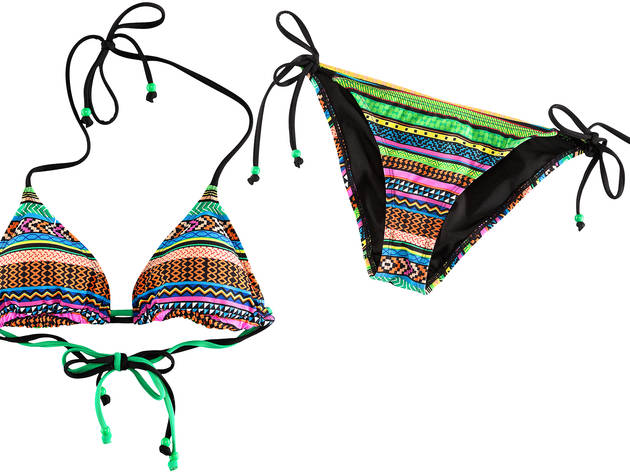 50/50
H&M Fashion Against AIDS triangle top $10; and side-tie bottom $10; both at H&M, locations throughout the city; visit hm.com