Heads up! We're working hard to be accurate – but these are unusual times, so please always check before heading out.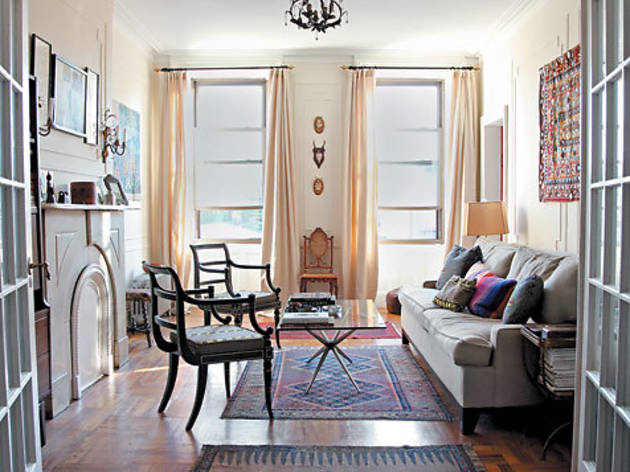 1/13
Photograph: Jessica Antola
The airy living room where she practices yoga.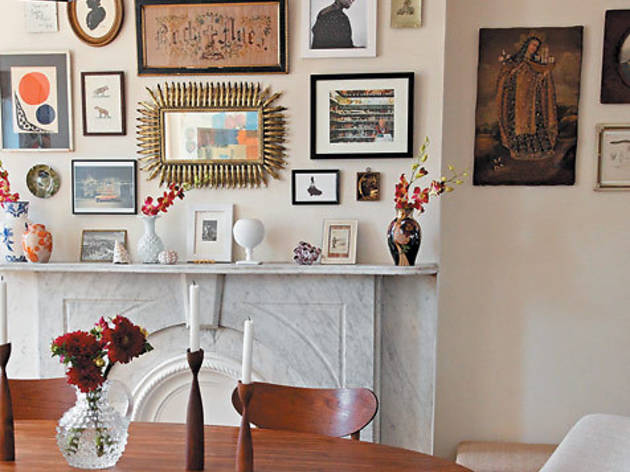 2/13
Photograph: Jessica Antola
Eclectic art and furniture in the dining room.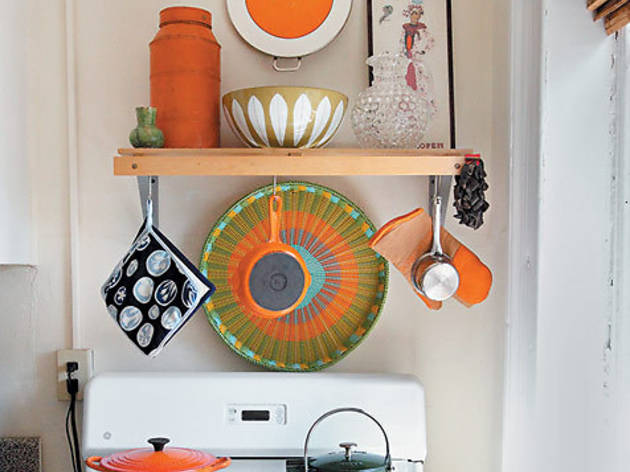 3/13
Photograph: Jessica Antola
The cozy kitchen has a '70s feeling thanks to groovy patterns and pops of orange.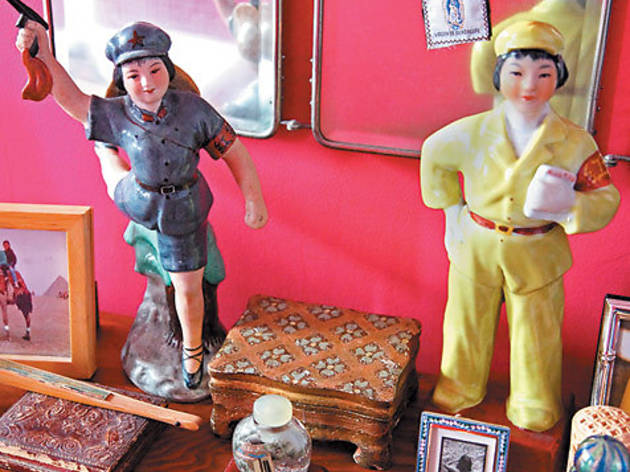 4/13
Photograph: Jessica Antola
Communist figurines from China and boxes from Tibet in Antola's bedroom.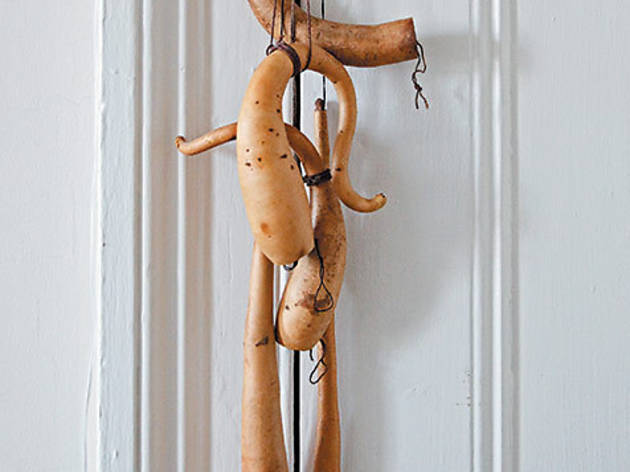 5/13
Photograph: Jessica Antola
Penis gourds from West Papua, Indonesia.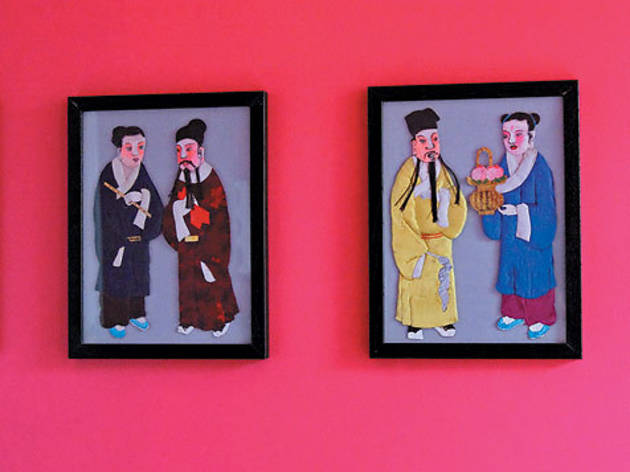 6/13
Photograph: Jessica Antola
Paper cutouts from China.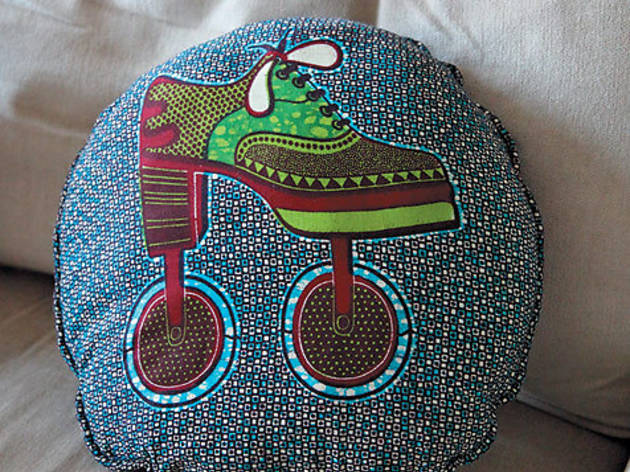 7/13
Photograph: Jessica Antola
A roller-skate pillow made from Dutch wax fabric purchased in Paris.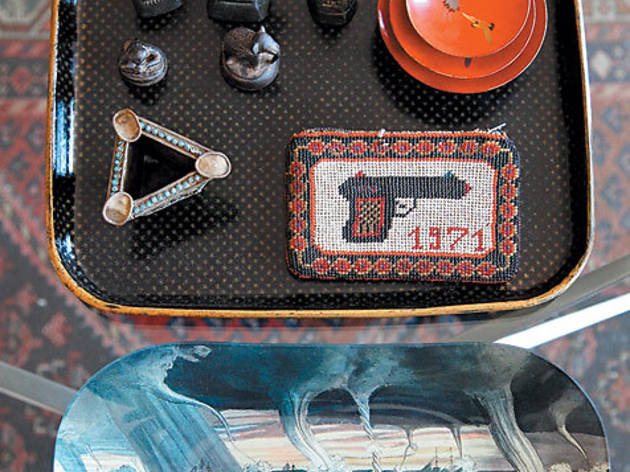 8/13
Photograph: Jessica Antola
Opium weights from Myanmar, laquer bowls from Japan and an oval plate from John Derian decorate the coffee table.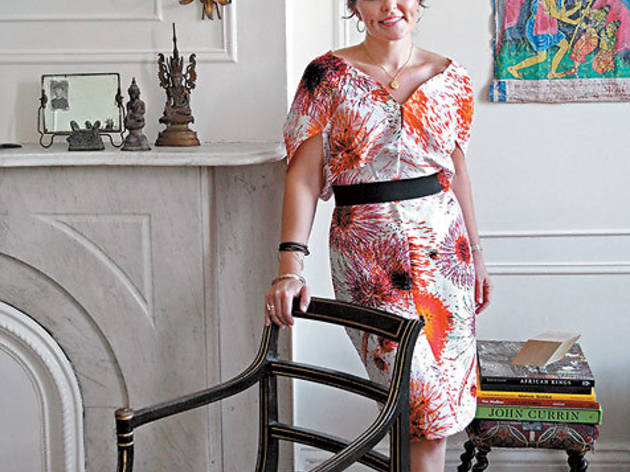 9/13
Photograph: Jessica Antola
Antola turns the lens on herself.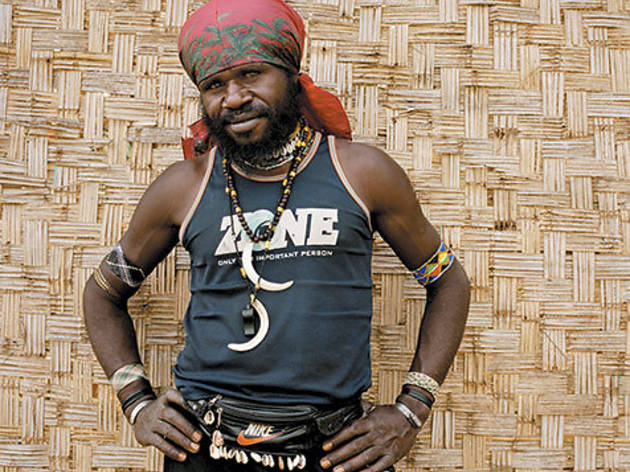 10/13
A glimpse of Antola's work (antolaphoto.com) Lani Man, West Papua, Indonesia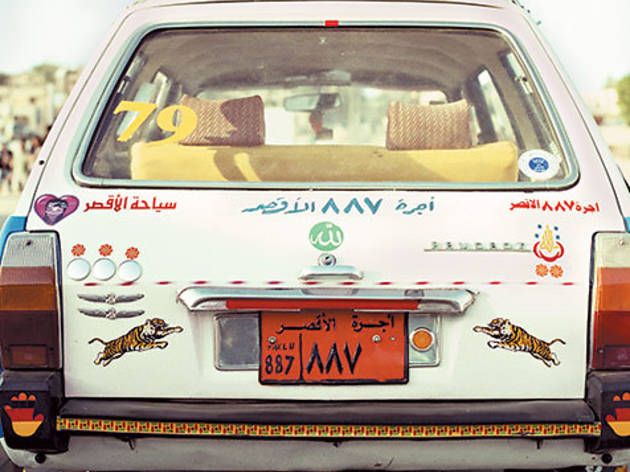 11/13
A glimpse of Antola's work (antolaphoto.com) Luxor, Egypt for More magazine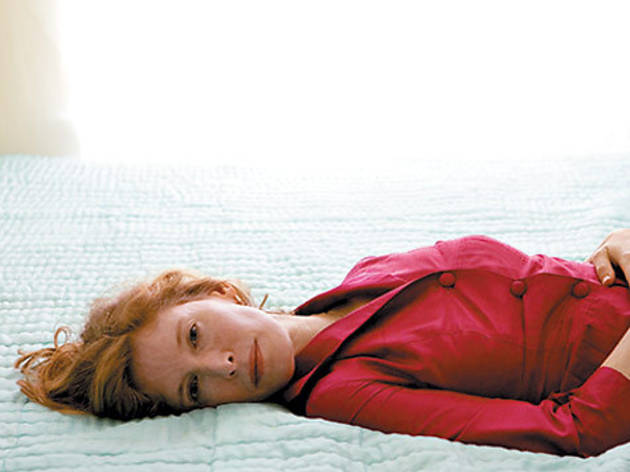 12/13
A glimpse of Antola's work (antolaphoto.com) Laura Day for Newsweek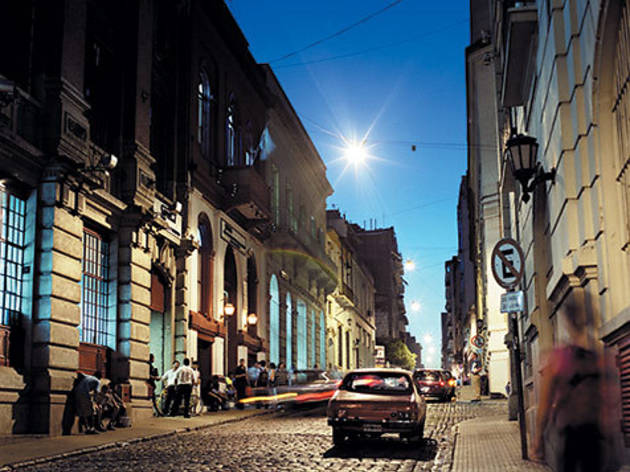 13/13
A glimpse of Antola's work (antolaphoto.com) Buenos Aires for American Express
Apartment tour: 1BR Carroll Gardens
A roving shutterbug catalogs her travels via mementos scattered throughout her home.
Most American families choose places like Lake George, Yellowstone National Park or, in this writer's case, the backyard as the destination for summer family vacations. But Jessica Antola's parents aimed a little higher—or at least a little farther—and she would find herself in places like China, Tibet, Antarctica and India. Not only did the Los Angeles native have fodder for far more interesting "what I did this summer" essays in school than most kids, but her family's wanderlust awoke in her a passion for photography. "I took my camera—my first one was a Kodak disc—everywhere we went," recalls Antola, now 35. She became so addicted to documenting her travels that she created a darkroom in her house when she was still in elementary school. "I started printing [photos] in sixth grade," she remembers. "It taught me so much about light, composition and color."
Her exposure to exotic places and different cultures has informed both Antola's work—as a fine and commercial photographer for clients like Vanity Fair, W and American Express—and her home, which she decorated herself. "Almost everything I have in here, I picked up on some crazy trip," she says, gesturing to her color-punctuated railroad apartment on the top floor of a brownstone in Carroll Gardens, Brooklyn. Indeed, a tour of Antola's apartment is like browsing in some multicultural bazaar: The walls are adorned with penis gourds (hollowed-out gourds that are fitted over men's, um, members) and breastplates from her journey to primitive West Papua, Indonesia ("To get there, we had to charter a plane from missionaries," she recalls), mounted antlers she scored in Strasbourg for $2 apiece, and work by photographers Malick Sidib and former classmate Joaquin Trujillo; the Napoleonic chairs and Dutch wax fabric she had made into cushions were both purchased while living in Paris, as were the two circa-1930s chandeliers; and coffee-table knickknacks include Bollywood coasters from India, opium weights from Myanmar and a beaded coin purse made by Syrian prison inmates. But not everything is from far-flung places: Antola admits that the buckling bookshelf on which she stores her negatives and contact sheets is from Ikea (499 Van Brunt St at Beard St, Red Hook, Brooklyn; 718-596-2507), a funky side table was picked up at A Repeat Performance (156 First Ave between 9th and 10th Sts, 212-529-0832), and she cites the Brooklyn Flea (brownstoner.com/brooklynflea), Horseman Antiques (351 Atlantic Ave at Hoyt St, Boerum Hill, Brooklyn; 718-596-1048) and the Elephant's Trunk in Connecticut (etflea.com) as some of her favorite sources. And then there's her most prized possession, something that transcends both place and time: a cocktail napkin procured for Antola when she was in eighth grade, signed by Slash. "I was in love with Slash," she says. "It says 'fuckin' rock + roll' and is still one of my most favorite things."
Antola has moved around a lot since her days growing up in sunny L.A. (where she returned for graduate school at the Art Center College of Design). She's put in time in Ithaca, New York, where she attended Cornell University; Portland, Oregon, where she lived postcollege ("I was 21, living a hippie-dippy existence—camping, hiking and teaching art to grade-school students"); and Paris, where she kick-started her career and lived for five years—"I planned to stay for two months but just kept getting assignments." And, of course, she can point out tokens purchased in all of those places—"I just accumulate!" But one can imagine that Antola would feel at home wherever she resides; she's only lived in NYC for two years but has already managed to turn her apartment into an all-in-one live/work space where she throws dinner parties and even practices kundalini yoga. Like most renters, she has issues with the apartment's size (she euphemistically calls her tiny bedroom a "bed nook," and painted it peony pink in order to brighten it up) and certain elements that she can't change (the Floridian-style bathroom with matching blue ceramic walls, sink, floor and toilet). Luckily if she's feeling restless, her job scratches the itch: She was recently on assignment in Belize tracking jaguars and shooting a book on Caribbean interiors for Rizzoli. "I'm lucky in that I do get to see a lot of the world," says Antola. When asked if she's visited every continent, she has to think for a moment. "Have I...? No, I've not been to Australia," she replies, a bit dismayed. But something tells us that that will soon be rectified.
You might also like
Apartment tour: 1BR, Williamsburg
Apartment tour: 1BR Harlem
Apartment tour: 2BR Flatiron District
See more in Style & Design