Et tu, Brute? Rebecca Charles goes for redemption
By Jordana Rothman Thu Jun 28 2007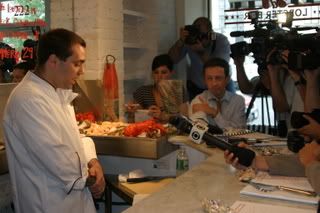 Its a banner week for Rebecca Charles, the chef and restaurateur behind ten-year-old Pearl Oyster Bar. The celebrated arbiter of fish-shack lan has taken on former employee Ed McFarland. whose Pearl dopplegnger, Eds Lobster Bar, opened in March.
McFarland isnt the only Charles protg to fly the coop. She famously exported Mary Redding, who would go on to open the first Pearl spin-off, Marys Fish Camp. But McFarlands betrayal, which according to Charles includes not only the co-opting of her New Englandinspired menu and decor, but also of a carefully guarded Caesar salad recipe, was grievous enough to call Charles to action. Claiming a violation of intellectual property, she filed suit against McFarland Tuesday morning.
Theres no question that Eds, like Marys before it, is derivativethe long, cool marble bar, unobtrusive gray wainscoting and easy menu of fish-shack staples reek of Charless influence. But is it deserving of legal action? Theres certainly a precedent: In 2005, Jennifer Appel, who co-owned Magnolia Bakery and opened Buttercup Bakery, brought an injunction against former employee Mark Libertini and partner Luigi Lobuglio when they moved to open Little Cupcake, a similar concept in Bay Ridge, Brooklyn. According to Lobuglio, Appels attempt to halt the opening of the bakeshop was thrown out of court and the case is currently dormant. Like the cupcake controversy before it, Charles and McFarlands dispute raises a defining question for New Yorks restaurant arenawhen is a trend a trendand when is it treason?
Accompanied by his attorney, Alan Serrins, McFarland issued his statement from behind the offending marble bar at his Lafayette Street restaurant. I am deeply saddened to learn that Rebecca Charles has brought action against me. I believe her action has no merit, I harbor no ill will, and wish her safely to port, he said, before splitting open a lobster and shucking a few for the crowd.
McFarland and Serrins claim to have yet to see the papers detailing Charless allegations, but contend that the fish-shack formula cannot be the property of a single chef. I dont know of any intellectual-property laws that protect shrimp, lobster and Caesar salads, said Serrins. Were confident that well prevail.