Truffle smuggling with Andrew Carmellini
By Jordana Rothman Fri Sep 7 2007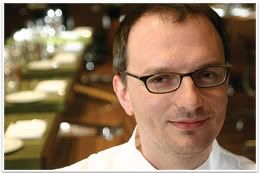 While Italian truffle hunters are busy revving up their hogs for the upcoming season, the duck-meatball maestro stopped by our office to talk shop and mince a few words on the precious tubers.

"I was a smuggler once. I brought back, like, five kilos of truffles vacuum-packed in coffee beans.… It must have been worth, I don't know, $12,000.

"[At A Voce] I buy from one guy. He comes off the plane and comes straight to me because he knows I'm going to buy, like, five pounds. [In restaurants] truffles aren't a moneymaker. We do it because we love it. They're expensive but it's such an evocative and elusive item. We like to present them in the dining room because people need to see it and touch it. Last year, though, someone came in, picked one up and took a bite.

"Some Italian chefs say you shouldn't put water on the truffles at all, but I don't want them tasting sandy…"

Neither do we, Carmellini. Bring on the $55 mac and cheese.