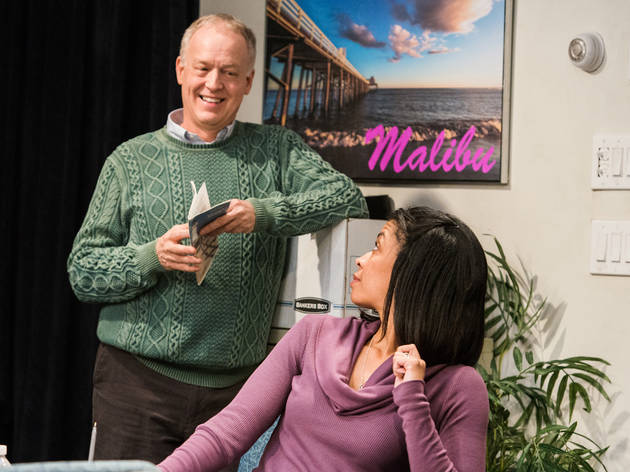 1/4
Photograph: Ben Arons
Core Values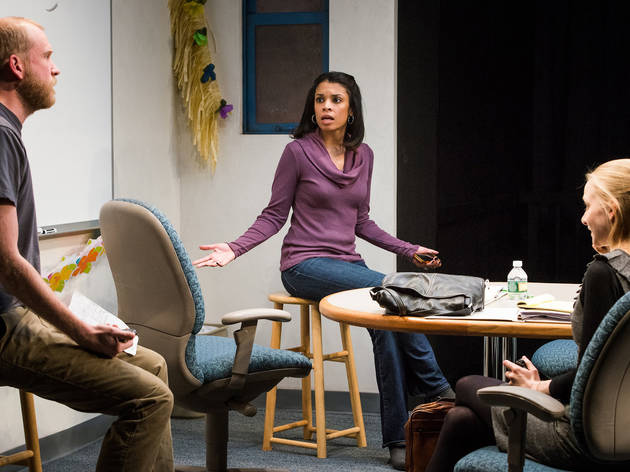 2/4
Photograph: Ben Arons
Core Values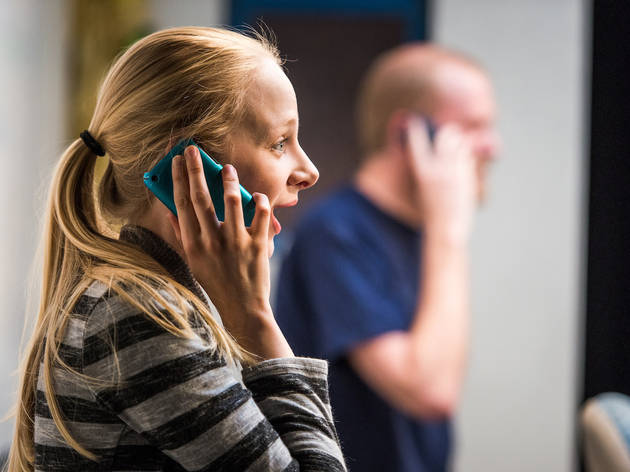 3/4
Photograph: Ben Arons
Core Values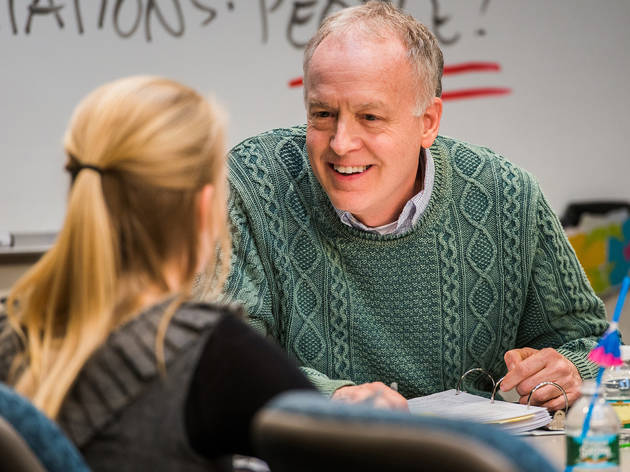 4/4
Photograph: Ben Arons
Core Values
Theater review by Jenna Scherer. Ars Nova (see Off Broadway). By Steven Levenson. Dir. Carolyn Cantor. With Reed Birney, Paul Thureen, Susan Kelechi Watson, Erin Wilhelmi. 1hr 30mins. No intermission.
Sing, Muse, of the Great Recession: a dramatic landscape in which striving for greatness has been replaced by grasping at straws. Steven Levenson's laugh-out-loud funny, sigh-out-loud sad new play captures the spirit of the age; and it will feel all too familiar to anyone who's ever found themselves caught in the hamster wheel of a dying industry.
The action unfolds in a cramped conference room, where the employees of a small-time travel agency have been reluctantly caged for a weekend "retreat." Richard, the boss (Birney), is trying his best to maintain morale among his employees: barely competent Todd (Thureen), no-bullshit Nancy (Watson) and overeager newbie Eliot (Erin Wilhelmi). In his relentless optimism and bone-deep gloom, Richard is equal parts Willy Loman and Michael Scott; when he's not scrawling bouncy, meaningless slogans on the white board ("innovation—expectations—people!"), he's staring bleakly down the barrel of the uncertain future. You can be employed or you can be fulfilled, Core Values says, but you can't be both.
Carolyn Cantor's production for Ars Nova nails both the verbal and physical comedy of Levenson's script, from halting cold calls to trust falls gone wrong. The top-notch cast convincingly evokes the awkward familiarity between coworkers; there are whole unspoken histories carried off with a glance or a touch on the arm. You get the sense that Levenson has done time in one of these sinking-ship workplaces where the buzzphrase core values has taken the place of a real ethos. Beneath the humor, he has something large to say about the modern world and its discontents: What happens to the American Dream when we run out of not just carrots, but sticks, too?—Jenna Scherer
Venue name:
Ars Nova
Contact:
Address:
511 W 54th St
New York


Cross street:
between Tenth and Eleventh Aves
Opening hours:
Showtimes and cover prices vary.
Transport:
Subway: C, E to 50th St
Price:
$30
Event phone:
212-352-3101