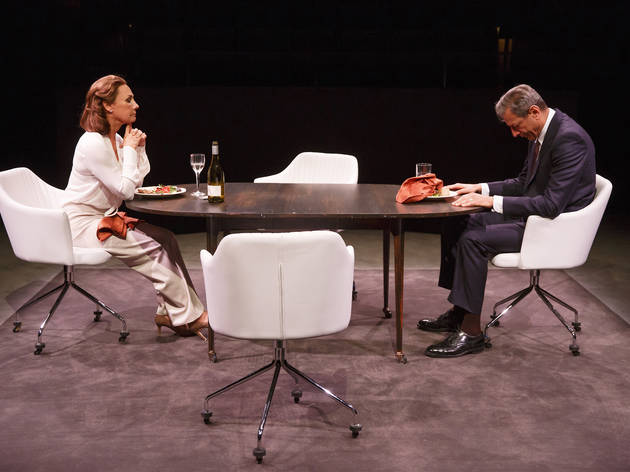 1/7
Photograph: Joan Marcus
Domesticated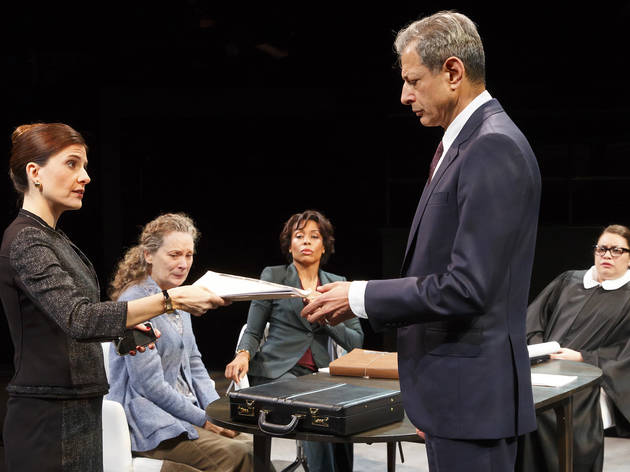 2/7
Photograph: Joan Marcus
Domesticated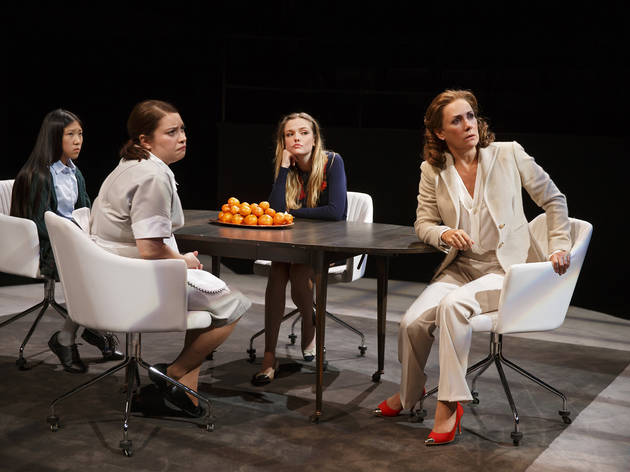 3/7
Photograph: Joan Marcus
Domesticated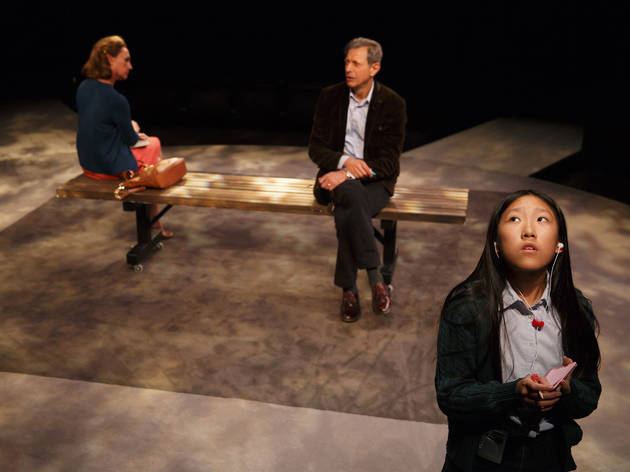 4/7
Photograph: Joan Marcus
Domesticated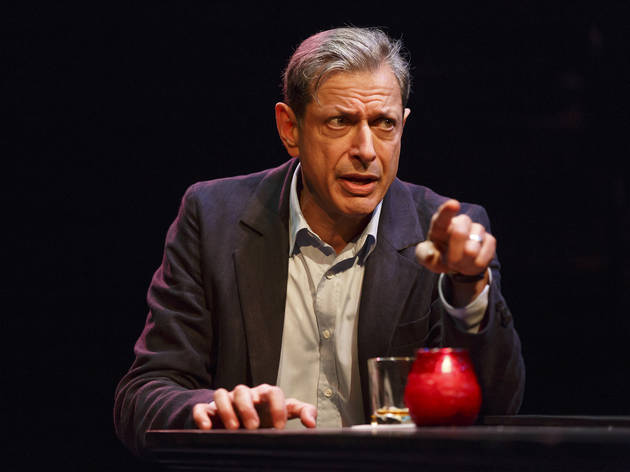 5/7
Photograph: Joan Marcus
Domesticated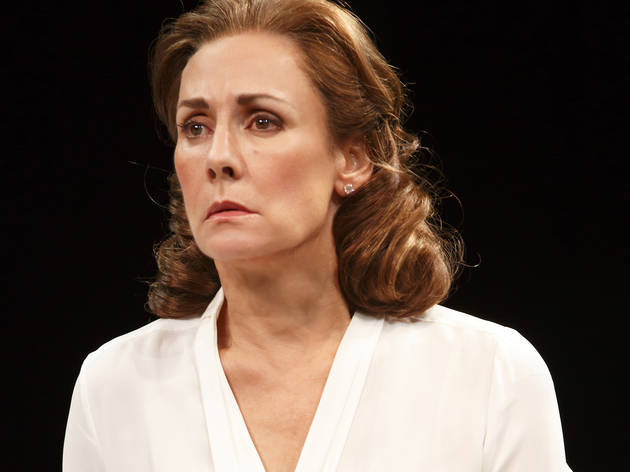 6/7
Photograph: Joan Marcus
Domesticated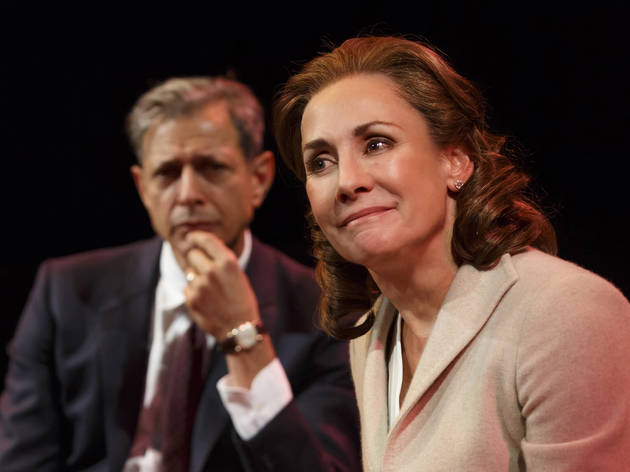 7/7
Photograph: Joan Marcus
Domesticated
Domesticated. Mitzi E. Newhouse Theater (see Off Broadway). By Bruce Norris. Directed by Anna D. Shapiro. With Jeff Goldblum, Laurie Metcalf. Running time: 2hrs 15mins. One intermission.
Domesticated: in brief
Laurie Metcalf and Jeff Goldblum play a couple whose marriage is threatened by a political scandal in a new play by the cleverly disruptive Bruce Norris (Clybourne Park, The Pain and the Itch). The seasoned supporting cast, directed by Anna D. Shapiro, includes Robin de Jesus, Vanessa Aspillaga, Lizbeth Mackay and Mary Beth Peil.
Domesticated: theater review by David Cote
In Bruce Norris's blisteringly funny Domesticated, sex-scandal-ruined pol Bill (Goldblum) vainly tries to put his life and career back together. His horrified wife, Judy (Metcalf), and pretty much every woman he meets reminds him what scum he is for hiring prostitutes—the most recent of whom is lying comatose in a hospital. For the whole first act, reviled Bill hardly gets a word in edgewise. And yet, no matter how enraged Bill gets, Norris is too savvy to let him hurl the c-word.
Oh, I don't mean the anatomical slur that rhymes with punt. I mean contrition. Sure, Bill says "sorry" as dialogue filler or out of frustration (the word occurs 61 times in the script), but you don't believe he ever means it. Bill, you see, says what his real-life counterparts (Weiner, Spitzer et al.) probably only think: What I did is perfectly natural. Marriage and monogamy, those are the freakish institutions that make men and women miserable.
This being a Norris satire (sleekly staged by Anna D. Shapiro), none of the characters is a saint or a reliable moralizer, but they're also not cardboard figures to be mowed down. Gender scripts are recited, only to be deftly subverted. Whether you view Bill as typical dude, sexual deviant or prime specimen of Homo emasculati, Norris assures us: In the end, everyone gets fucked.—Theater review by David Cote
THE BOTTOM LINE: Bruce Norris's black comedy of sexual manners is wickedly wild.
Follow David Cote on Twitter: @davidcote
Ticket Offers from Time Out New York
Looking for tickets to a Broadway or Off Broadway show? Time Out Offers brings you terrific discounts on tickets to the latest New York theater. Want even more ideas? Check out Time Out New York's complete listings of Broadway, Off Broadway and Off-Off Broadway shows, and browse all available tickets.
Rating Breakdown
5 star:

1

4 star:

0

3 star:

0

2 star:

0

1 star:

1
This was a fantastic play defining the conflicts of marriage with the author's emphasis on the very strong role of the female over the male. Jeff Goldblum's character, Bill Pulver, gets pilloried by all of the females surrounding him (wife, daughter, patients, etc) as well as the legal system because of his dalliance (s). He was a metaphor to the hapless males in the animal world by the descriptions delineated by one of his daughters. The acting by all in the cast was terrific especially the leads.
Went to the first preview and as much as I love the lead actors, would not recommend seeing this. Awful subject matter- can't believe this actually opened off Broadway. Hope this is not a trend!