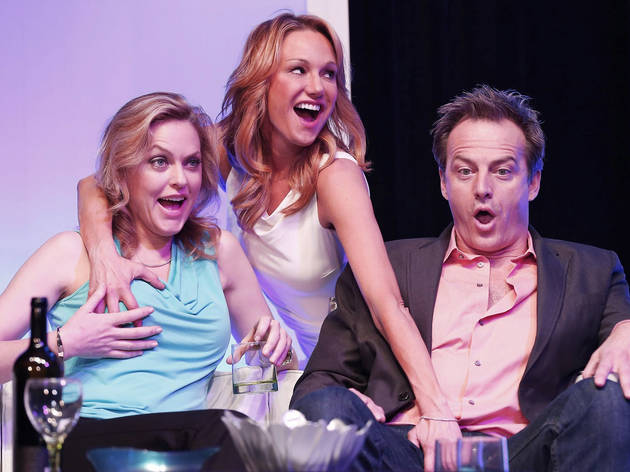 1/8
Photograph: Carol Rosegg
It's Just Sex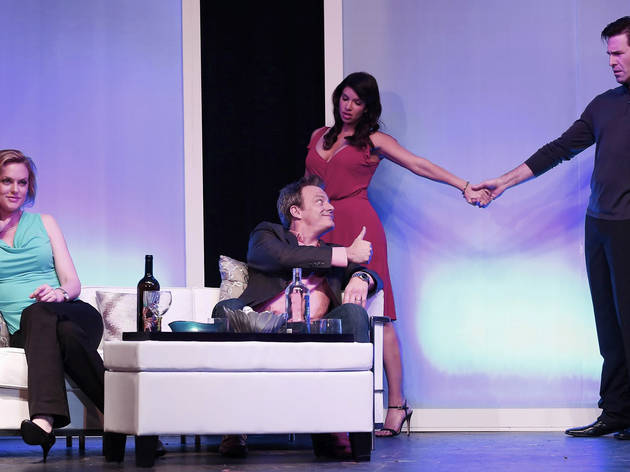 2/8
Photograph: Carol Rosegg
It's Just Sex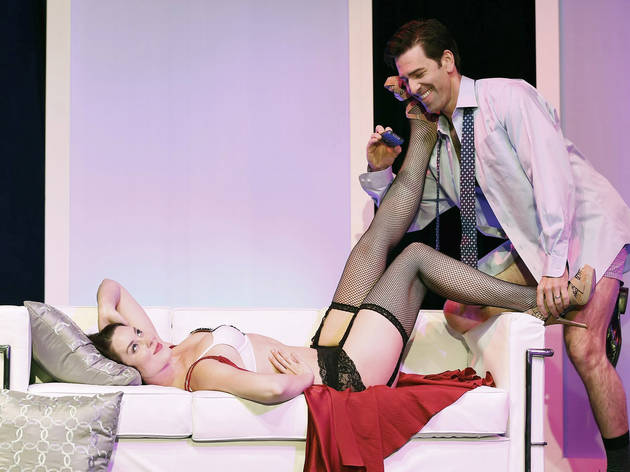 3/8
Photograph: Carol Rosegg
It's Just Sex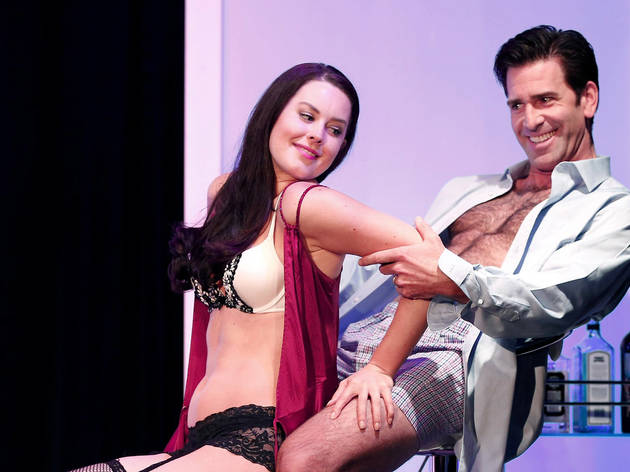 4/8
Photograph: Carol Rosegg
It's Just Sex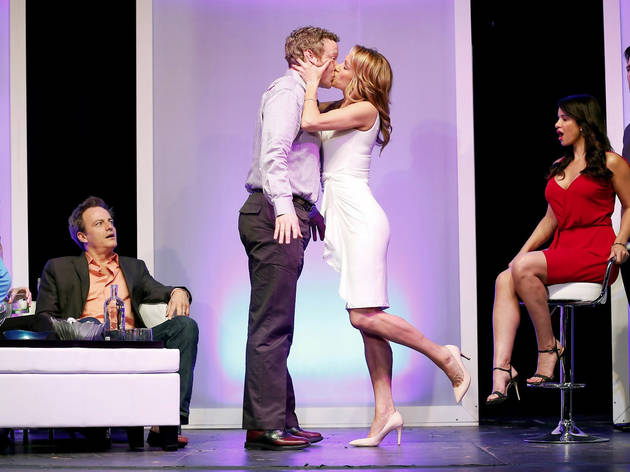 5/8
Photograph: Carol Rosegg
It's Just Sex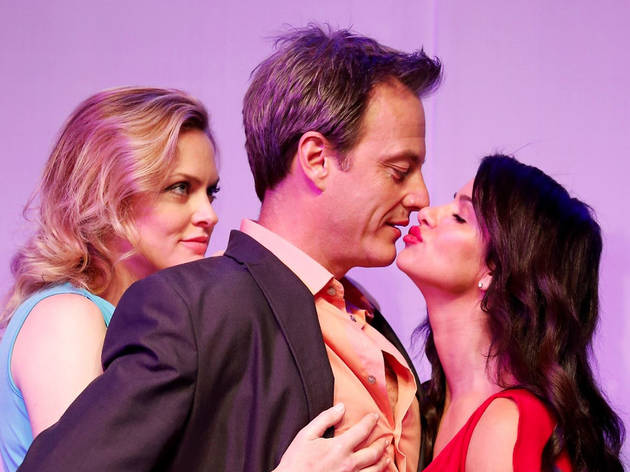 6/8
Photograph: Carol Rosegg
It's Just Sex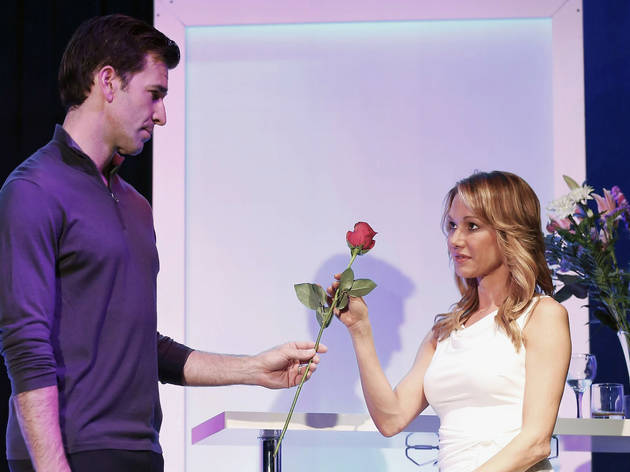 7/8
Photograph: Carol Rosegg
It's Just Sex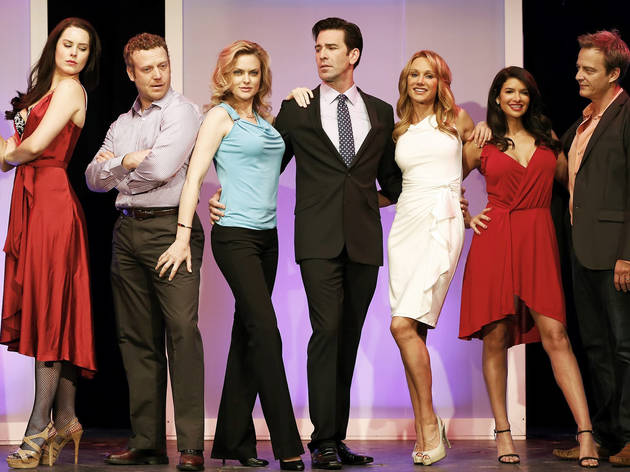 8/8
Photograph: Carol Rosegg
It's Just Sex
Theater review by Adam Feldman. It's Just Sex.Actors Temple Theatre (see Off Broadway). By Jeff Gould. Directed by Rick Shaw. With ensemble cast. Running time: 1hr 25mins. No intermission.
It's Just Sex: in brief
Three couples get together for a night of cocktails and friendly spouse-swapping in Jeff Gould's randy comedy. Rick Shaw directs the Off Broadway premiere.
It's Just Sex: theater review
"To no more boredom!": That's the toast made by three married couples, assembled for drinking and power games, in Jeff Gould's whomp-whomp romp It's Just Sex. And things do get livelier for all of them—if not, alas, for the audience—shortly thereafter, when hostess Joan (Jackie Debatin) suggests that they mix up their stagnant sex lives by swapping spouses for the night. Her motives are not purely hedonistic; earlier in the afternoon, she walked in on her husband, Phil (Matt Walton), in mid-tryst with a call girl, and she's looking to turn the beds on him. Soon she is off screwing passive-aggressive Greg (Michael Colby Jones), leaving Greg's controlling wife, Lisa (Elaine Hendrix), to pair up with the ever-horny Carl (Salvator Xuereb) while Carl's wife, Kelly (Gina LaPiana), hits the sheets with Phil. (There's a competitive edge to the whole affair: They're keeping it up with the Joneses.)
Like a one-night stand gone wrong, however, the play exhausts its randy spirit in the first third, then spends a flaccid hour yakking anxiously about what just happened. It's Just Sex is a revision of a script that Gould premiered 11 years ago, and even then—well after Bob & Carol & Ted & Alice, I Love My Wife, The Ice Storm and other precedents—it must have seemed dated. Directed by Rick Shaw in a flattening multicam-sitcom style, the ensemble cast pushes competently through what amounts to an extended couples-therapy session with occasional gags. (Xuereb, in Matthew Perry jokester mode, finds the most enjoyable colors to play.) Awkward silences, both among the characters and between the actors and the largely unamused audience, eventually take over the night. It's Just Sex was apparently a hit in Los Angeles, where it ran for several years; here, it swings and misses.—Theater review by Adam Feldman
Follow Adam Feldman on Twitter: @FeldmanAdam
Ticket Offers from Time Out New York
Looking for tickets to a Broadway or Off Broadway show? Time Out Offers brings you terrific discounts on tickets to the latest New York theater. Want even more ideas? Check out Time Out New York's complete listings of Broadway, Off Broadway and Off-Off Broadway shows, and browse all available tickets.