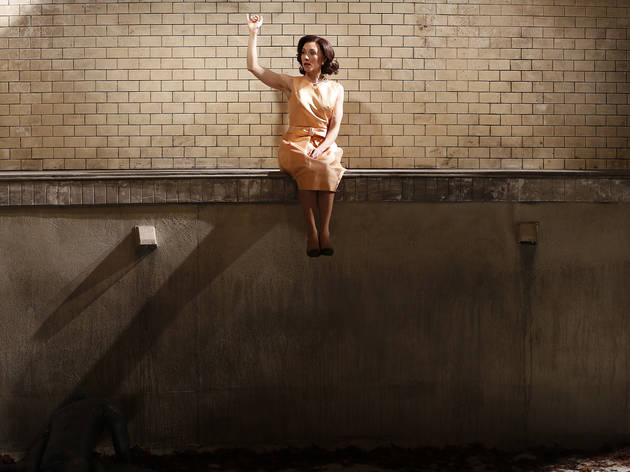 1/5
Photograph: Carol Rosegg
Jackie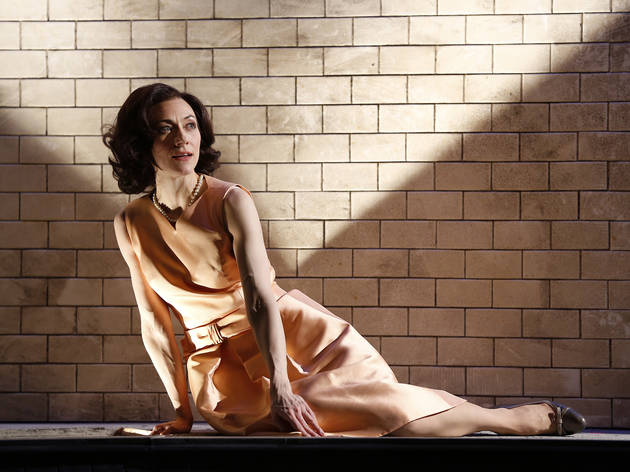 2/5
Photograph: Carol Rosegg
Jackie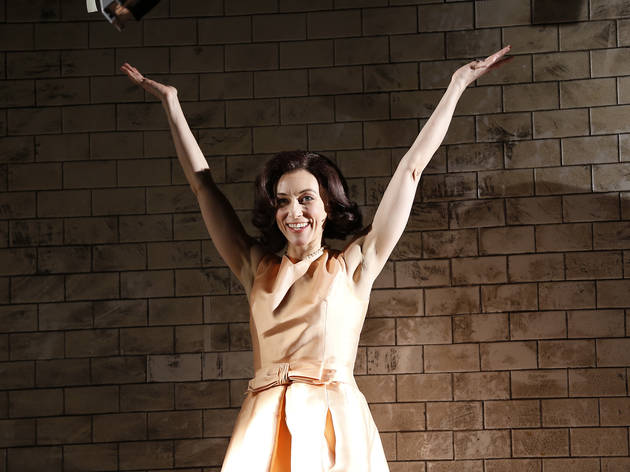 3/5
Photograph: Carol Rosegg
Jackie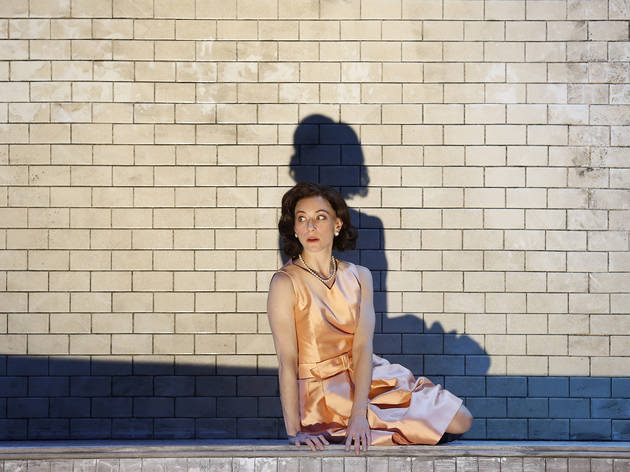 4/5
Photograph: Carol Rosegg
Jackie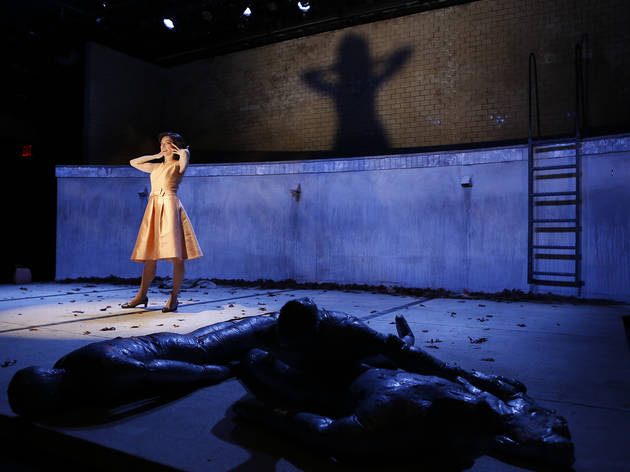 5/5
Photograph: Carol Rosegg
Jackie
Theater review by David Cote. New York City Center Stage II. By Elfriede Jelinek. Dir. Tea Alagic. With Tina Benko. 1hr 20mins. No intermission.
Women's Project Theater's bold and arresting premiere of Elfriede Jelinek's Jackie comes demographically challenged. Anyone old enough to have an emotional investment in the mythos of Jacqueline Kennedy Onassis could be put off by Jelinek's jagged verbal bricolage. At the same time, younger audiences open to cartoonish deconstruction might find the echt Boomer icon passé and drained of pop-culture oomph. (On film and TV, Camelot's queen has been played by everyone from Katie Holmes to Divine.) I'm not saying that senior citizens can't appreciate the postwar Austrian avant-garde or that millennials have no historical curiosity. But Jackie seems an odd duck, even poured into peach Chanel and seductively incarnated by a fearless Tina Benko.
Pardon the male gaze, but this production's main strengths are visual: Marsha Ginsberg's brutalist, leaf-strewn basin gives Benko (and us) a metaphorical pool in which to swim through Jelinek's eddies of wordplay and metaphysical musing (translated with music and snap by Gitta Honegger). The bravura light- and soundscapes designed by Brian H. Scott and Jane Shaw, respectively, create a disorienting zone where Jackie pieces through impressions of JFK's assassination, a bitter rivalry with Marilyn Monroe, and how her identity has been subsumed by fashion and mechanical reproduction. "I am not flesh," she informs us. "I am its foil, I am the dress! My silhouette never changes. I am unchangeable."
A little of this pomo logorrhea goes a long way, and Tea Alagic's staging has heft and integrity, but after 80 minutes, Jelinek's text grows repetitive and wearying. She harps on themes of power and public image that even in a compelling straight play would be blandly obvious. Benko glides stylishly through the matrix of chatter using the channel-surfing school of acting. When, toward the end, she momentarily drops all masks and speaks as herself, it's both unnerving and refreshing. There's Jackie as we haven't seen her: like us.
Follow David Cote on Twitter: @davidcote
Venue name:
New York City Center Stage II
Contact:
Address:
131 W 55th St
New York
10019

Cross street:
between Sixth and Seventh Aves
Transport:
Subway: B, D, E to Seventh Ave; F, N, Q, R to 57th St
Price:
$60–$75