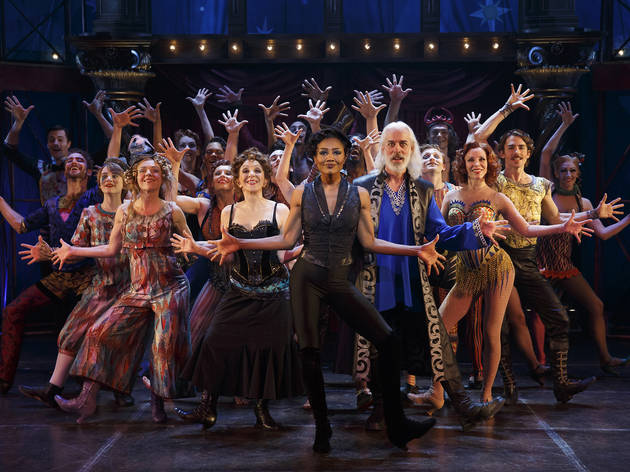 1/8
Photograph: Joan Marcus
Pippin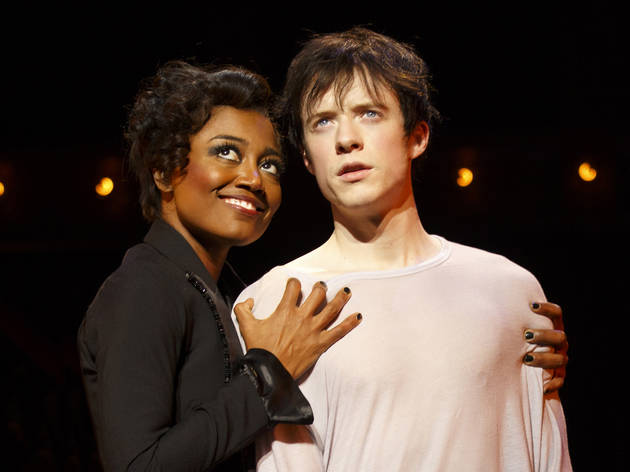 2/8
Photograph: Joan Marcus
Pippin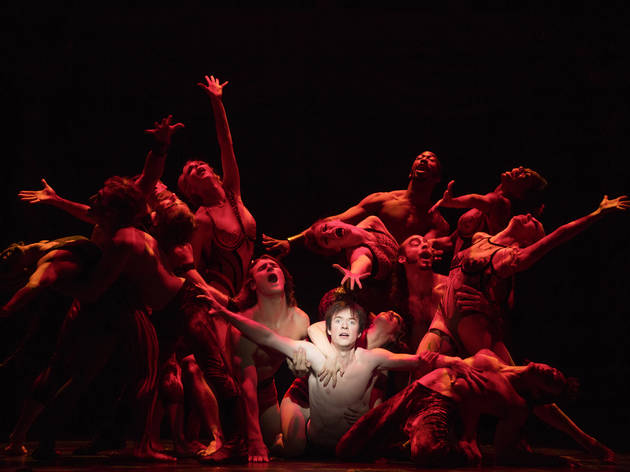 3/8
Photograph: Joan Marcus
Pippin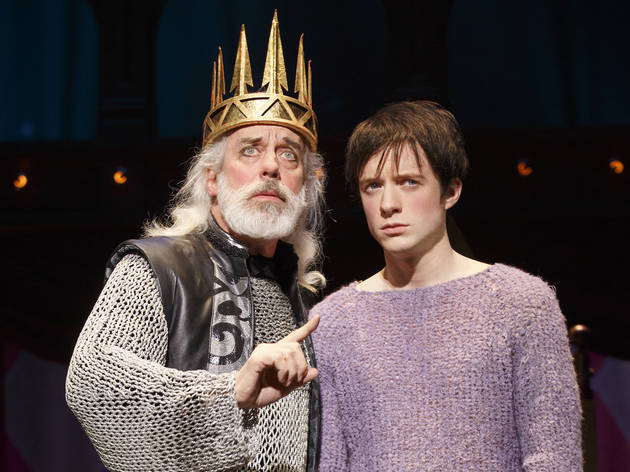 4/8
Photograph: Joan Marcus
Pippin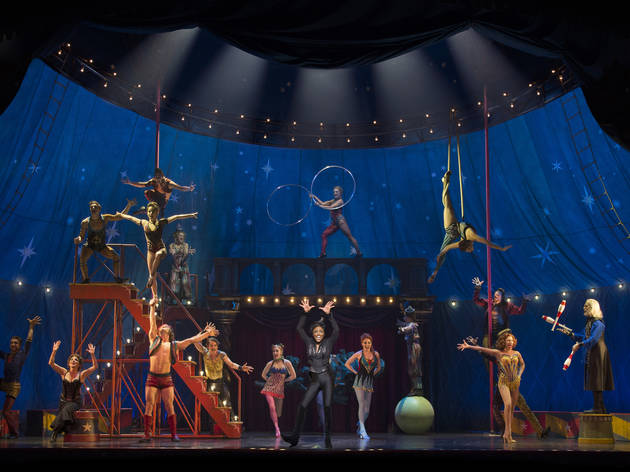 5/8
Photograph: Joan Marcus
Pippin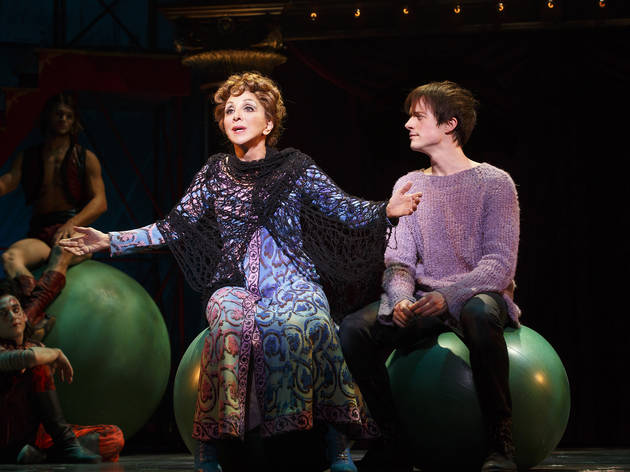 6/8
Photograph: Joan Marcus
Pippin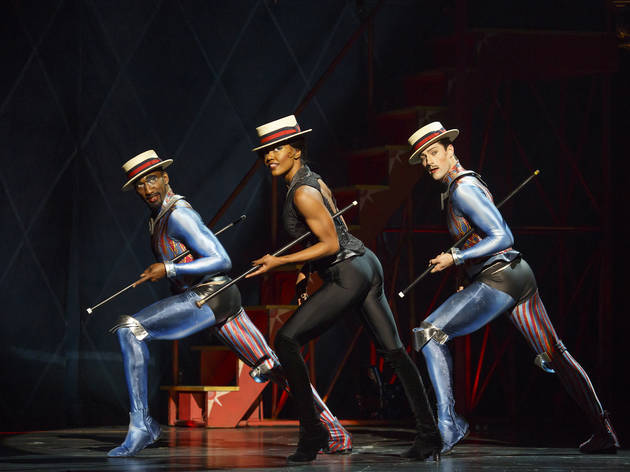 7/8
Photograph: Joan Marcus
Pippin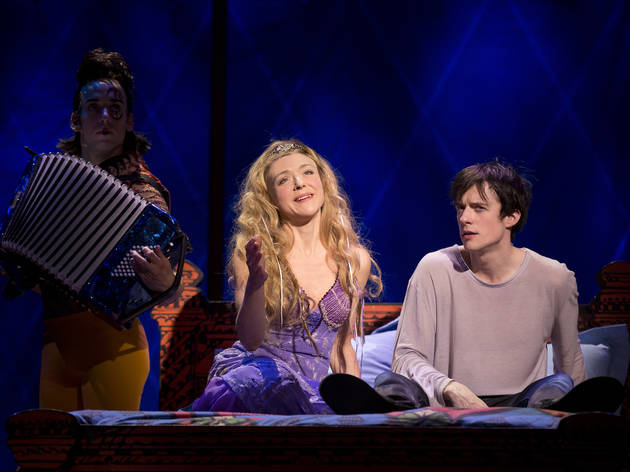 8/8
Photograph: Joan Marcus
Pippin
Theater review by Adam Feldman. Music Box Theatre (Broadway). Book by Roger O. Hirson. Music and lyrics by Stephen Schwartz. Dir. Diane Paulus. With Matthew James Thomas, Patina Miller, Rachel Bay Jones. 2hrs 30mins. One intermission.
[Note: Kyle Dean Massey, Ciara Renée and Annie Potts, respectively, are now playing the roles originated by Matthew James Thomas, Patina Miller and Andrea Martin.]
Ladies and gentlemen, step right up to the greatest show of the Broadway season: Diane Paulus's sensational cirque-noir revival of Pippin. Here, in all its grand and dubious glory, is musical-theater showmanship at its best, a thrilling evening of art and craftiness spiked with ambivalence about the nature of enthrallment. Chet Walker's dances, which retain the pelvic thrust of Bob Fosse's original choreography, are a viciously precise mockery of showbiz bump and grind, enacted by a sexy, sinister, improbably limber ensemble (in skintight carnival gear and medieval costumery). Circus elements created by Gypsy Snider—acrobatics, aerialism, contortionism, juggling, hula hoops—build momentum toward what the ringmaster assures us is "a climax you will remember for the rest of your lives." That just might be true.
Beneath the production's over-the-big-top trappings is Roger O. Hirson and Stephen Schwartz's 1972 musical, a slight but resonant parable stuffed with delightful songs. A pretty youth named Pippin (the creamy-skinned Matthew James Thomas, appealingly ingenuous) embarks on a journey to find meaning in his life, guided by the predatory Leading Player (a ferocious Patina Miller, with two rows of teeth agleam and hips that snap like switchblades). First he seeks fulfillment in battle, like his kingly father (a droll Terrence Mann); then he samples pleasures of the flesh, urged on by his grandmother Berthe (comic marvel Andrea Martin, in a knockout scene that earns a midshow standing ovation). But Pippin's picaresque stalls in Act II, when he meets a widow, Catherine (the superb Rachel Bay Jones, in a lovable and expertly layered turn). Somehow sunny and cloudy at once, Jones grounds Pippin in a reality beyond the Leading Player's groovy hard sell, and the show's messages—about the perils of personal exceptionalism and the lures of empty celebrity—come through with force in the end. Yet for all its skepticism about entertainment, Pippin offers it par excellence. Number after number stops the show, but the show goes insistently, dazzlingly on.—Adam Feldman
RECOMMENDED: Video montage of Pippin on Broadway
Follow Adam Feldman on Twitter: @FeldmanAdam
2013 Tony Award nominee. See our guide to the 2013 Tony Awards.
Average User Rating
4.7 / 5
Rating Breakdown
5 star:

2

4 star:

1

3 star:

0

2 star:

0

1 star:

0
My wife and I go to NY once a year and binge on broadway and off broadway (6 shows in 5 days). This is one of the best shows that we have ever seen. Patina Miller has left the cast, but she was incredible. I can watch Ben Vereen play the part on YouTube, and while I would love to go back and in time and see him, I don't think I missed anything with my Lead Player.
The other actress that I am still thinking about is Rachel Bay Jones. She breaks your heart. Such a beautiful voice.
The Cirque du Soleil comparisons are fair, but it's all held up by an A+ Broadway musical.
A truly wonderful mix of theater and Cirque du Soleil acrobatics make for a fresh enjoyable evening of Broadway. The singing and dancing are all A+ but I found the acting from Patina Miller as the:Leading Player and Terrance Mann as King Charlemagne stilted and unbelievable. On the other hand, precious moments of Mathew James Thomas' Pippin were quite moving. Act one came on like a lion and seemed to be satisfying by the end. But wait, there's more. The 2nd act was a little slow and overall seemed to be an awful lot of story for the simple message they conveyed. Even if you overpay for your ticket it's worth it to see Andrea Martin bring down the house and a company of great theater crafties of potential TONY winners!
Love this show. Love the cast. seen it 8 times already was at opening night and agree with review. Get ready for a Tony win. See this show.