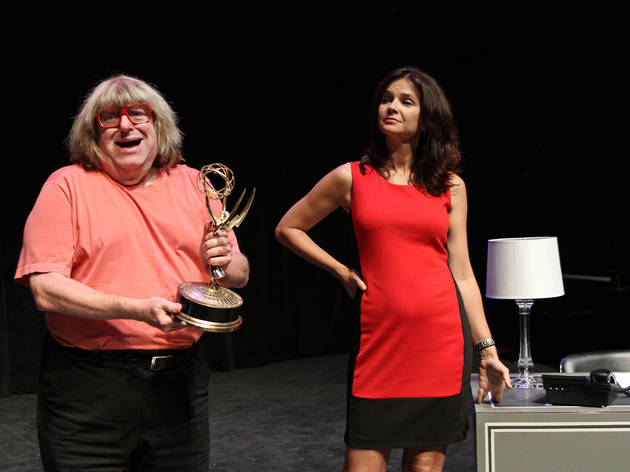 Alvin (Bruce Vilanch) can't control his gag reflex: One-liners are his one line of defense against a world that is shunting him aside. For decades, he was a successful comedy writer for series television; now divorced and over 50, he is reduced to begging for work from the witchy TV exec (a sharp Amy Wilson) behind such fare as Hip-Hop Hospital. When an earthquake hits Los Angeles, Alvin gets buried to the neck in a heap of showbiz wreckage—a metaphor for life in the Hollywood discard pile, perhaps, by way of Beckett's Happy Days. As he waits to be rescued, he fruitlessly seeks assistance from his superannuated agent (longtime character actor Jerry Adler, delectably lethargic), and is visited by various figures from his past. Playwright Mike Reiss won four Emmys for his work on early seasons of The Simpsons, and also co-created The Critic; he is a master of quick, cartoonish jokes—many of them very funny—which his script hurls out like a tennis-ball machine. More than a few go astray, but Hollywood Squares alum Vilanch (warm, likably shambling and somewhat jokily cast as a straight Irish Catholic) connects with most of them. Ace comic writers of a certain age themselves, Reiss and Vilanch have a vested frustration in Alvin's plight, and bring an insider's bite to some of the humor. Ultimately, trapped though its hero may be, Rubble is a testament to the ongoing appeal of old-fashioned comedic escapism.—Adam Feldman
Click here for full TONY coverage of the 2013 New York International Fringe Festival.
Follow Adam Feldman on Twitter: @FeldmanAdam
Rating Breakdown
5 star:

3

4 star:

0

3 star:

0

2 star:

0

1 star:

0
What do you get when you get Mike Reiss (writer for The Simpsons won 4 Emmys ) Bruce Vilanch another winner of Emmys (writer for the Oscars, Tonys, Grammys and even the Emmys) Jerry Adler star on Broadway (over 50 shows works on) an original member of the Sopranos from HBO and James Valletti (director/producer for Rubble and loads of Broadway shows in various capacities. James also worked on many cable TV shows. You get 75 minutes of non-stop laughing of a aging comedy writer trapped under Rubble during a earthquake in LA as he see his life past before him and hoping to get out alive and write again. As Bruce see people in his life past by and you get to know and love Bruce Vilanch (Alvin). A must see for this years NY Fringe Festival.
GREAT show - a laugh a second - wonderful cast. Mike Reiss is a hysterical writer - and his play is a great example of what comedy should be.