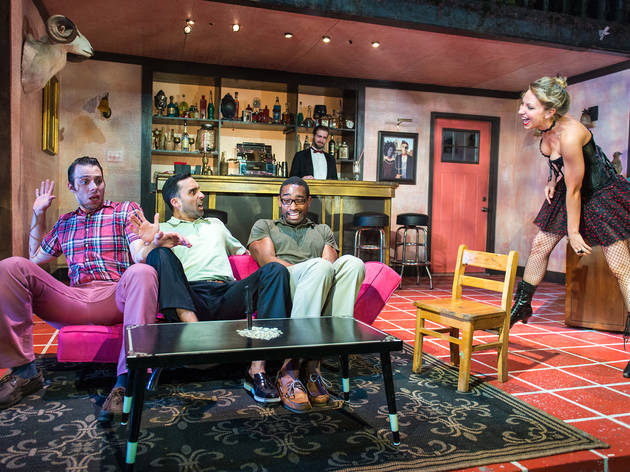 1/6
Photograph: Russ Rowland
The Cheaters Club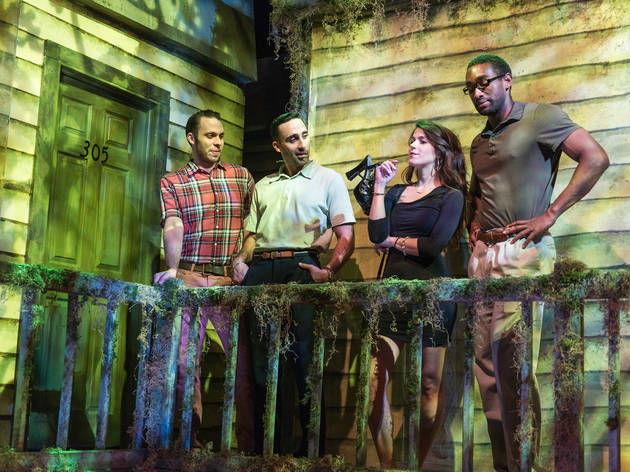 2/6
Photograph: Russ Rowland
The Cheaters Club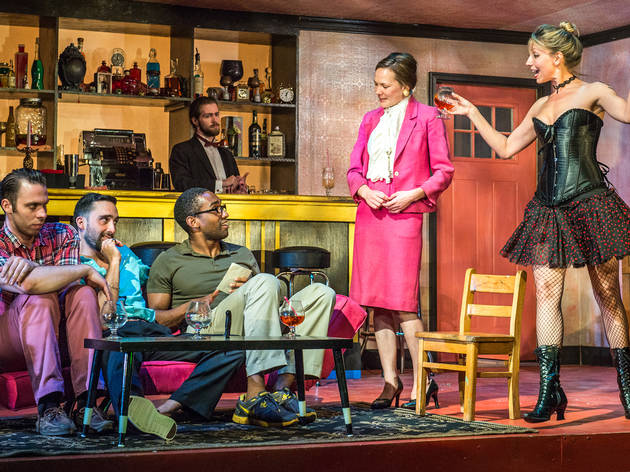 3/6
Photograph: Russ Rowland
The Cheaters Club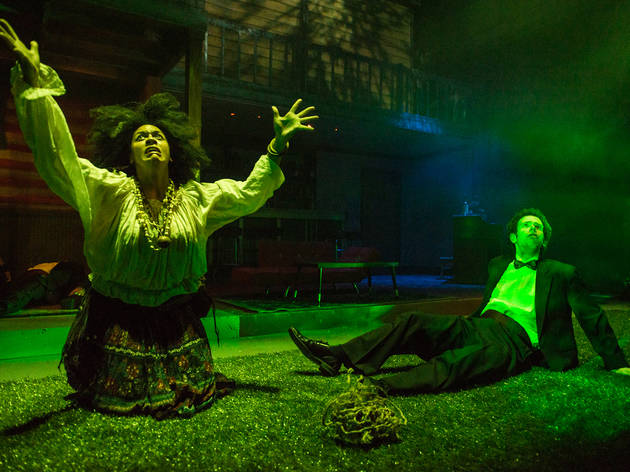 4/6
Photograph: Russ Rowland
The Cheaters Club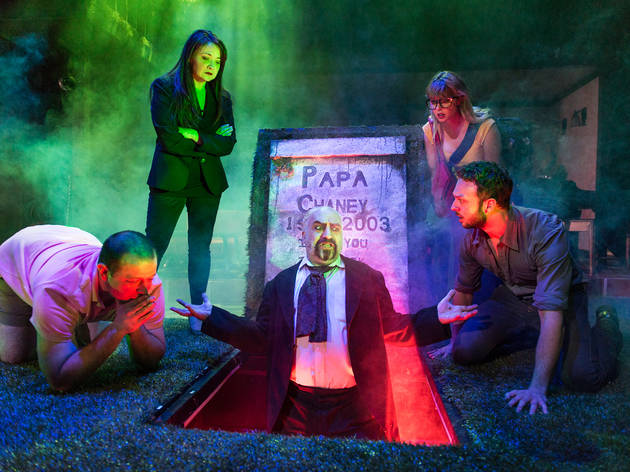 5/6
Photograph: Russ Rowland
The Cheaters Club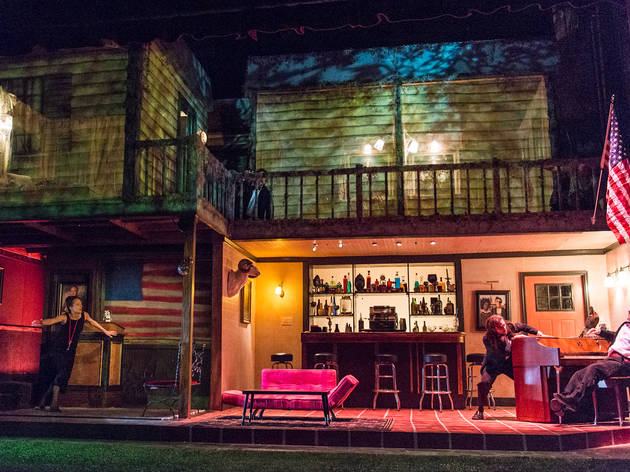 6/6
Photograph: Russ Rowland
The Cheaters Club
The Cheaters Club. Abrons Arts Center (see Off Broadway). Written and directed by Derek Ahonen. With ensemble cast. Running time: 2hrs 30mins. One intermission.
The Cheaters Club: in brief
Dedicated to producing "work of no moral judgment," the Amoralists have made a name for themselves in recent years with punchy, genre-blurring plays about strange people in extreme situations. Troupe cofounder and resident auteur Derek Ahonen stretches out another wide canvas in this large-cast orgy of sex and violence, set at a retreat for swingers in Savannah.
The Cheaters Club: theater review by David Cote
Without a doubt, Derek Ahonen had a ball writing The Cheaters Club—maniacally crossbreeding sex comedy, ghost story and Southern Gothic family saga. And I bet he and his 26 batshit thespians cackled their way through rehearsals for this trashy, slaphappy melofarce. But not enough of that WTF glee comes across the footlights to tickle the audience over one long, sloppy and indulgent night. Ahonen's company, the prolific and daring Amoralists, claim to produce work of "no moral judgment." That's great for equal-opportunity crassness and highlowbrow histrionics, but judiciousness of a dramaturgical sort would certainly help.
It's not a total loss: For the first half of this sprawling romp—in which four New Yorkers vacation in Savannah expressly to cuckold their spouses, only to fall victim to ghosts and voodoo spells—there's enough purple verbiage and lusty mugging to mitigate an overwritten script. After intermission, though, the plot bogs down in too many threads and schlocky detours, dissipating any goodwill you might feel for the troupe's grungy maximalism.
As with any Amoralist venture, the acting ability is wildly, maybe purposefully uneven (despite the cast managing to crowd on the same crumpled page). The standout, per usual, is Sarah Lemp as a Dixieland hotelier-matriarch, under whose Southern gentility there lurks a ravenous beast. No such exciting—or terrifying—creature lies beneath this play's murky, turgid depths.—Theater review by David Cote
Discounted tickets are available through September 21 at Time Out Offers.
Follow David Cote on Twitter: @davidcote
Ticket Offers from Time Out New York
Looking for tickets to a Broadway or Off Broadway show? Time Out Offers brings you terrific discounts on tickets to the latest New York theater. Want even more ideas? Check out Time Out New York's complete listings of Broadway, Off Broadway and Off-Off Broadway shows, and browse all available tickets.
Venue name:
Abrons Arts Center/Henry Street Settlement
Contact:
Address:
466 Grand St
New York
10002

Cross street:
at Pitt St
Opening hours:
Tue–Fri 10am–10pm, Sat 9am–10pm, Sun 11am–6pm
Transport:
Subway: B, D to Grand St; F to Delancey St; J, Z, M to Delancey–Essex Sts
Price:
$50
Event website:
http://amoralists.com