Ass you like it
A Chelsea spa's racy new anal-bleaching campaign brings the rear to the fore.
By Egan and Fareed Mostoufi Thu Oct 11 2007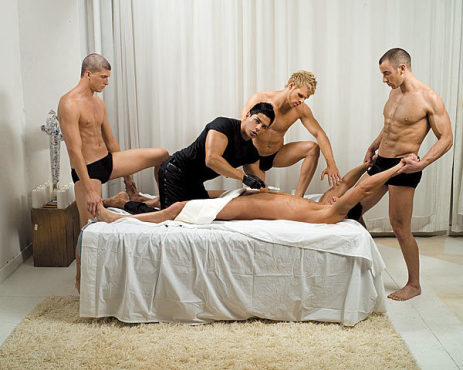 Photograph: Jon Moe
If the outpouring of negative letters in response to last week's Sex issue (TONY 627) is any kind of barometer, New Yorkers are more chaste than Pat Robertson at a Purity Ball.
Take the recent controversy over a Washlet bidet billboard in Times Square that ended in Supreme Court intervention and begrudging self-censorship. Perhaps a greater message is being sent that although New York may have been a shithole once upon a time, it's since cleaned up its act. So don't push it.
How then will the city's new cold-shower climate receive Enrique Ramirez, the 38-year-old owner of face to face nyc in Chelsea, who is rolling out a pro-anal-bleaching campaign on October 22? The edgy ads, which feature pretty boys in various states of undress (Ramirez included, above, in black), will appear on posters, in local gay magazines and in phone booths along Eighth Avenue. The ad blitz promotes a cosmetic treatment that evens out the pigmented skin around the anus.
The procedure first gained notoriety at the Pink Cheeks salon in Sherman Oaks, California. In 2005, an episode of Dr. 90210 made bleaching a national punch line. Still, face to face is the only local spa offering the service.
Ramirez already bleaches half a dozen anuses a week, but is the rest of New York ready?
Apparently not. One gym already asked him to take down the ad flyer. Rance Wright, creative director of the campaign, defends the ads as reflective of the services they sell. "We offer skin care," he balks. "Skin care isn't done with your clothes on."
Jillian Wright, owner of Glow Skin Spa on Madison Avenue, thinks the treatment may be too eye-rollingly L.A.—see Strippercize and kaffiyeh-chic—to generate any serious buzz. "There's no market for anal bleaching on the Upper East Side, unless I'm in the dark," she muses. "No pun intended."
Jose Serrano, a minister at St. Columba Church in Chelsea, says his mostly senior-citizen worshippers are not easily shocked. "Our neighborhood is flexible and open," he says. "They would tell me if there is something here that is not good for young people—the last time, it was a gallery that wanted to depict Jesus in chocolate."
Stephen Fleming is face to face's webmaster and a walking billboard. "I'm like a girl who just got a boob job," he laughs. "I'm constantly showing my ass off at parties, and friends are always like, 'I'm jealous! I'm jealous!' "
Mark H., the Manhattan copywriter and critic behind copyranter.blogspot.com, says he'd love to see more local ads push the envelope: "It's going to force mommies and daddies to answer some questions, but there are worse things your kids could know about than anal bleaching."
For more info, go to facetofacenyc.com.