The Brooklyn Flea in NYC guide
Here's everything you need to know about the Brooklyn Flea—the mac daddy of New York's treasure-filled bazaars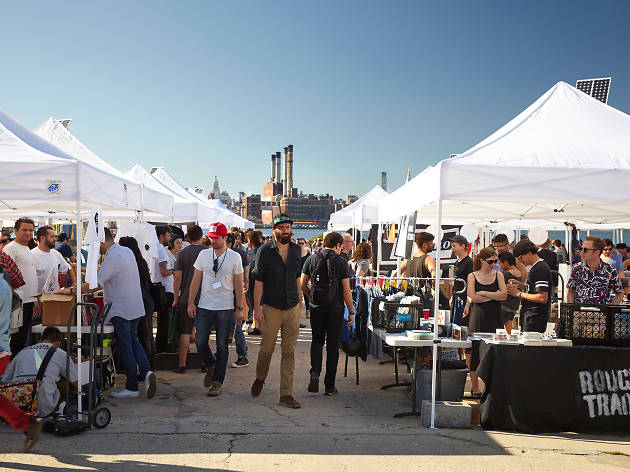 Attending an outdoor bazaar is certainly a weekend ritual here in New York, and Brooklyn Flea is hands-down one of the top flea markets to hit. The outdoor bazaar has everything, including an impressive selection of throwback wares and records, which you certainly wouldn't find in any vintage clothing store or record store in the city. The food selection is also nothing to sneeze at, since the creators also operate one of the city's best food festivals—Smorgasburg. A general rule is to always arrive early (and wear your stretchy pants), but we encourage you to keep this guide handy for vendor news and location updates.
Where is Brooklyn Flea?
After nine years in Fort Greene, Brooklyn Flea shuttered its original location and moved back to its former home at East River State Park in Williamsburg, Brooklyn (90 Kent Ave). The alfresco market also operates in Dumbo, Brooklyn at the Manhattan Bridge Archway Plaza (80 Pearl St).
When is Brooklyn Flea?
Brooklyn Flea opens for the season during the first weekend of April. The Williamsburg location is open every Saturday and the Dumbo location is open every Sunday from 10am to 6pm. The flea usually moves to an indoor location (like Skylight One Hanson) in time for the winter holidays.
Brooklyn Flea in NYC guide
Archive Brooklyn Flea coverage